C'Mon Ref: A former NHL official's take on the Wideman incident
Got a question on rule clarification, comments on rule enforcements or some memorable NHL stories? Kerry wants to answer your emails at cmonref@tsn.ca.
Hi Kerry,
What is your take on Dennis Wideman's hit on linesman Don Henderson?
It seems like Wideman was furious and lacked any self-control. You could say he was dizzy from the previous hit, but I don't buy it.
His head was raised for about five seconds as he was skating towards the bench. Wideman knew what he was doing. This was no accident. Anyone looping the replay can see it. A serious injury could have taken place. Luckily, Henderson looked like he was okay after the hit.
Is this a major suspension? I would sure hope the rest of the season and all potential playoff games. Perhaps more would send a message. This was classless and unacceptable.
Kelvin
Kelvin,
I had to take a very deep breath to avoid overreacting as I watched Dennis Wideman run over my friend and former colleague Don Henderson from behind. When I saw the finishing push of Wideman's hands high on the back of the linesman my first reaction was, "You SOB, you did that on purpose!"
After a closer look, given the stutter-step executed by Wideman at the last second prior to impact, I have to believe that the Calgary defenceman really didn't see the linesman until a collision was imminent and did not strike Henderson with intent to injure. If that was the case, an automatic suspension of at least 20 games would be imposed.
Given the finishing push, I don't believe that Wideman should be given a pass either.
If Wideman is found guilty of deliberately applying physical force in any manner against Henderson without intent to injure, the Calgary player could be subjected to a suspension of not less than 10 games under Rule 40.3 (Physical Abuse of Officials) category ll.
In 1994, Rick Zombo of the St. Louis Blues was suspended by then senior vice-president of hockey operations Brian Burke for 10 games for physically abusing linesman Kevin Collins. Collins had inadvertently backed into Zombo, forcing a turnover of the puck to Mike McPhee of Dallas, who raced in on a breakaway and scored. Before giving chase to McPhee, Zombo took a short whack at the linesman with his stick and then executed a hard glove punch to the back of Collins's head. This, of course, was deemed to be a deliberate act of physical abuse on an official.
Wideman was definitely in his own little world after taking a big hit in the corner from Miikka Salomaki that helicoptered the Calgary player head-first into the boards and was worthy of a boarding minor penalty. He might have even been salty that there was no penalty signalled on the play.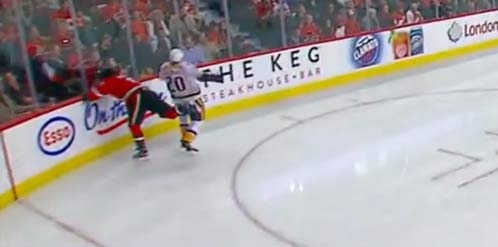 Wideman sufficiently regained his faculties to proceed to the Flames players' bench. He had the presence of mind to raise his stick and slam it to the ice as a signal to the bench that he was coming for a change.
In the screen grab below, is it reasonable to suspect that Wideman saw the black and white striped sweater as T.J. Brodie was about to jump over the boards as Wideman's replacement? I want you to notice the body position of linesman Henderson and the narrow gap to his left at the entrance of the Calgary players' bench door. That gap was Wideman's intended route to exit the ice. Henderson performed a C-cut with his skates while backing up that took his body position back toward the boards, sealing off the lane that Wideman was intending to pass through.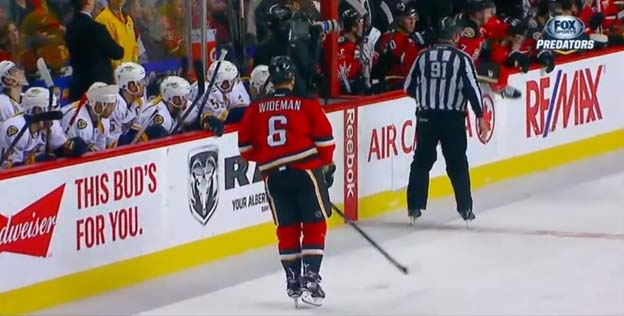 Below, linesman Henderson had just executed a right skate C-cut with a right body lean that places him closer toward the boards and seals off the exit lane for Wideman.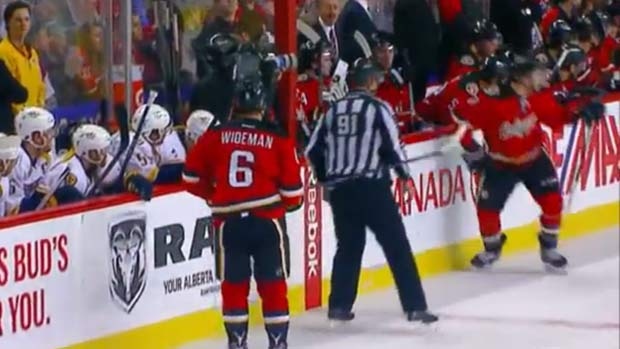 With the lane closed, Wideman attempted a quick stutter-step to avoid contact. The contact is imminent and unavoidable, so the Flames player elevated his hands in a defensive posture.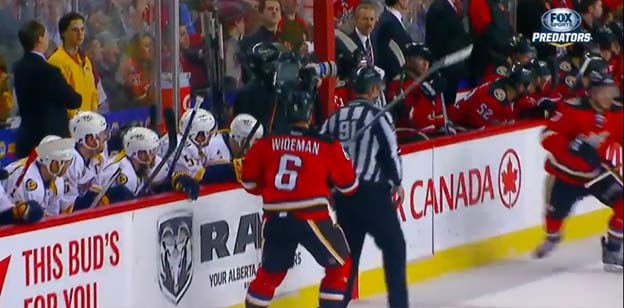 This is where any free pass for Wideman ends for me. While I believe contact at this point was unavoidable, I do not accept or condone the finishing push of Wideman's hands that exacerbated the degree of impact and caused a hard fall to the ice by the linesman.
I would ask Wideman why he didn't bear hug the defenseless linesman to minimize the contact. Why didn't he decelerate his forward motion in any way to reduce the impact? Finally, I would ask why he felt it necessary to extend his arms and finish the contact with a strong push on the back of linesman Henderson.
As hockey operations reviews this incident they have the option to impose a 10-game suspension under Rule 40.3—category ll (Any player who deliberately applies physical force to an official in any manner, which physical force is applied without intent to injure, or who spits on an official, shall be automatically suspended for not less than ten (10) games.)
It would be a reach, but hockey operations might also buy into Wideman's claim and reduce the suspension to not less than three games under Rule 40.3 — category lll, even though that category is intended more for threats where contact is generally applied in breaking free from an official during an altercation.
The final option for hockey operations is to impose any number of games that they deem worthy under Rule 28 (Supplementary Discipline).
I determine that Wideman's needless and dangerous shove from behind with total disregard for the safety of the linesman to be worthy of a suspension not less than 10 games under Rule 40.3—category ll.