Estrada's resurgence coming at an interesting time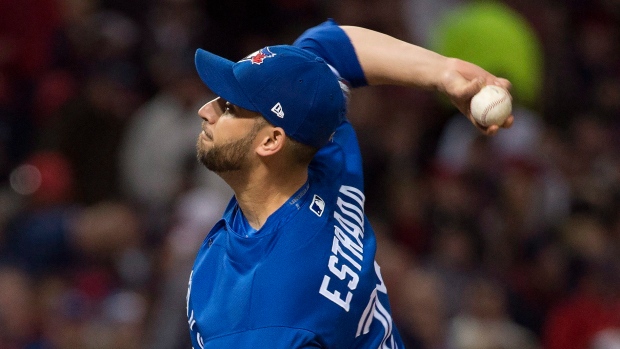 It took two months but Marco Estrada could be turning things around at an interesting time of year.
Two starts is the definition of a small sample size, but when you've struggled as mightily as the 34-year-old has since the end of May, even the slightest sign of hope is worth talking about.
When he made his 22nd start of the season just hours after the July 31 trade deadline had passed, Estrada went out and confused the last place Chicago White Sox for seven innings, looking like exactly the type of pitcher the Toronto Blue Jays have been accustomed to sending out to the mound every fifth day for the past couple of years.
Afterwards, Estrada talked about the deadline uncertainty affecting him and the fact he turned off his phone and stayed away from all distractions for the entire day.
It was clear the situation had become a problem for Estrada.
When exactly that began and how much it affected his results, only he knows.
There's no free pass for the 10 starts from June 1 on that produced a ghastly 8.87 ERA when his team needed him most — uncharacteristic walks, bad location, and inconsistent results not only with his secondary pitches, but also his bread-and-butter changeup are material reasons for his struggles — but it's impossible to separate Estrada's sensitivity when talking about the subject of a potential trade and his poor performance.
Estrada has reiterated his love for Toronto and desire to stay on a number of occasions.
Usually, you can chalk that up to 'What else is a player going to say?'
Francisco Liriano said it.
So did Joe Smith.
Here's betting neither is complaining about being dealt to a legitimate World Series contender.
Estrada, however, seems genuinely interested in sticking around, even if it means missing out on another chance to pitch in the post-season.
And let's remember, he's been excellent in the playoffs for the Blue Jays, pitching to a 2.16 ERA in six starts, including a pair of eight-plus inning gems last October.
Not long after the trade deadline came and went, Blue Jays general manager Ross Atkins hinted at Estrada, a free agent this November, potentially being in the plans beyond this season.
"We'll start thinking about not only how he impacts us now but how he could potentially impact us beyond 2017," Atkins said.
A buy-low, short-term contract extension for a back-of-the-rotation arm isn't a terrible idea, especially since the Blue Jays intend to contend in 2018.
Then Estrada went out and held the Houston Astros to three runs over seven innings on Saturday, leading one to wonder, did the right-hander forget that he can still be traded during the month of August?
There's no indication Estrada has been placed on revocable trade waivers yet, but that's inevitable and it would be the second step in dealing the veteran starter over the next three weeks.
The first step was Estrada proving he could turn around a dismal season, a process that he'll hope to continue Thursday against the contending New York Yankees at Rogers Centre, a venue where he holds a 4.75 ERA in nine starts this year.
Now that the starting pitching market has been picked over, Estrada's resurgence may offer potential playoff teams an intriguing August option.
The high-socked righty is still owed approximately $4.5 million of his $14 million salary for this season, but there are work arounds to mitigate the money issues.
A contender could pay it themselves, or Atkins could offer to pick up the tab in order to improve the return.
The Blue Jays may not be able to salvage a lost season, but there's a chance they may be able to salvage a thought-to-be-lost trade chip.
But don't mention that to Estrada.​