Griffin apologizes to Clippers fans for punch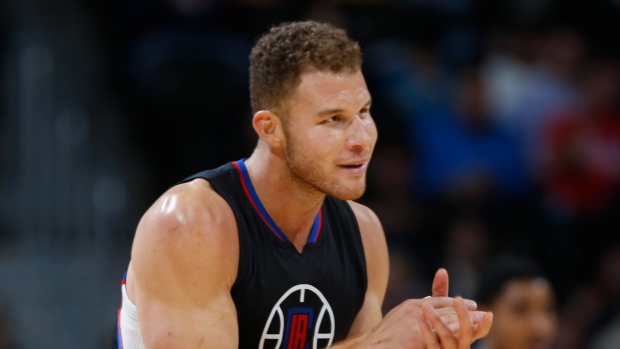 LOS ANGELES — Blake Griffin is apologizing to Los Angeles Clippers fans for punching the team's assistant equipment manager last season, an incident he says was "100 per cent my fault."
He was suspended four games and docked nearly $860,000 in pay for the altercation in January at a Toronto restaurant. Griffin broke his right hand and Matias Testi's face was severely swollen. Testi no longer works for team, having left in late July with no reason given by the Clippers, who open training camp Tuesday in Irvine.
Griffin says not a day goes by that he doesn't think about the incident and says he feels like he let down longtime Clippers fans. The 27-year-old forward expressed his thoughts in a letter posted Friday on The Players' Tribune website, where he is listed as a senior editor.
"I don't want to dwell on it, but I think I owe it to Clippers fans to say it once again before the season begins: I'm sorry," he wrote.
Griffin was limited to 35 games last season because of a left quadriceps injury. He averaged 21.4 points and 8.4 rebounds. The Clippers lost to Portland in six games in the first round of the playoffs.
"We all know the narrative going into this season," he wrote. "Everyone's like, 'Oh, they lose in the playoffs every year. Same old Clippers.' All I have to say to that is this: We're the same core group that beat the defending-champion Spurs in seven games just 17 months ago. I know 17 months seems like forever, especially in NBA time, but we know how small the margins are between winning and losing, and how quickly the narratives around teams can change."
Griffin said missing most of last season was "a wake-up call for me."
"When I was hurt and basically sitting around going stir-crazy, it made me realize that basketball was like therapy for me," he wrote. "No matter what was going on in the real world, if I could just get to the gym, everything else disappeared."
Griffin said a few days after the altercation he received a call from his older brother Taylor, who said, "Man, what are you doing? This is not you. What are you doing this for?"
"I was crushed," Griffin said. "To hear that from him, somebody I've looked up to my whole life, who always tells me what I need to hear, that's when I had a pretty big realization about who I am, and who I want to be. I don't want to say what that realization was. I just want to go out and show you."