Impact look for win at Red Bull Arena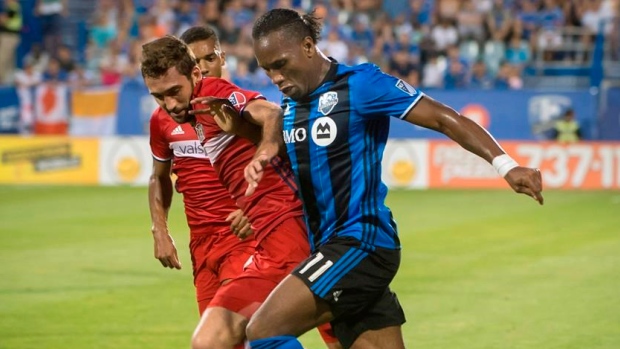 MONTREAL — The Montreal Impact's season is winding down and captain Patrice Bernier knows his side needs to turn the tide if it hopes to remain in the playoff race.
Montreal (9-9-11) has won just once in its last seven MLS games as it clings to the fifth spot in the Eastern Conference. The Impact are in tough on Saturday night as they face a red-hot New York Red Bulls (12-9-9) side in a stadium where they have never won in franchise history.
"It's about getting into a good sequence, getting consecutive wins," said Bernier, who has not scored in a regular-season MLS game in more than three years. "We know that we haven't been at our best. But it's the last five games of the season.
"You get a good streak of victories and performances and you can do a lot of good things in the post-season."
The odds are definitely stacked against the floundering Impact going into Saturday's clash at Red Bull Arena. Montreal is 1-4-2 in its last seven matches, and 1-3-7 in its last 11 on the road.
Despite having striker Didier Drogba on the roster, Montreal is struggling to find the back of the net. The team has scored eight goals in its last nine games. And the Canadian side has not scored more than one goal in a game since July 23, a 5-1 win against the Philadelphia Union.
The Red Bulls, meanwhile, have not lost in nearly three months, going 8-0-8 in all competitions since July 3. The unbeaten streak has propelled Jesse Marsch's men into second place in the East, just two points back of leaders Toronto FC.
Part of that success is due to the seemingly unstoppable Bradley Wright-Phillips.
New York's striker leads the league with 20 goals and he's scored in six consecutive games in MLS. The 31-year-old has more goals (11) in his last nine games than Montreal's entire team (8) over that span.
With his two-goal effort against Toronto last week, Wright-Phillips became the first player in MLS history to score 20 goals in two seasons. He notched 27 in 2014.
"He's incredible," goalkeeper Luis Robles told the team's website this week. "Congratulations to what he's done, we couldn't be half the team without the goals he puts in. I don't think he gets the credit. He means more to his team than anyone in this league."
In addition to Wright-Phillips' abilities in front of goal, history is also not in Montreal's favour heading into Saturday.
Red Bull Arena is a notoriously difficult venue for road teams, especially the Impact. Montreal is 0-6-1 all-time on the road against the Red Bulls, with the one draw coming against a depleted New York side in the CONCACAF Champions League group stage in 2014.
The Red Bulls are 10-2-2 at home this year, with both losses coming early in the season.
"The environment is difficult to play in," said defender Hassoun Camara. "They have a good stadium, good fans and a good coach. It's difficult for us to play in that environment. But we've shown we can do good things over there. We're going to do everything to show we really want to win.
"We're going to be focused until the very end to do something great over there."
Impact defender Donny Toia (hamstring) did not travel with the team. Toia left Montreal's last match at halftime. He will be replaced by centre back Victor Cabrera while Camara will move to right back.
"I have confidence in my back four," said head coach Mauro Biello. "Victor's always done well for us. It's a big challenge for us but it's the right formula to get out of a difficult situation."
Notes: New York could clinch a playoff spot with a win. … Impact striker Matteo Mancosu (tightness in back) is day-to-day. … Wright-Phillips has four career goals against Montreal. … This is the third and final clash between the Impact and Red Bulls.