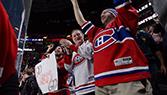 WIN HABS TICKETS: THE BOSS'S SEATS
Listen to the Morning Show for your chance to win tickets to see the Habs take to the ice at the Bell Centre. And these aren't just any seats, we're giving away the boss's seats!
Shopico
Save 50% anytime! Whether it's for a tasty meal at a restaurant, a spa getaway, a ski trip, even a bartending course, the choice is yours at SHOPICO.ca!