Hustler and Lawless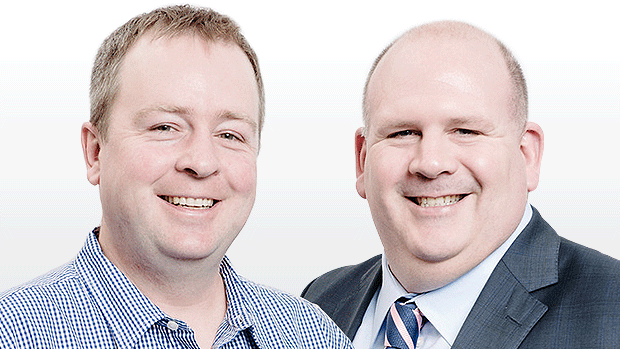 Local legends Gary Lawless and Andrew Paterson co-host the afternoon drive show, talking all things Winnipeg and more!
In an extended edition of H&L the guys get you set up for the Jets and Kings.

Zeisberger: Playoff buzz back in Toronto

Toronto Sun's Mike Zeisberger joins Hustler & Lawless to discuss the Toronto Maple Leafs playoff push, and the rookies playing large roles in the Leafs postseason trajectory.

Lemon: Excited to have new Argos leadership

Toronto Argonauts defensive lineman Shawn Lemon joins Hustler & Lawless from Mark's CFL Week to discuss the week's activities, and what he expects from his new GM & head coach.

Hustler and Lawless look back at the Jets win over the Flyers and discuss Shawn Matthias and Joel Armia on the 5:15 Referendum.

Dreger: Crosby leader of Hart race

TSN Hockey insider Darren Dreger joins Hustler & Lawless to explain why Sidney Crosby is at the top of his Hart Trophy ballot, and why he's giving goaltenders like Cam Talbot serious consideration for the award. Dreger also discusses the merits of releasing the protected player lists ahead of the expansion draft.

Armstrong: Ibaka-Lopez fireworks woke Raps up

'The Coach' Jack Armstrong joins Hustler & Lawless to review the Toronto Raptors come-from-behind win that saw Serge Ibaka and Robin Lopez ejected and subsequently suspended. Armstrong also explains why the win over the Chicago Bulls is an important step in the Raps' playoff hopes.

Arthur: NBA wants stars to be stars

Bruce Arthur of the Toronto Star joins Hustler & Lawless to discuss the difference in how the NBA and NHL handle and market their star players. Arthur also discusses Rene Fasel's comments about the NHL going to the PyeongChang Winter Games.

BC Lions linebacker Solomon Elimimian joins Hustler & Lawless from Mark's CFL Week to look ahead to the upcoming season and what is setting up to be a very competitive west division. Elimimian also shares his thoughts on some rule changes that the league could look at.