The Big Show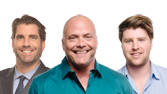 Troy Westwood, Jim Toth and Brandon Rewucki get your day set with the latest sports news from a Winnipeg perspective. Plus, the latest hockey news is discussed weekdays at 7 am in the NHL Power Hour.
Guests include Ian Mendes, Adam Kimelman, Scott Mitchell and Jeff Hamilton plus Stanley Cup Final preview, Memorial Cup and Bomber training camp.

The Big Show: May 26, 2017

Guests include Matt Cauz, Jesse Marshall and Drew Edwards plus the Pens game 7 win over Ottawa and a preview of the Stanley Cup Final.

The Big Show: May 25, 2017

Guests include Mitch Gallo, Jeff Reinebold and Jonathan Davis plus a preview of Pens/Sens game 7, David Poile's success and a Jets off-season outlook.

Tait: Bombers have few holes ahead of training camp

Ed Tait of bluebombers.com joined the Big Show as the Blue and Gold kick off their rookie camp to talk the expectations for top overall pick Faith Ekakitie, who could surprise at camp and why this Bombers squad is the most well rounded in several seasons.

Guests include Shelley Anderson, Ed Tait, Gus Katsaros and Obby Khan plus Sens/Pens game 6 recap, Craig Anderson's play and Bomber rookie camp.

The Big Show: May 23, 2017

Guests include Darren Dunn, Ian Mendes, Paul Edmonds, David Pagnotta and Jason Cole plus the Preds West Final victory and a preview of Sens/Pens.

The Big Show: May 19, 2017

Guests include Matt Cauz, Matt Larkin and Craig Button plus Preds/Ducks recap, Kevin Pillar's suspension and the Preakness.

The Big Show: May 18, 2017

Guests include Adam Kimelman, Drew Edwards and Jonathan Davis plus Sens/Pens recap, Fleury or Murray, and another Jose Bautista bat flip.

Guests include Jesse Marshall, Darrin Bauming and Gus Katsaros plus Preds/Ducks recap, a tough Jays loss and Gisele's comments about Tom Brady.

Cockerill: I got hooked on golf at age 15

Pro Golfer Aaron Cockerill joined the Big Show and discussed growing up in Stony Mountain, MB, his road to playing professional golf, the life of a pro golfer, and the upcoming season on the Web.com Tour/PGA Tour Canada.