The Afternoon Ride with Hustler & Rick Ralph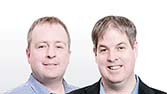 Join Andrew "Hustler" Paterson and Rick Ralph during the ride home to talk about the latest stories from around the sporting world, including interviews with players, reporters and sports personalities.
Hustler and Rick set up the Jets and Flames, and discuss the latest from around the NFL.

LeBrun: Oilers offering up primetime opportunities to Strome & Puljujarvi

TSN Hockey Insider Pierre LeBrun joins the Afternoon Ride to discuss a few preseason stories, including the opportunities provided to Ryan Strome and Jesse Puljujarvi to crack the Edmonton Oilers' top-six forwards group, and the statement the Pittsburgh Penguins made about their upcoming visit to the White House.

Tait: Bombers still experimenting with Flanders' deployment

Ed Tait of the Winnipeg Blue Bombers joins the Afternoon Ride to review the Bombers wet win over the Ottawa Redblacks, including significant contributions from Timothy Flanders and Darvin Adams. And Tait discusses who may be filling in Weston Dressler's shoes for the immediate future.

Arthur: Eventually Trump offends everybody, including athletes

Bruce Arthur of the Toronto Star and TSN's The Reporters joins the Afternoon Ride to discuss US President Donald Trump's comments critical of athlete protests. Arthur outlines why players of the major North American pro leagues have had different responses, and why it may be particularly difficult for pro hockey players to imagine empathy for people of colour.

Cronin: Keenum able to keep ahead of the Buccaneers defence

ESPN's Courtney Cronin joins the Afternoon Ride to review the prodigious production of the Minnesota Vikings with backup quarterback Case Keenum. Cronin says Keenum was helped by by getting time to make a play, and outlines how rookie Dalvin Cook has been able to surpass expectations in the first three weeks.

Today's guests were Ken Wiebe and Allan Mitchell

Ferraro: Players will eventually understand new calls on slashing, faceoffs

TSN Hockey analyst Ray Ferraro joins the Afternoon Ride to discuss the Winnipeg Jets' strategy to bring in Paul Devorski to help the team reduce the number of penalties taken, explaining that, with repetition and explanation, he expects players to understand the reason behind the by-the-book calls on slashing and faceoff penalties.

Hacksaw: McAdoo's play-calling under a lot of heat in New York

Lee 'Hacksaw' Hamilton joins the Afternoon Ride to discuss a few storylines heading into week 3 in the NFL, including Bryan Hoyer's performance in San Francisco, the lack of support for the Chargers in LA and the team's possible future, Ben McAdoo's ineffective offensive play-calling, and Aaron Hernandez's revealed CTE.

Custance: Sheahan's heartwarming friendship with 9-year-old Zack

Craig Custance of The Athletic joins the Afternoon Ride to discuss the story of Detroit Red Wings centre Riley Sheahan, and the bond built with a 9-year-old fan that was built from traumatic events. Custance also discusses the Red Wings' salary cap situation.