Biagini begins second stint as a starter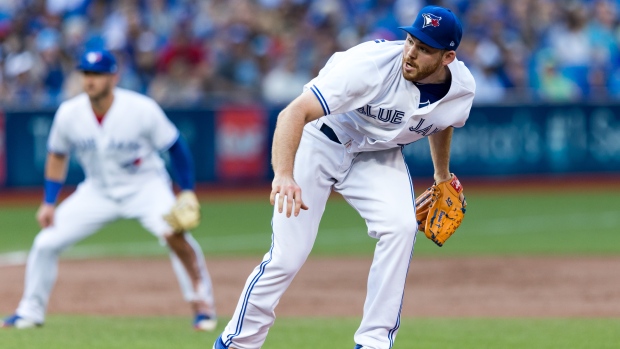 The last time Joe Biagini transitioned from the bullpen to the rotation, he did it at the major-league level.
This time, however, he's being stretched out at Triple-A, a process that began anew Monday night with the Buffalo Bisons.
The 27-year-old started and went three innings, allowing three hits and two earned runs while striking out one and walking nobody.
Most importantly, Biagini got up to 48 pitches, throwing 32 of them for strikes.
Since his final start on July 2 against the Boston Red Sox – one that didn't go too well considering he was tagged for seven earned runs – Biagini hadn't cracked the 40-pitch barrier, going above 30 twice, and not since July 20.
With Francisco Liriano shipped to the Houston Astros at the trade deadline, the Blue Jays need a fifth starter.
But that isn't the reason Biagini is being given another go-round in the rotation. This is about 2018 and beyond.
Fifty-one games remain in the 2017 season, and the Jays' last-place situation gives general manager Ross Atkins another chance to figure out exactly what Biagini is.
They know he's a capable reliever, evidenced by the 3.06 ERA and the 1.2 Wins Above Replacement he compiled in 67.2 innings last season as a Rule 5 steal from the San Francisco Giants organization.
Here's a look at how he's fared in both roles so far this season:
As a starter: 54.2 innings, 5.60 ERA, 17 walks, 46 strikeouts
Slash line against: .267/.318/.424 for a .742 OPS
As a reliever: 31.2 innings, 4.26 ERA, 12 walks, 27 strikeouts
Slash line against: .223/.310/.339 for a .649 OPS
If the Blue Jays deem the overall body of rotation work a success, Biagini goes into the winter with a clear plan to head to Dunedin next spring as a starter.
If they don't like what they see, Atkins can focus in on adding extra rotation depth in the off-season, knowing Biagini can easily slide back into a setup role and have success.
Here's a look at three key indicators within Biagini's 54.2-inning body of work as a starter this season:
Third time through
One of the keys to being a quality starter is navigating your way through a lineup not just once or twice but a minimum of three times.
Biagini didn't have much success with that in his first rotation cameo.
The first time through a lineup, Biagini was stingy, allowing just a .214/.293/.341 slash line in 99 total batters faced.
The second time through, opposing batters improved that slash line to .299/.322/.471 in 20.1 innings.
The third time through an order – he didn't get to that point much in his 11 starts – that slash line jumped to .292/.346/.417, and a 6.94 ERA came along with it.
Splits
Right-handed pitchers will quickly find themselves in the bullpen if they can't get left-handed hitters out with any sort of regularity.
According to Brooks Baseball, Biagini's changeup helps him keep lefties at bay with a .150 batting average against last year, followed by a .138 mark as a starter this season.
But the four-seamer has given him troubles in both roles, including a .475 average and a .625 slugging mark as a starter, up from .296 and .380 marks, respectively, in 67.2 innings as a reliever in 2016.
Pitch selection
As a reliever, Biagini relied on his four-seam fastball, mixing in his cutter, curveball and change depending on the situation and what was working that particular day.
In 2016, Biagini's curve held hitters to a .184 average and a .237 slugging percentage out of the bullpen, while the four-seamer produced a .264 average and the cutter checked in at .234.
During Biagini's 11 starts this season, the curve (.182 batting average against) and the change (.167) continued to be excellent, but it was the fastball and the cutter that gave him issues.
Biagini threw 461 four-seamers and batters teed off for a .333 average and a .500 slugging percentage.
On 86 cutters, the opposition hit .333 with a .519 slug rate.
Overall, the four-pitch mix Biagini possesses screams starting pitcher, but he's far from perfect, and this eight-week stretch gives the Blue Jays another chance to audition the lumbering righty for a future role in the rotation.
At the very least, it will provide some clarity.
There's already an 11-start body of work to evaluate, but baseball is all about sample sizes and bigger is always better.