The Watercooler: Toews the top international player of his era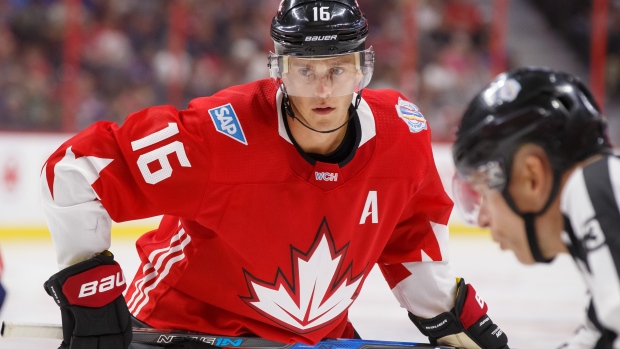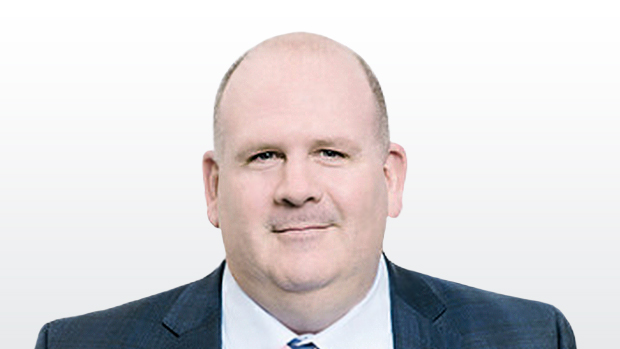 TSN Senior Correspondent Gary Lawless provides talking points for the Friday Watercooler in this World Cup of Hockey edition
Toews in great company
Jonathan Toews is the top Canadian international player of his era and he's closing the gap on Wayne Gretzky for all-time status, with several events likely still to come in his career.
Gretzky played in eight international events during his career, winning on three occasions and leading the scoring seven times. In 63 international games he amassed 34 goals and 103 points. Just as he was in peewee, junior and pro, Gretzky was a dominant international player.
Toews is in his eighth international event and has won in six of the seven already completed. His closest peer is Sidney Crosby, with four golds in six tries.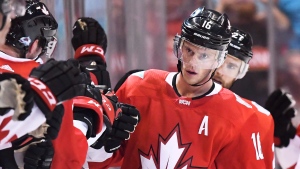 A win at the World Cup will make it seven of eight for Toews, dating back to winning gold for Canada West at the U-17s back in 2005. He's got two World Junior golds, one World Championship gold and two Olympic golds. The lone blemish is a silver medal from the World Championship in 2008.
Toews has not scored at the same rate as Gretzky - he has 20 goals and 44 points in 52 international games - but no one has in this era where defensive hockey has been elevated to an art form.
Toews has tailored his game to his time with only one result in mind: winning. He rises up to score when needed, such as popping the opener in Canada's gold-medal game at Sochi. He morphs into a shadow, shutting down Chicago Blackhawks teammate Patrick Kane in Canada's win over Team USA at this World Cup. Team Canada coach Mike Babcock has pitted him against the opposition's best line and asked him to defend, yet he still leads Team Canada in scoring. Toews can and will do anything to make his team win.
Toews has lifted his country to a rare level of supremacy in a golden era for Canadian hockey. He's been a constant force and a Mr. Everything for Canada. At 28, he likely has a minimum of another five years and a maximum of another decade representing his country ahead of him. This race to catch Gretzky is still being run and Toews is gaining ground.
Scoreless Stamkos
Fiddlers fiddle, as the expression goes. Well, Steven Stamkos is the fiddler who isn't fiddling right now.
Stamkos is supposed to score. That's his reputation, his pedigree and his job. By that measurement his World Cup hasn't been a success.
Stamkos has generated a lot of shot attempts, which suggests many parts of his game are working, but he needs to finish. That's his gig. With one assist through three games, Stamkos needs some production. Stat.
Tretiak could face coaching question
If Russia fails to win the World Cup, marking an 11th straight best-on-best (or almost best-on-best) tournament without a championship, Russia has to do something bold – hire a Canadian to coach the team.
The Russian Federation is likely too proud to ever put a Canadian behind its bench, but next time around, if Team Canada doesn't make Joel Quenneville its head coach, Vladislav Tretiak should break with tradition.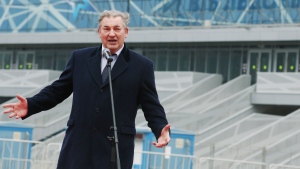 England has hired foreigners to coach its national football clubs and we see Olympic teams hire coaches from other countries all the time. Getting the best available coach is the goal and there are no restrictions saying a coach can't be from another country. Team Europe has a pair of Canadians in Ralph Krueger and Paul Maurice behind its bench. Quenneville is at the top of the list, but there are a number of Canadian-born NHL coaches — anyone from Canada's staff at this event for instance — who would have to be considered elite.
Russian coaching has lost a step on the Canadian fraternity and an influx of some of the game's best minds, regardless of birth certificate, is a worthwhile venture. Russia has advanced to the World Cup semi-finals, its first final four in best-on-best since the 2006 Olympics. The Russians still produce elite talent, but Canada has been dominant by relying on better team play. A lot of those efficiencies are a result of superior coaching.
The Russian management team of Tretiak, vice-president Roman Rotenberg, executive director Dmitry Kurbatov, head coach Oleg Znarok and assistant coach Harijs Vitolins has almost no NHL experience.
This is an NHL tournament with NHL players, ice and rules. The coaches best suited to succeed here are NHL coaches.
Sure, hockey is hockey, but the nuances, subtle or not, can make all the difference in the World (Cup).
Quiet coach, we're busy playing
Team North American coach Todd McLellan realized he had a runaway train on his hands and worked to prevent it from overheating rather than waste his energy on trying to stop it.
The decision not to overcoach this group was prescient. Putting the brakes on this gang would have been counterproductive. This wasn't a roster assembled to check. McLellan let them focus on what they're good at then stood back to see how far it went. One regulation win, an overtime win and a loss weren't enough to get them to the playoff round, but Team North America had a brilliant debut.
"Obviously, it's fun hockey to play when there's tons of offence and you're focused on making plays and you're allowed to make those plays," Team North America forward Mark Scheifele told a scrum on Wednesday. "We still have systems and we have things we stick to and, obviously, we have our structure. But Todd has been a great coach. When you have a guy like Johnny Gaudreau, you let him make his plays and his passes. And when you have a guy like Connor McDavid, you let him do what he does.
"Sometimes, he's had to pull the reins and say, 'Okay guys, settle down a little bit.' But it's been awesome playing for him."
This tournament will end without the Team North America getting the chance to test themselves against Team Canada. Blame that on the format, not on the kids.
Grinding Getzlaf
Ryan Getzlaf is the perfect example of what Canadian GM Doug Armstrong had in mind when he chose hockey IQ over youthful speed in assembling his roster.
"It's the North American rink and the NHL game. You don't want to be the fastest guy to the wrong spot," Armstrong told TSN prior to the tournament. "We've built this team with a premium on hockey IQ."
Getzlaf was coming off an awful first half of the NHL season when he was originally chosen, and a lot of people thought he was on the downside of his career. He's been terrific at the tournament in Toronto. He's driven play, killed penalties and blocked shots.
Getzlaf has struggled to look motivated at times in the NHL. He can get sleepy for stretches with his club team, but that's not the case in the World Cup. Getzlaf is still a world-class player when he's engaged and has been a key factor in Team Canada's success.