Who should the Blue Jays sell ahead of the trade deadline?
Dirk Hayhurst, TSN Baseball Analyst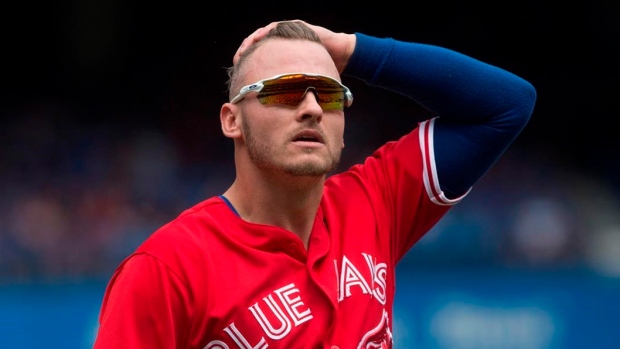 The Toronto Blue Jays have some tough decisions ahead of them.
On one hand, they're in last place in the American League East and one of a few teams that isn't truly in contention for a wild card spot (at least not at this moment).
On the other, they have a club made up mostly of the players that took the franchise back to the postseason for the first time in the last 20 years. It's possible that this particular batch of team chemicals could get explosive at any moment, given the right player additive.
It's also possible (and much more possible at that) that they could keep fizzling into mush.
Luckily, the Blue Jays' front office doesn't have to make any tough decisions. They have me for that. I'll do all the heavy lifting for them. If they hired me on right now, I'd be pushing for the following moves…
Josh Donaldson
It's time for that Bringer of Rain to precipitate elsewhere.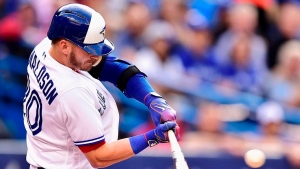 Oh sure, I like Josh Donaldson - he's a great player and all. But he's also about to get a heck of a lot more expensive. Donaldson will be looking at one more year of discount play for the Jays before he becomes one of baseball's best - and best paid - corner men.
I'd tell the Jays to lock him in now, but there's a good chance they can't. I could wax on about struggle the Jays have courting players to come across the border, but why bother? That won't be the main issue. The issue is how the Jays aren't supplying enough prospects or top level talent to compete in their division in the coming year, or giving Josh Donaldson - a well-decorated veteran - a chance to do the next thing on his hit list…get a ring.
When players get the guaranteed money and the MVP awards, they start thinking about what they don't have. In JD's case, that's a World Series championship. The Jays could make a very enticing offer to Donaldson, but doing that ties up more payroll they could use to acquire players to help JD get that jewelry. It's a Catch 22 - or, in Donaldson's case, a Catch 20.
Because I think that Donaldson wants to play for a team with the means to win, he'll take a comparable offer from a club that has both money and infrastructure. Therefore, I deal him now.
The good news is that trading him now means you're not trading a pure rental. The team on the receiving end should give back plenty. One such team is the St. Louis Cardinals, who've been speculated as a possible candidate. The Cardinals have plenty of roster depth at their top and lower levels and can free up prospects like RHP Alex Reyes, SS Delvin Perez and RHP Sandy Alcantara. That would be a hefty haul for the guy who was on the front of video game case just last year.
Jose Bautista
Jose Bautista is the perfect off-the-bench hitter for a team looking to add depth and tools for the postseason. He's still amazing at getting on base. So much so that this season (which is shaping up to be one of his most underwhelming in the last seven), his on-base percentage is only 25 points lower than it was in the year he hit 54 home runs.
Bautista's struggling to produce power now, but he's still drawing walks at an incredible pace. His eye is what makes him so good, and he's got experience as a utility player both on the field and in the lineup. But perhaps more importantly, the price and context is right. He's a pure rental for both the Jays and whomever he would be traded to.
The Blue Jays have one of the oldest rosters in baseball and he's a reason why. Bautista will be 37 next season. His defence in right field has already declined significantly. His arm plays but his range doesn't. And he's getting close to the age where consistent playing time is starting to turn into injury bait. He'd be a good fit in a club that needs a veteran bat with power potential and composure under pressure, but has enough young bodies to ensure he doesn't hit the field more than he needs to.
While a trade partner isn't immediately apparent, the Jays scouting department will have to do their homework. This deal isn't going to net top level prospects, but that's okay. It doesn't need to - roster fillers and replacement level parts are fine. I'll take the best offer and not think twice about the fan fallout as one of the Jays' favorite all-time players leaves town.
Marcus Stroman
Everyone likes the Stro-Show, myself included. I don't want Stroman to go, even though the offers - even from inside my own division - are pretty tempting.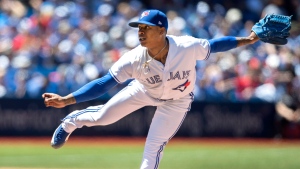 Do I care about facing him if he was a member of the New York Yankees? Nope. I can tell you right now he'll become a sinker machine if he puts on the pinstripes. He's already one right now and Yankee Stadium is a crackerjack box. I can handle facing a contact-heavy pitcher in my own division season after season. I mean, he's good, but he's not Scherzer, Kershaw or Greinke.
But if the Yankees want to treat him like he's one of those three studs in a trade deal (in their younger, controllable years), I'll let them. He can go measure heart in the Big Apple for many a seasons to come with my blessing, because I'll take back a three-player deal that includes - among other things - SS Jorge Mateo, RHP Chance Adams and RHP Albert Abreu.
To be honest, that may be a bit much for the Yankees to part with. Adams is pretty good. He could be better than Stroman someday, especially if he gets tutoring under Russell Martin (before I trade him to dump his salary). And if Mateo pans out, he could solve the foot speed issue that Jays suffer from (ranked last in the majors). Mateo has an 80 scale speed ranking in his scouting report and stole an MilB-best 82 bases last season. He's a shortstop, but just think of him next to Kevin Pillar in the outfield…
But let's all calm down for a minute and realize that young, durable and post-season-experienced groundball dispensers aren't common in baseball, let alone the American League. Stroman has tremendous value to any team - including the Jays. If you keep him, you get a lot of 'sure-thing' value and your team stays young and inexpensive. If you trade him, you get a lot of 'could-be' value and your team stays young and inexpensive. With a few offensive swaps, you could be competing behind Stroman with budding talent in a year or two, instead of hoping your talent can compete behind him.
Stro stays unless I'm wowed by the offers. And I mean wowed.
Aaron Sanchez
Nope. Nope. Nope. Next question.
Roberto Osuna
See previous answer.
Troy Tulowitzki
This guy has given Jays fans a bad taste and it's not entirely his fault. He was an amazing player for the Rockies, but never really played up to his full potential in Toronto. Sad as it is, that alone is enough to make a lot of people hate you. I don't hate him, but man do I wish I could get his salary off my books. And it's not like Tulo really wanted to be here. He didn't want to leave Colorado at all, as he thought he was going to finish his time there.
Well folks, I may have a solution for everyone, albeit a very, very long shot.
The Rockies are dealing with lack of both defensive efficiency and offensive production with their own SS option Trevor Story. Now, Tulo and Story are hitting about the same offensively and defensively, with Story producing more power but striking out a ton. And I mean, a ton.
But trading for Tulo isn't really a trade, really. It's a buy. Pure salary considerations, banking on the appeal of a hometown return boost - which the Rockies may just do - to pay the rent. If I move Donaldson or Stroman, I'll be committed to the rebuild. So I'd want payroll flexibility. I'll have potential shortstops for the future coming back into the system for later. I want Tulo to go either now or soon after. And once he's replaceable at the top by younger, more dynamic talent, he'll be older and even harder to move.
Unless he wants to play third base when Donaldson's out…I'll call his agent.
Marco Estrada
Estrada has not helped my case for trading him in the last month. I would have gotten top-tier talent back for him before June, but now teams are worried he's sliding into a soft tosser's death spiral.
The Astros, Braves or Twins were all potential homes at one time and some of them still might be. Marco's changeup makes him incredibly useful both on his own and inside a strong rotation. He wrecks timing and has been out of whack for a while, but once he gets his internal clock rewound he's very dependable - especially in the post-season when emotions run hot and changeups are devastating.
If he recovers in his next few starts, I'll have an easy sell with a good return. If not, then I'll have to wait until teams get desperate and trades start to spook contenders. All I need from him are two good outings before the deadline and my phone will ring off the hook
Francisco Liriano
I can't trade everyone at the same time and still have a pitching staff that can finish my current season without turning it into a joke, let alone prepare me for coming seasons. But of all my options, Liriano - being left-handed, will be one of the better returns on investment I'll have.
His ability to get outs from the pen against lefties is what makes him so desirable. He can, at the very least, be a LOOGY (Left-handed One Out GuY). But he can also be a spot starter or long reliever. A trade for Liriano is a trade for value and there will be plenty of interest, even with his usual volatility. After all, how do you think he made it here?
The one thing going for Liriano that makes him more valuable to me is that I have Russell Martin, whom many believe is the reason why Liriano produces. Martin is expense, so getting as much unique and special value from him through pitchers is must. If I'm going to keep Martin (and I kind of have to), then I might as well keep all the value talent that becomes great when paired with him.