18 predictions for the Jays in 2018
TSN's Blue Jays reporter Scott Mitchell makes his predictions on what will happen with the Toronto Blue Jays season in 2018. He discusses the future of Josh Donaldson, what we'll see from Marcus Stroman and much more.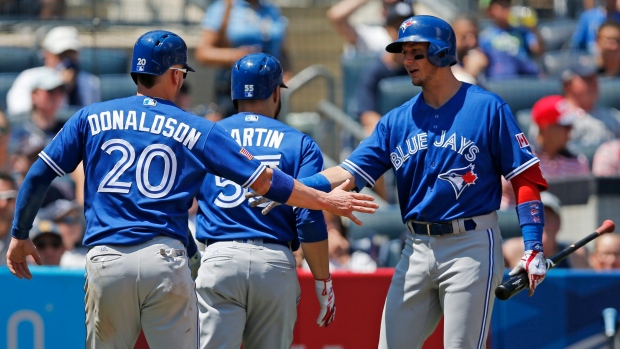 Whether it's trimming that waistline or your favourite baseball team turning things around, a new year provides hope.
Sometimes that hope is fleeting, but it's still a way to get through winter's darkest days and back to a place where Vitamin D isn't as elusive as the .500 mark was for the Blue Jays in 2017.
The next 12 months promise to be interesting for the Jays, as they continue to attempt to bridge the gap between an aging core and the kids in the pipeline without a full-scale rebuild.
With a glass half full perspective, there are reasons to believe the Jays can get back into the post-season hunt this year.
Glass half empty?
Well, 2018 could look an awful lot like 2017, a frustrating, directionless attempt to avoid being really bad but with little chance of being really good.
Hatched during the darkest days of December, here are 18 predictions for the Blue Jays in 2018:
1. A direction will be set in 2018
This franchise is at a crossroads and no one's really sure where things are headed.
Reload? Retool? Soft reset? Complete rebuild?
The Blue Jays haven't outwardly chosen one route, instead believing they can compete this coming season.
Oddly, the desire to compete on the field hasn't come with a desire to compete for available improvements, and the Jays' roster has done nothing but get worse since the Cleveland Indians ousted them with ease in the 2016 ALCS.
The Josh Donaldson decision and a number of veteran players heading into make or break seasons will give us a clear picture of where things are going by the end of the year.
2. Josh Donaldson will not sign a contract extension before opening day
Let's get right to that Donaldson decision.
Sign him or trade him before July 31.
Those are the two options facing Jays GM Ross Atkins, because the third option – their franchise player walking for nothing in free agency next winter — can't be one of them.
Donaldson going into his final year of team control on a yet-to-be-signed one-year pact will lead to two questions dominating the talk for the first four months of the season.
If Donaldson struggles, he'll be asked if his contract situation is a distraction.
If he hits — and expect him to hit, a lot — it will be Atkins getting peppered by the media about how he plans to deal with the impending Donaldson decision.
3. Marcus Stroman will finish top five in AL Cy Young voting
Thanks to a career-best 3.09 ERA in 201 innings, Stroman finished eighth in Cy balloting in 2017.
While he significantly out-pitched the advanced metrics — a 3.90 FIP suggests Stroman benefitted from some luck — the constant tinkering with windups, timing mechanisms, and mind games seems to be working, and his creativity has made him one of the more interesting pitchers to watch on a start-to-start basis.
He'll continue to build on that this year with his third-straight 200-inning campaign.
4. Justin Smoak won't repeat his all-star numbers, but he won't revert back to being replacement level, either
Counting on Smoak to hit 38 homers or .270 again — his career average is .232 — might be a stretch.
But he won't completely fall of a cliff.
Smoak wilted in the second half after his first all-star nod, leaving some to wonder if he was turning back into a pumpkin.
Smoak's adjustments were real, and he'll continue to be a valuable bat in 2018, but not quite as impressive as his breakout.
After posting a 132 wRC+, no one would quibble with that number settling in the 115-120 range.
5. Aaron Sanchez's finger continues to be a story
At this point, no one has any idea if Sanchez will get over his blister issues — not us, not the organization, and not even Sanchez himself — so we'll spare you a guess in that regard.
The one thing that is certain, however, is the camera cutaways to his hand between pitches, the questions before and after starts, and the constant maintenance it will take to make sure the blisters don't appear again.
With the unpredictable nature of the problem, it's going to be a story each and every time Sanchez throws a baseball.
6. Devon Travis stays healthy for the first time, but his offensive numbers are muted and he dabbles in the outfield
The track record says you can't count on him for anything close to a full 162, but you're only injury prone until you're not, and let's just say Travis is due for some good fortune.
The script will flip in 2018.
Travis stays healthy for the most part, but the production isn't quite what everyone's been expecting and he makes a handful of appearances as a left fielder.
7. Troy Tulowitzki makes another DL trip in 2018
Death, taxes and Tulo landing on the disabled list every single season are three of the certainties in life.
After two more trips to the DL in 2017 and leg injuries adding up, it's hard to envision a way the 33-year-old doesn't take at least 10 days off with some sort of tweak this summer.
8. After coming into camp slimmed down, Russell Martin stays healthy at the age of 35 and puts up 2.5 WAR
Coming off back-to-back seasons of sub-2.0 WAR — 1.9 in 2016 and 1.8 last year (in only 91 games) — being worth 2.5 wins would represent a pretty good bounce back for Martin, who, like Tulowitzki, went on the DL twice in 2017.
There's no doubt Martin is in the decline phase, but he'll continue to earn most of the $40 million he's owed over the final two years of his contract.
9. J.A. Happ makes 30 starts, is worth around 3.0 WAR for the fourth straight year
Heading into the final year of his contract, you'll hear Happ's name quite a bit in July, as he'll be one of the more coveted veteran arms potentially available on the trade market.
Whether or not he is dealt will completely depend on where the Jays sit in the standings, but Happ's dependable left arm will continue to be just that.
An ERA in the 3.50-range is very doable and very valuable in today's homer-prone landscape.
10. After being worth 10.7 WAR over 162 starts in 2017, good for seventh in the AL, the Blue Jays' rotation finishes fourth in the AL with 16.1 WAR as a group
That's about a five-win improvement, which, all other things being equal, would be enough to bridge the gap from 76 wins to the .500 mark.
Put it this way: If the Jays are going to be on the fringes of contention, the rotation will have to be solid from start to finish, because the offence as it's constructed currently isn't going to win many ballgames on its own.
11. John Gibbons predicted it first. Worked hard in 2017, the Jays' bullpen falters in 2018 and gives back some of the positive gains made in other areas of the roster
Roberto Osuna, Ryan Tepera, Danny Barnes and Dominic Leone all made at least 60 appearances, throwing 64-plus innings apiece last season.
They were the saving grace on many a night.
When he was asked about the bullpen's heavy workload late in the season, Gibbons continually pointed to 2018, saying the effects of it might not show up until a year later.
Luckily, there's some depth, but not enough to avoid some unfortunate blowups by key arms.
12. Roberto Osuna is the subject of trade rumours
Approaching the age of 23, Osuna already has three terrific seasons under his belt and numbers that will see him get a hefty raise in arbitration later this winter from less than a million to nearly $6 million in salary.
As the surplus value continues to dwindle and the Jays tread water in the standings, trading Osuna will become more and more realistic.
13. Anthony Alford tears up Triple-A for two months and arrives in the big leagues for good as the everyday left fielder in June
There are outfield reinforcements coming in the form of veteran free-agent additions, but none of them are likely to be long-term investments, leaving room for Alford to push his way into the conversation when he's ready.
He'll prove he's ready by the time he blows out 24 candles on his cake July 20.
14. Nate Pearson dominates the low minors and becomes one of the top 50 prospects in baseball
When you're 6-foot-6, 245 pounds and your fastball touches triple digits, you're sure to get a lot of attention.
Pearson started getting exactly that when he debuted in Vancouver after being selected 28th overall last summer, and promptly gave up just six hits and two runs in 19 innings, striking out 24.
The Jays' pipeline is desperate for a top-of-the-rotation pitching prospect, and that's exactly how Pearson, who is still answering questions about his long-term viability as a starter, will be viewed by some by the end of 2018.
15. Kevin Pillar loses his grip on the centre field job in the second half and is eventually traded in the off-season
If the Jays are going to become the balanced team they'd like to be, Pillar is going to have to find a way to hit at a league-average level.
He did that in spurts in 2017, but the overall numbers once again were very Pillar-like.
With Alford viewed as a legit centre fielder defensively, Pillar's days as the unchallenged answer in centre are coming to an end.
16. Aledmys Diaz splits the difference between his 2016 and 2017 seasons
In 2016, he was an all-star.
In 2017, he was a minor leaguer.
Those are two very different outcomes.
An interesting under-the-radar pickup from the St. Louis Cardinals earlier this off-season, the Jays believe Diaz is closer to the player he was in 2016 when he batted .300 with 17 home runs, and they'll be rewarded with a solid season with the bat and the ability to play three different spots around the dirt.
17. The Blue Jays take a college pitcher with the 12th pick in the 2018 MLB Draft
Another college bat may be the smartest way to go, but next June's draft is consider pitching heavy — although much of that is on the high school side — so having a selection within the first dozen may allow the Jays to grab the best arm that falls out of the top 10 when everyone else is chasing the safety of hitters.
18. Add up all the positives on this list, subtract the negatives, and you come to the conclusion the Jays will be better than they were in 2017. They end up getting back into contention, but finish 83-79 and just miss the second wild-card spot
Amazingly, the off-season hasn't produced much activity up to this point, so we're without a complete roster picture and it's already January.
If the Jays are to turn things around, however, the improvements are going to come from within in the form of health (Sanchez, Tulowitzki, Travis, Martin), bouncebacks (Happ, Marco Estrada) and the unexpected that comes along with every new baseball season.
Considering the Minnesota Twins, with an inferior roster in most ways and a pitching staff that was pieced together at a flea market, nabbed a wild-card spot with 83 wins, the Jays only need some good fortune to make sure they're playing meaningful games in the second half of September.
Just don't confuse that with calling them a World Series contender.​