2014-15 Canadians in the NBA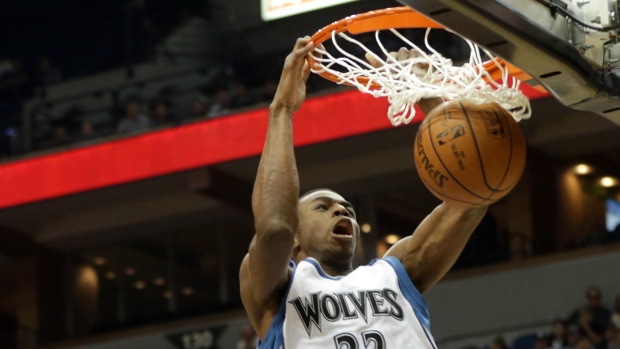 A record 101 foreign-born players were featured on 2014 NBA opening day rosters, comprising nearly 23 per cent of the league. For the first time ever, Canada has the most international players with 12 (Lakers point guard Steve Nash would have been a 13th had he not been ruled out for the season with a back injury).
Here is a look at the 12 Canadian players competing in the NBA in 2014-15.
Detroit Pistons

VITALS
POS

C

AGE

32

HT

6'9

WT

245

EXP

9

COL

UNLV
NOTES
Anthony went undrafted...Two-time NBA Champion with Miami Heat (2012-13)...Has twice represented Canada at the FIBA Americas tournament (2009 + 2013) and the FIBA World Championships (2010)...Named Mountain West Conference Defensive Player of the Year in 2007
Minnesota Timberwolves

Anthony Bennett
Brampton, Ontario
VITALS
POS

SF

AGE

21

HT

6'8

WT

245

EXP

2

COL

UNLV
NOTES
First Canadian to be drafted first overall in NBA Draft (2013)...Acquired by T-Wolves in trade that sent Kevin Love to Cavaliers...Won bronze medals with Canada at the FIBA U-16 (2009) and FIBA U-17 (2010) Championships
New York Knicks

Samuel Dalembert
Montreal
VITALS
POS

C

AGE

33

HT

6'11

WT

250

EXP

13

COL

Seton Hall
NOTES
Taken 26th-overall by the Philadelphia 76ers in 2001 NBA Draft...Winner of the J. Walter Kennedy Citizenship Award in 2010 for his work in aiding with relief for the Haitian earthquake recovery
Phoenix Suns
Tyler Ennis
Brampton, Ontario
VITALS
POS

PG

AGE

20

HT

6'2

WT

180

EXP

1

COL

Syracuse
NOTES
Was one of 10 semi-finalists for 2014 Naismith College Player of the Year...Won a bronze medal at the 2012 FIBA Americas U-18 Championships...Was leading scorer at 2013 FIBA U-19 World Championship
San Antonio Spurs

Cory Joseph
Pickering, Ontario
VITALS
POS

PG

AGE

23

HT

6'3

WT

185

EXP

4

COL

Texas
NOTES
Taken 29th-overall in 2011 NBA Draft by Spurs...Won a bronze medal at 2008 FIBA Americas U-18 Championship...Started career-high 19 games last season for NBA champion-Spurs
Orlando Magic

Andrew Nicholson
Mississauga, Ontario
VITALS
POS

PF

AGE

24

HT

6'9

WT

250

EXP

3

COL

St. Bonnie
NOTES
Taken 19th-overall by Magic in 2012 NBA Draft...Took part in the Rising Stars Challenge at 2013 NBA All-Star Weekend...Set a career high last season with a .315 3P%
Boston Celtics

Kelly Olynyk
Kamloops, BC
VITALS
POS

PF/C

AGE

23

HT

7'0

WT

238

EXP

2

COL

Gonzaga
NOTES
Taken 13th-overall in 2013 NBA Draft by Mavericks and dealt to Celtics in draft night deal...Named to 2014 NBA All-Rookie Second Team...Was first-team Academic All-American in 2013
Boston Celtics

VITALS
POS

PF

AGE

23

HT

6'11

WT

240

EXP

1

COL

Stanford
NOTES
Taken 45th-overall (second round) in 2014 NBA Draft by Hornets...traded twice in off-season before landing with Celtics...Was twice named first-team All-Pac-12 (2013-14)
Los Angeles Lakers

Robert Sacre
North Vancouver, BC
VITALS
POS

C

AGE

25

HT

7'0

WT

260

EXP

3

COL

Gonzaga
NOTES
Drafted 60th-overall (second round) in 2012 NBA Draft by Lakers...Set career highs across the board in every category in 2013-14 (63 games)...Was a member of Canada's entry at 2010 FIBA World Championship in Turkey
Sacramento Kings

Nik Stauskas
Mississauga, Ontario
VITALS
POS

SG

AGE

21

HT

6'6

WT

205

EXP

1

COL

Michigan
NOTES
Taken eighth overall in 2014 NBA Draft by Kings...Named consensus second-team All-American in 2014...Named 2014 Big Ten Player of the Year...Won bronze medal at 2009 FIBA America U-16 Championship
Cleveland Cavaliers

VITALS
POS

PF

AGE

23

HT

6'9

WT

238

EXP

4

COL

Texas
NOTES
Taken fourth overall by Cavaliers in 2011 NBA Draft...Named to 2012 NBA All-Rookie Second Team...Won 2011 Wayman Tisdale Award given to USBWA National Freshman of the Year...Won bronze medal at FIBA Americas U-18 Championship in 2008
Minnesota Timberwolves

Andrew Wiggins
Vaughan, Ontario
VITALS
POS

SF/SG

AGE

19

HT

6'8

WT

199

EXP

1

COL

Kansas
NOTES
Taken first overall in 2014 NBA Draft before being traded to T-Wolves as part of the Kevin Love deal...Was a consensus second-team All-American (2014)...Won bronze medals at 2010 FIBA U-17 World Championship and 2012 FIBA Americas U-18 Championship