2017 NHL CS Final Draft Ranking - NA Skaters
Final list of North American skaters, as posted by NHL Central Scouting.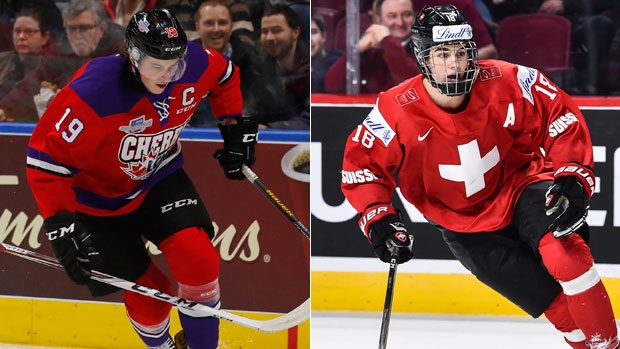 The National Hockey League has released its final prospect ranking ahead of the 2017 Draft.
NHL Central Scouting breaks the ranking into North American skaters and goaltenders and European skaters and goaltenders.
The following is the full list of North American skaters, as posted by NHL Central Scouting:
North American Skaters
| RK | PLAYER | POS | TEAM | LEAGUE | HT | WT |
| --- | --- | --- | --- | --- | --- | --- |
| 1 | PATRICK, NOLAN | C | BRANDON | WHL | 6' 2" | 198 |
| 2 | HISCHIER, NICO | C | HALIFAX | QMJHL | 6' 1" | 176 |
| 3 | MITTELSTADT, CASEY | C | EDEN PRAIRIE | HIGH-MN | 6' 1" | 201 |
| 4 | VILARDI, GABRIEL | C | WINDSOR | OHL | 6' 3" | 201 |
| 5 | RASMUSSEN, MICHAEL | C | TRI-CITY | WHL | 6' 6" | 215 |
| 6 | GLASS, CODY | C | PORTLAND | WHL | 6' 2" | 178 |
| 7 | TIPPETT, OWEN | RW | MISSISSAUGA | OHL | 6' 0" | 200 |
| 8 | TOLVANEN, EELI | RW | SIOUX CITY | USHL | 5' 10" | 170 |
| 9 | MAKAR, CALE | D | BROOKS | AJHL | 5' 11" | 180 |
| 10 | SUZUKI, NICK | C | OWEN SOUND | OHL | 5' 11" | 183 |
| 11 | VALIMAKI, JUUSO | D | TRI-CITY | WHL | 6' 2" | 204 |
| 12 | FOOTE, CALLAN | D | KELOWNA | WHL | 6' 4" | 212 |
| 13 | POEHLING, RYAN | C | ST. CLOUD STATE | NCHC | 6' 2" | 183 |
| 14 | ROBERTSON, JASON | LW | KINGSTON | OHL | 6' 2" | 192 |
| 15 | RATCLIFFE, ISAAC | LW | GUELPH | OHL | 6' 6" | 200 |
| 16 | BOWERS, SHANE | C | WATERLOO | USHL | 6' 1" | 183 |
| 17 | YAMAMOTO, KAILER | RW | SPOKANE | WHL | 5' 8" | 153 |
| 18 | TIMMINS, CONOR | D | SAULT STE. MARIE | OHL | 6' 1" | 185 |
| 19 | JOKIHARJU, HENRI | D | PORTLAND | WHL | 6' 0" | 180 |
| 20 | HAGUE, NICOLAS | D | MISSISSAUGA | OHL | 6' 6" | 215 |
| 21 | ANDERSON-DOLAN, JARET | C | SPOKANE | WHL | 5' 11" | 188 |
| 22 | THOMAS, ROBERT | C | LONDON | OHL | 6' 0" | 188 |
| 23 | LIND, KOLE | RW | KELOWNA | WHL | 6' 1" | 178 |
| 24 | MISMASH, GRANT | LW | USA U-18 | NTDP | 6' 0" | 186 |
| 25 | HENRY, NICK | RW | REGINA | WHL | 5' 11" | 191 |
| 26 | HEPONIEMI, ALEKSI | C | SWIFT CURRENT | WHL | 5' 10" | 147 |
| 27 | JOSEPH, PIERRE-OLIVIER | D | CHARLOTTETOWN | QMJHL | 6' 2" | 161 |
| 28 | POPUGAEV, NIKITA | LW | PRINCE GEORGE | WHL | 6' 6" | 217 |
| 29 | FORMENTON, ALEX | LW | LONDON | OHL | 6' 2" | 165 |
| 30 | COMTOIS, MAXIME | LW | VICTORIAVILLE | QMJHL | 6' 2" | 200 |
| 31 | FROST, MORGAN | C | SAULT STE. MARIE | OHL | 5' 11" | 170 |
| 32 | RASANEN, EEMELI | D | KINGSTON | OHL | 6' 7" | 208 |
| 33 | STROME, MATTHEW | LW | HAMILTON | OHL | 6' 4" | 206 |
| 34 | NORRIS, JOSHUA | C | USA U-18 | NTDP | 6' 1" | 192 |
| 35 | MITCHELL, IAN | D | SPRUCE GROVE | AJHL | 5' 11" | 173 |
| 36 | LODNIA, IVAN | RW | ERIE | OHL | 5' 10" | 182 |
| 37 | RUZICKA, ADAM | C | SARNIA | OHL | 6' 4" | 202 |
| 38 | MATTHEOS, STELIO | RW | BRANDON | WHL | 6' 1" | 192 |
| 39 | GADJOVICH, JONAH | LW | OWEN SOUND | OHL | 6' 2" | 209 |
| 40 | REEDY, SCOTT | C | USA U-18 | NTDP | 6' 2" | 204 |
| 41 | TYSZKA, JARRET | D | SEATTLE | WHL | 6' 2" | 190 |
| 42 | LESCHYSHYN, JAKE | C | REGINA | WHL | 5' 11" | 185 |
| 43 | CHMELEVSKI, ALEXANDER | C | OTTAWA | OHL | 6' 0" | 190 |
| 44 | ENTWISTLE, MACKENZIE | RW | HAMILTON | OHL | 6' 3" | 175 |
| 45 | GEEKIE, MORGAN | C | TRI-CITY | WHL | 6' 2" | 178 |
| 46 | FARRANCE, DAVID | D | USA U-18 | NTDP | 5' 11" | 189 |
| 47 | SCHNARR, NATE | C | GUELPH | OHL | 6' 3" | 180 |
| 48 | LYLE, BRADY | D | NORTH BAY | OHL | 6' 1" | 203 |
| 49 | BROOK, JOSH | D | MOOSE JAW | WHL | 6' 1" | 182 |
| 50 | PHILLIPS, MARKUS | D | OWEN SOUND | OHL | 6' 0" | 202 |
| 51 | ANDERSON, MICHAEL | D | WATERLOO | USHL | 6' 0" | 197 |
| 52 | ZABLOCKI, LANE | RW | RED DEER | WHL | 6' 0" | 190 |
| 53 | MORAND, ANTOINE | C | ACADIE-BATHURST | QMJHL | 5' 10" | 178 |
| 54 | GILDON, MAXWELL | D | USA U-18 | NTDP | 6' 3" | 191 |
| 55 | SHAW, MASON | C | MEDICINE HAT | WHL | 5' 8" | 180 |
| 56 | OLSON, KYLE | RW | TRI-CITY | WHL | 5' 10" | 161 |
| 57 | RATHBONE, JACK | D | DEXTER SCHOOL | HIGH-MA | 5' 10" | 177 |
| 58 | MINULIN, ARTYOM | D | SWIFT CURRENT | WHL | 6' 2" | 197 |
| 59 | LEWIS, TY | LW | BRANDON | WHL | 5' 11" | 177 |
| 60 | WALSH, REILLY | D | PROCTOR ACADEMY | HIGH-NH | 5' 11" | 181 |
| 61 | MARTIN, LUKE | D | MICHIGAN | BIG10 | 6' 4" | 216 |
| 62 | FLEURY, CALE | D | KOOTENAY | WHL | 6' 1" | 201 |
| 63 | MIRAGEAS, BENJAMIN | D | CHICAGO | USHL | 6' 1" | 180 |
| 64 | GALLANT, ZACH | C | PETERBOROUGH | OHL | 6' 2" | 188 |
| 65 | BARRATT, EVAN | C | USA U-18 | NTDP | 6' 0" | 188 |
| 66 | MAKSIMOV, KIRILL | RW | NIAGARA | OHL | 6' 2" | 192 |
| 67 | SAMBERG, DYLAN | D | HERMANTOWN | HIGH-MN | 6' 3" | 190 |
| 68 | INAMOTO, TYLER | D | USA U-18 | NTDP | 6' 2" | 194 |
| 69 | SAMORUKOV, DMITRI | D | GUELPH | OHL | 6' 2" | 180 |
| 70 | STEENBERGEN, TYLER | C | SWIFT CURRENT | WHL | 5' 10" | 188 |
| 71 | CHEKHOVICH, IVAN | LW | BAIE-COMEAU | QMJHL | 5' 10" | 177 |
| 72 | SUSHKO, MAKSIM | RW | OWEN SOUND | OHL | 6' 0" | 181 |
| 73 | CAMPOLI, NICK | C | NORTH YORK | OJHL | 5' 11" | 190 |
| 74 | KELLENBERGER, MATT | D | OAKVILLE | OJHL | 6' 0" | 172 |
| 75 | HOEFENMAYER, NOEL | D | OTTAWA | OHL | 6' 0" | 191 |
| 76 | CRETE-BELZILE, ANTOINE | D | B-BOISBRIAND | QMJHL | 6' 0" | 188 |
| 77 | COGHLAN, DYLAN | D | TRI-CITY | WHL | 6' 2" | 189 |
| 78 | FERRARO, MARIO | D | DES MOINES | USHL | 5' 10" | 184 |
| 79 | KNOEPKE, NATHAN | D | USA U-18 | NTDP | 6' 3" | 202 |
| 80 | PASTUJOV, MICHAEL | RW | USA U-18 | NTDP | 6' 0" | 190 |
| 81 | MILLER, THOMAS | D | USA U-18 | NTDP | 6' 2" | 181 |
| 82 | BELLERIVE, JORDAN | C | LETHBRIDGE | WHL | 5' 10" | 196 |
| 83 | KOLTYGIN, PAVEL | C | DRUMMONDVILLE | QMJHL | 6' 0" | 195 |
| 84 | TEASDALE, JOEL | LW | B-BOISBRIAND | QMJHL | 5' 11" | 190 |
| 85 | MISLEY, BRYCE | C | OAKVILLE | OJHL | 6' 1" | 185 |
| 86 | PECKFORD, RYAN | LW | VICTORIA | WHL | 6' 0" | 185 |
| 87 | DE JONG, BRENDAN | D | PORTLAND | WHL | 6' 5" | 192 |
| 88 | STUCKER, ROBBIE | D | ST. THOMAS | HIGH-MN | 6' 3" | 178 |
| 89 | CROTTY, CAMERON | D | BROCKVILLE | CCHL | 6' 3" | 182 |
| 90 | WALFORD, SCOTT | D | VICTORIA | WHL | 6' 2" | 193 |
| 91 | HANCOCK, KEVIN | LW | OWEN SOUND | OHL | 5' 11" | 182 |
| 92 | KOTKANSALO, KASPER | D | SIOUX FALLS | USHL | 6' 2" | 198 |
| 93 | MEIRELES, GREG | C | KITCHENER | OHL | 5' 10" | 172 |
| 94 | BINNER, ALEXIS | D | GREEN BAY | USHL | 6' 3" | 209 |
| 95 | YERYOMENKO, VLADISLAV | D | CALGARY | WHL | 6' 0" | 171 |
| 96 | THILANDER, ADAM | D | NORTH BAY | OHL | 6' 0" | 190 |
| 97 | JOHNSON, ISAAC | LW | DES MOINES | USHL | 6' 2" | 180 |
| 98 | BARRON, MORGAN | C | ST. ANDREWS COLLEGE | HIGH-ON | 6' 2" | 200 |
| 99 | PHILLIPS, CLAYTON | D | FARGO | USHL | 5' 10" | 182 |
| 100 | NYMAN, LINUS | RW | KINGSTON | OHL | 5' 9" | 158 |
| 101 | STUDENIC, MARIAN | RW | HAMILTON | OHL | 6' 0" | 164 |
| 102 | JOLY, D'ARTAGNAN | RW | BAIE-COMEAU | QMJHL | 6' 3" | 181 |
| 103 | PRATT, AUSTIN | RW | RED DEER | WHL | 6' 2" | 226 |
| 104 | GORDEEV, FEDOR | D | FLINT | OHL | 6' 6" | 211 |
| 105 | PAQUETTE, JACOB | D | KINGSTON | OHL | 6' 3" | 200 |
| 106 | KHODORENKO, PATRICK | C | MICHIGAN STATE | BIG10 | 6' 0" | 206 |
| 107 | MCGREGOR, RYAN | C | SARNIA | OHL | 6' 0" | 157 |
| 108 | DUGAN, JONATHAN | LW | NORTHWOOD SCHOOL | HIGH-NY | 6' 2" | 185 |
| 109 | KAROW, MICHAEL | D | YOUNGSTOWN | USHL | 6' 2" | 200 |
| 110 | MOILANEN, SAMI | RW | SEATTLE | WHL | 5' 8" | 185 |
| 111 | ANDERSON, MATT | D | HOLY FAMILY CATHOLIC | HIGH-MN | 5' 11" | 199 |
| 112 | BOOMHOWER, SHAW | LW | MISSISSAUGA | OHL | 6' 0" | 184 |
| 113 | ROBERTS, ZACHARY | LW | OWEN SOUND | OHL | 6' 0" | 184 |
| 114 | ALEXEYEV, YAROSLAV | RW | SHERBROOKE | QMJHL | 5' 9" | 146 |
| 115 | KEATING, AUSTEN | LW | OTTAWA | OHL | 6' 0" | 170 |
| 116 | LAGUNOV, PHILLIP | C | BURLINGTON | OJHL | 6' 0" | 187 |
| 117 | BATHERSON, DRAKE | C | CAPE BRETON | QMJHL | 6' 1" | 187 |
| 118 | RYMSHA, DRAKE | C | SARNIA | OHL | 6' 0" | 187 |
| 119 | LEIVERMANN, NICK | D | EDEN PRAIRIE | HIGH-MN | 5' 11" | 194 |
| 120 | STUDNICKA, JACK | C | OSHAWA | OHL | 6' 1" | 171 |
| 121 | CATES, NOAH | LW | STILLWATER | HIGH-MN | 6' 0" | 165 |
| 122 | DOW, BOBBY | RW | KEMPTVILLE | CCHL | 6' 1" | 171 |
| 123 | SEITZ, DYLAN | C | KITCHENER | OHL | 6' 1" | 189 |
| 124 | DURZI, SEAN | D | OWEN SOUND | OHL | 6' 0" | 195 |
| 125 | ST. IVANY, JOHN | D | SIOUX FALLS | USHL | 6' 2" | 197 |
| 126 | CHAINEY, JOCKTAN | D | HALIFAX | QMJHL | 6' 0" | 198 |
| 127 | STINIL, MICHAL | LW | SPRINGFIELD PICS | USPHL PRE. | 5' 10" | 182 |
| 128 | HOWARTH, KALE | LW | TRAIL | BCHL | 6' 4" | 201 |
| 129 | EVANS, FINN | RW | ST. MICHAELS | OJHL | 6' 4" | 175 |
| 130 | PODDUBNYI, GERMAN | C | ERIE | OHL | 6' 2" | 181 |
| 131 | HUFF, SAM | LW | MAPLE GROVE | HIGH-MN | 6' 0" | 180 |
| 132 | MCINDOE, ETHAN | LW | SPOKANE | WHL | 6' 1" | 171 |
| 133 | LEASON, BRETT | C | TRI-CITY | WHL | 6' 4" | 196 |
| 134 | WARM, WILL | D | EDMONTON | WHL | 5' 11" | 179 |
| 135 | PLOUFFE, DYLAN | D | VANCOUVER | WHL | 6' 0" | 184 |
| 136 | NOEL, DAVID | D | VAL-D'OR | QMJHL | 6' 1" | 175 |
| 137 | BRASSARD, MATT | D | OSHAWA | OHL | 6' 2" | 197 |
| 138 | SWANEY, NICK | RW | WATERLOO | USHL | 5' 10" | 175 |
| 139 | WEISSBACH, LINUS | LW | TRI-CITY | USHL | 5' 8" | 161 |
| 140 | RUBINCHIK, MARK | D | SASKATOON | WHL | 6' 0" | 179 |
| 141 | HAWEL, LIAM | C | GUELPH | OHL | 6' 4" | 175 |
| 142 | DAVIS, BRETT | RW | KOOTENAY | WHL | 6' 1" | 178 |
| 143 | LAUZON, ZACHARY | D | ROUYN-NORANDA | QMJHL | 6' 0" | 187 |
| 144 | GOLDEN, JACOB | D | LONDON | OHL | 5' 11" | 163 |
| 145 | MCHUGH, NICHOLAS | LW | KITCHENER | OHL | 5' 11" | 165 |
| 146 | PARE, CEDRIC | C | SAINT JOHN | QMJHL | 6' 2" | 205 |
| 147 | GORDA, BRAYDEN | D | EDMONTON | WHL | 6' 2" | 188 |
| 148 | ISAACSON, NICK | LW | PETERBOROUGH | OHL | 6' 3" | 187 |
| 149 | SMART, JONATHAN | D | REGINA | WHL | 6' 0" | 197 |
| 150 | COSKEY, COLE | RW | SAGINAW | OHL | 6' 0" | 189 |
| 151 | MEYER, CARSON | RW | MIAMI | NCHC | 5' 10" | 180 |
| 152 | PHILIP, MATTHEW | C | NIAGARA | OHL | 5' 11" | 175 |
| 153 | KREBS, DAKOTA | D | TRI-CITY | WHL | 6' 4" | 200 |
| 154 | BOURQUE, TRENTON | D | OWEN SOUND | OHL | 6' 2" | 200 |
| 155 | KOVACEVIC, JOHNATHAN | D | MERRIMACK | H-EAST | 6' 4" | 208 |
| 156 | AHCAN, JACK | D | ST. CLOUD STATE | NCHC | 5' 8" | 170 |
| 157 | BRIND'AMOUR, SKYLER | C | SELECTS ACADEMY U18 | USMAAAE | 6' 2" | 170 |
| 158 | PEHRSON, KEATON | D | LAKEVILLE NORTH | HIGH-MN | 6' 2" | 190 |
| 159 | MAASS, BENTON | D | ELK RIVER | HIGH-MN | 6' 1" | 185 |
| 160 | THOMPSON, TYCE | C | SALISBURY | HIGH-CT | 6' 0" | 149 |
| 161 | MILLER, MICAH | RW | GRAND RAPIDS | HIGH-MN | 5' 8" | 193 |
| 162 | SIROTA, JAKUB | D | CEDAR RAPIDS | USHL | 6' 2" | 186 |
| 163 | GANSKE, NOAH | D | BLOOMINGTON-JEFF. | HIGH-MN | 6' 5" | 188 |
| 164 | CASTLEMAN, OLIVER | LW | NIAGARA | OHL | 5' 10" | 180 |
| 165 | TORTORA, JACOB | LW | USA U-18 | NTDP | 5' 6" | 162 |
| 166 | TYANULIN, ARTUR | RW | OTTAWA | OHL | 5' 9" | 174 |
| 167 | SMIRNOV, DENIS | RW | PENN STATE | BIG10 | 5' 8" | 185 |
| 168 | HALBGEWACHS, JAYDEN | LW | MOOSE JAW | WHL | 5' 8" | 157 |
| 169 | HUGHES, RYAN | C | PORTLAND | WHL | 5' 7" | 151 |
| 170 | JONES, BEN | C | NIAGARA | OHL | 6' 0" | 187 |
| 171 | BUCEK, SAMUEL | LW | SHAWINIGAN | QMJHL | 6' 2" | 215 |
| 172 | HARTIKAINEN, SANTERI | C | GROTON | HIGH-MA | 6' 0" | 181 |
| 173 | BUKAC, DANIEL | D | BRANDON | WHL | 6' 4" | 185 |
| 174 | GRISHAKOV, ANDREI | LW | CALGARY | WHL | 6' 0" | 204 |
| 175 | KEMP, PHILIP | D | USA U-18 | NTDP | 6' 3" | 202 |
| 176 | MCKENZIE, SKYLER | LW | PORTLAND | WHL | 5' 8" | 154 |
| 177 | DURANDEAU, ARNAUD | LW | HALIFAX | QMJHL | 5' 11" | 183 |
| 178 | SHEA, NEIL | LW | LAWRENCE ACADEMY | HIGH-MA | 6' 1" | 183 |
| 179 | PIETRONIRO, MATTEO | D | BAIE-COMEAU | QMJHL | 6' 0" | 180 |
| 180 | SLAGGERT, GRAHAM | C | USA U-18 | NTDP | 5' 11" | 186 |
| 181 | FORTIER, MAXIME | RW | HALIFAX | QMJHL | 5' 10" | 182 |
| 182 | KASTELIC, MARK | C | CALGARY | WHL | 6' 3" | 203 |
| 183 | SOLOW, ZACH | RW | DUBUQUE | USHL | 5' 9" | 184 |
| 184 | ANDONOVSKI, COREY | RW | ST. ANDREWS COLLEGE | HIGH-ON | 6' 0" | 192 |
| 185 | BOUDRIAS, SHAWN | RW | GATINEAU | QMJHL | 6' 4" | 197 |
| 186 | KOSORENKOV, IVAN | RW | VICTORIAVILLE | QMJHL | 5' 10" | 187 |
| 187 | BURKE, BRAYDEN | LW | MOOSE JAW | WHL | 5' 10" | 170 |
| 188 | LELLIG, HUNTER | D | MINNESOTA MAGICIANS | NAHL | 6' 1" | 174 |
| 189 | PURBOO, COLE | RW | WINDSOR | OHL | 6' 3" | 205 |
| 190 | WILKINS, JOSHUA | C | PROVIDENCE | H-EAST | 5' 11" | 170 |
| 191 | MCMANUS, BRANNON | RW | CHICAGO | USHL | 5' 9" | 176 |
| 192 | KELLY, PARKER | C | PRINCE ALBERT | WHL | 5' 10" | 170 |
| 193 | FLOWER, WALTER | D | HALIFAX | QMJHL | 6' 1" | 178 |
| 194 | CONRAD, COLT | C | WESTERN MICHIGAN | NCHC | 5' 9" | 175 |
| 195 | GUAY, NICOLAS | C | DRUMMONDVILLE | QMJHL | 5' 11" | 174 |
| 196 | DZHIOSHVILI, VLADISLAV | RW | BLOOMINGTON | USHL | 6' 0" | 192 |
| 197 | FRASER, COLE | D | PETERBOROUGH | OHL | 6' 2" | 195 |
| 198 | VESTERINEN, SAKU | D | CHARLOTTETOWN | QMJHL | 5' 11" | 184 |
| 199 | CRAWLEY, BRANDON | D | LONDON | OHL | 6' 2" | 203 |
| 200 | GAWANKE, LEON | D | CAPE BRETON | QMJHL | 6' 1" | 186 |
| 201 | BOKA, LUCAS | RW | WINDSOR | OHL | 6' 0" | 191 |
| 202 | HAYES, ZACKARY | D | PRINCE ALBERT | WHL | 6' 2" | 215 |
| 203 | JOSLING, SEAN | RW | SARNIA | OHL | 5' 11" | 165 |
| 204 | BOWEN, RYAN | RW | LETHBRIDGE | WHL | 6' 2" | 170 |
| 205 | PATERSON, JOSH | C | SASKATOON | WHL | 6' 2" | 190 |
| 206 | BRAZEAU, JUSTIN | RW | NORTH BAY | OHL | 6' 5" | 210 |
| 207 | MARTEL, JORDAN | RW | BAIE-COMEAU | QMJHL | 6' 0" | 176 |
| 208 | O'CONNELL, RYAN | D | ST. ANDREWS COLLEGE | HIGH-ON | 6' 1" | 170 |
| 209 | MACLEAN, KYLE | LW | OSHAWA | OHL | 6' 0" | 175 |
| 210 | WEDMAN, MATTHEW | C | SEATTLE | WHL | 6' 2" | 195 |
| 211 | MAKINEN, OTTO | C | SAULT STE. MARIE | OHL | 6' 1" | 178 |
| 212 | DUQUETTE, MARC-OLIVIER | D | DRUMMONDVILLE | QMJHL | 6' 3" | 193 |
| 213 | DEAKIN-POOT, NICHOLAS | C | GUELPH | OHL | 6' 4" | 210 |
| 214 | COCKERILL, LOGAN | LW | USA U-18 | NTDP | 5' 8" | 165 |
| 215 | MACHALA, ONDREJ | LW | NIAGARA | OHL | 5' 10" | 176 |
| 216 | DOBAY, JAYSON | D | THAYER ACADEMY | HIGH-MA | 5' 11" | 155 |
| 217 | BRICKEY, RONALD | D | DES MOINES | USHL | 6' 3" | 193 |