2019 NBA Combine attendees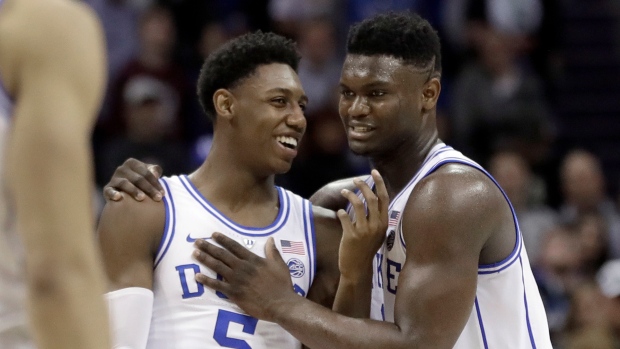 Sixty-six players have been invited to the NBA Combine to be held in Chicago from May 12 to 14 ahead of next month's NBA Draft.
Among those invited are seven Canadians, including projected lottery pick RJ Barrett of Duke.
The NBA Draft Lottery will be held on the final day of the combine. Underclassmen will have until May 29 to decide whether or not they intend to stay in the draft or resume their collegiate careers.

2019 NBA Draft Combine Invitees
| NAME | SCHOOL | POS | CLASS | HOMETOWN |
| --- | --- | --- | --- | --- |
| Nickeil Alexander-Walker | Virginia Tech | Guard | Sophomore | Toronto |
| RJ Barrett | Duke | Guard | Freshman | Mississauga, Ont. |
| Charles Bassey | W. Kentucky | Centre | Freshman | Lagos, Nigeria |
| Darius Bazley | Princeton | Forward | N/A | Boston |
| Bol Bol | Oregon | Centre | Freshman | Olathe, KS |
| Jordan Bone | Tennessee | Guard | Junior | Nashville |
| Brian Bowen | Sydney Stars | Forward | N/A | Saginaw, MI |
| Ky Bowman | Boston College | Guard | Junior | Havelock, NC |
| Iggy Brazdeikis | Michigan | Forward | Freshman | Mono, Ont. |
| Moses Brown | UCLA | Centre | Freshman | Queens, NY |
| Brandon Clarke | Gonzaga | Forward | Junior | Vancouver |
| Nicolas Claxton | Georgia | Forward | Sophomore | Greenville, SC |
| Jarrett Culver | Texas Tech | Guard | Sophomore | Lubbock, TX |
| Luguentz Dort | Arizona State | Guard | Freshman | Montreal |
| Devon Dotson | Kansas | Guard | Freshman | Charlotte |
| Carsen Edwards | Purdue | Guard | Junior | Atascocita, TX |
| Bruno Fernando | Maryland | Forward | Sophomore | Luanda, Angola |
| Daniel Gafford | Arkansas | Forward | Sophomore | El Dorado, AR |
| Darius Garland | Vanderbilt | Guard | Freshman | Nashville |
| Quentin Grimes | Kansas | Guard | Freshman | The Woodlands, TX |
| Kyle Guy | Virginia | Guard | Junior | Indianapolis |
| Jaylen Hands | UCLA | Guard | Sophomore | San Diego |
| Jaxson Hayes | Texas | Forward | Freshman | Loveland, OH |
| Tyler Herro | Kentucky | Guard | Freshman | Milwaukee |
| Jaylen Hoard | Wake Forest | Forward | Freshman | Carnon, France |
| Talen Horton-Tucker | Iowa State | Guard | Freshman | Chicago |
| De'Andre Hunter | Virginia | Guard | Sophomore | Philadelphia |
| Ty Jerome | Virginia | Guard | Junior | New Rochelle, NY |
| Cameron Johnson | North Carolina | Guard | Senior | Moon Township, PA |
| Keldon Johnson | Kentucky | Guard | Freshman | South Hill, VA |
| Mfiondu Kabengele | Florida State | Forward | Sophomore | Burlington, Ont. |
| Louis King | Oregon | Forward | Freshman | Jersey City, NJ |
| Romeo Langford | Indiana | Guard | Freshman | New Albany, IN |
| Dedric Lawson | Kansas | Forward | Junior | Memphis |
| Jalen Lecque | Brewster Academy | Guard | N/A | Bronx, NY |
| Nassir Little | North Carolina | Forward | Freshman | Orange Park, FL |
| Charles Matthews | Michigan | Guard | Senior | Chicago |
| Jalen McDaniels | San Diego State | Forward | Sophomore | Federal Way, WA |
| Ja Morant | Murray State | Guard | Sophomore | Dalzell, SC |
| Zach Norvell Jr. | Gonzaga | Guard | Sophomore | hicago |
| Jaylen Nowell | Washington | Guard | Sophomore | Seattle |
| Jordan Nwora | Louisville | Forward | Sophomore | Buffalo, NY |
| Chuma Okeke | Auburn | Forward | Sophomore | Atlanta |
| KZ Okpala | Stanford | Forward | Sophomore | Orange County, CA |
| Miye Oni | Yale | Guard | Junior | Northridge, CA |
| Eric Paschall | Villanova | Forward | Senior | Dobbs Ferry, NY |
| Shamorie Ponds | St. John's | Guard | Junior | Brooklyn, NY |
| Jordan Poole | Michigan | Guard | Sophomore | Milwaukee |
| Kevin Porter Jr. | S. California | Guard | Freshman | Seattle |
| Jontay Porter | Missouri | Forward | Sophomore | Columbia, MO |
| Neemius Queta | Utah State | Centre | Freshman | Barreiro, Portugal |
| Cameron Reddish | Duke | Forward | Freshman | Norristown, PA |
| Naz Reid | Louisiana State | Forward | Freshman | Asbury Park, NJ |
| Isaiah Roby | Nebraska | Forward | Junior | Dixon, IL |
| Luka Samanic | Olimpija | Forward | N/A | Zagreb, Croatia |
| Admiral Schofield | Tennessee | Guard | Senior | Zion, IL |
| Simi Shittu | Vanderbilt | Forward | Freshman | Burlington, Ont. |
| Killian Tillie | Gonzaga | Forward | Junior | Cagnes-sur-Mer, France |
| PJ Washington Jr. | Kentucky | Forward | Sophomore | Dallas |
| Tremont Waters | Louisiana State | Guard | Sophomore | New Haven, CT |
| Quinndary Weatherspoon | Mississippi State | Guard | Senior | Canton, MS |
| Coby White | North Carolina | Guard | Freshman | Goldsboro, NC |
| Kris Wilkes | UCLA | Guard | Sophomore | Indianapolis |
| Grant Williams | Tennessee | Forward | Junior | Charlotte |
| Zion Williamson | Duke | Forward | Freshman | Spartanburg, SC |
| Dylan Windler | Belmont | Guard | Senior | Indianapolis |