49ers agree to deals with free agents McKinnon, Richburg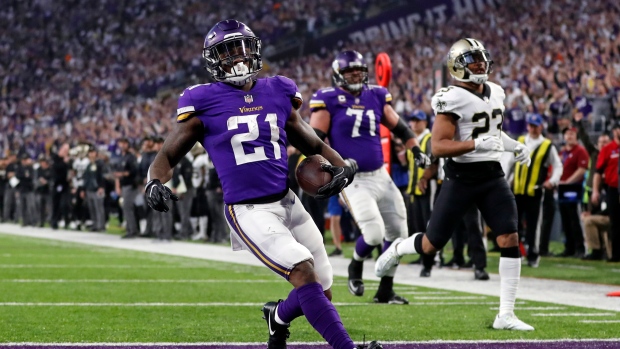 SANTA CLARA, Calif. — The San Francisco 49ers started free agency Wednesday by getting some needed help for quarterback Jimmy Garoppolo, agreeing to a four-year contract with versatile running back Jerick McKinnon and a five-year deal with interior offensive lineman Weston Richburg just after the start of the new league year.
The two deals fill holes on the roster with McKinnon expected to replace departing starter Carlos Hyde and Richburg able to step in immediately as the starter either at centre or guard.
The team also agreed to a three-year deal to keep linebacker Brock Coyle, who started 10 games last season before undergoing off-season shoulder surgery.
General manager John Lynch said McKinnon and Richburg were both high on the team's priority list in free agency and he was glad to be able to lock both of them up as soon as the new league year started.
"We see Weston as one of the top young interior offensive linemen in the NFL," Lynch said. "His athleticism, intelligence and attitude are a perfect fit for our scheme. Jerick has proven to be an extremely versatile football player whose speed, elusiveness and tackle-breaking ability make him a very difficult matchup for defences. We can't wait to get them on the field with their teammates and coaches later this spring."
McKinnon spent four years in Minnesota, mostly as a backup, after being drafted in the third round in 2014 out of Georgia Southern. He has rushed for 1,918 yards with an average of 4.0 yards per carry, has 142 catches for 984 yards, and has scored 12 touchdowns.
McKinnon had his most productive season last year, when he ran for a career-high 570 yards while setting personal bests with 51 catches for 421 yards.
McKinnon replaces Carlos Hyde, who is leaving as a free agent for Cleveland. McKinnon has more speed and is a better receiving threat than Hyde and should fit well into coach Kyle Shanahan's offence.
Richburg spent the past four seasons with the New York Giants but played only four games last year because of a concussion. He began his career as a left guard before moving to centre in 2015. He played there the past three seasons and is considered one of the top pass-blocking players at the position and has the athleticism to thrive in Shanahan's zone-running scheme.
Coyle had 62 tackles last season in his first year with the 49ers.
"He's a selfless guy that does everything the right way," Shanahan said. "We've always known Brock to be a guy we can count on and it was great to see him play the way he did when given the opportunity."
The 49ers had previously re-signed starting centre Daniel Kilgore to a three-year contract last month but Kilgore also has experience at guard and could be asked to move.
It's been a busy off-season already for San Francisco. The Niners signed Garoppolo to a five-year deal last month before he even hit free agency, signed cornerback Richard Sherman after he was cut by Seattle, re-signed defensive lineman Cassius Marsh and offensive lineman Garry Gilliam and gave an extension to receiver Marquise Goodwin.
These moves have addressed many of the team's most glaring needs although San Francisco still could be in the market for another cornerback, a pass rusher, help at linebacker and a big receiving target.
After losing their first nine games last year, the 49ers underwent a remarkable turnaround. They went 5-0 after Garoppolo took over as starting quarterback and finished the year with a 6-10 mark and plenty of optimism they hope to carry over into 2018.
___
More AP NFL: www.pro32.ap.org and www.twitter.com/AP_NFL