5 Minute Abbs: Canucks at Oilers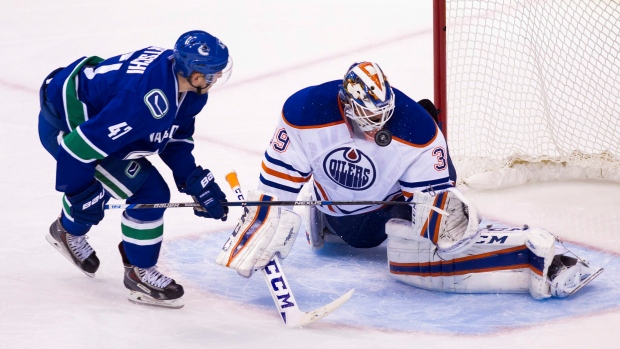 Five points of interest ahead of puck-drop.
1. Vancouver enters Edmonton to play game 82 and to snap out of a seven-game losing streak. The Canucks hope to avoid repeating a season-high eight-game losing streak, which would end their season. If Vancouver can find a way to win tonight, they will equal last year's total of 31 and keep Edmonton from having the chance to win the division.
2. Yan-Pavel Laplante is expected to make his NHL debut with the Canucks, wearing 74 in Edmonton. The former third round pick out of the 2013 draft by the Coyotes has been plying his trade in Alaska, of late. The 21-year-old scored the final goal in Aces' history, in a 3-2 home loss to the Idaho Steelheads last night. The ECHL affiliate of the Canucks is expected to cease operations now that the season has ended. Laplante had nine goals with the Aces this season.
3. If Laplante plays in game 82, the Canucks will have used 40 players through the course of this season (not including Thatcher Demko, Michael Garteig, and Jordan Subban, who did not play one game) just two shy of the franchise record of 42. A collection of 18 players 24 years of age or under, have appeared in at least one game for the Canucks this season. In total, seven players have made their NHL/Canucks debut this year.
4. Vancouver will look to improve on a 12-25-3 road record and aim for their first win in April, in the final game of the month. The Canucks have scored five goals over their last two games, but are still likely headed for the lowest total of goals produced over a full season in their history. The Canucks enter having scored 176 goals and reside in 29th position in the standings.
5. Richard Bachman will provide the last line of defence for the Canucks, who are trying to keep Connor McDavid shy of recording a 100 point season. McDavid is assured of winning the NHL scoring title and is riding a league-high 13-game point streak (7-16-23). McDavid's Oilers have clinched home ice advantage in the playoffs for the first time since 1991 and may play their Alberta rivals, Calgary, in the playoffs for the first time since the early nineties.
Game Time: 6:00 p.m. PT with @HockeyAbbs and @DTSN1040
TSN1040 + Canucks Radio Network
TSN1040.ca + TSN GO + iHeart Radio App