5 Minute Abbs: Canucks vs. Wild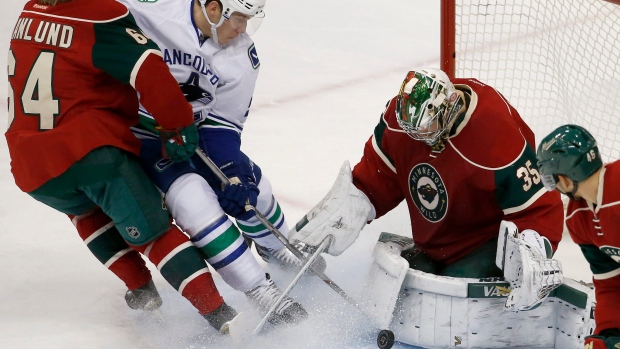 Five points of interest ahead of puck-drop of tonight's game between the Canucks and the visiting Minnesota Wild.
1. The bad news for the Canucks is that each of the defenceman from their top pairing are now injured. Chris Tanev will miss his 13th consecutive game due to a lower body injury that is suspected to be a high ankle sprain. Tanev has missed 15 games this season. Alex Edler left the Canucks' most recent game, in Colorado, due to a fractured index finger on his left hand. He requires surgery and will miss 4-6 weeks. Tanev may be able to return in one week, but has yet to practice with the team.
2. The good news for the Canucks (kind of) is that they have been here before. Last March the club played without Edler and Tanev for nine straight games and were also missing Sbisa for most of the same time frame. Minutes were added elsewhere on the blueline, but Dan Hamhuis was still in the fold and carried the load. The veteran consistantly played over 23 minutes a game.
3. The current blue line will be the youngest in combined age to dress in an NHL game, tonight. Philip Larsen returns after suffering from a bacteria infection and could slot in beside Nikita Tryamkin. The challenge will be large for many on the back-end moving forward. Larsen has not played since November 7. Tryamkin has only reached the 20-minute plateau. Troy Stecher has arguably been the team's best defenceman of late, but is a rookie who may break down over time. Luca Sbisa played over 24 minutes in Colorado, but was also banged up and is not used to handling such a high workload. This likely hangs a ton of minutes on the newly-inked Ben Hutton and first year Canuck Erik Gudbranson. The pair will need to be Vancouver's best defencemen in the absence of Edler and Tanev.
4. Fresh off his first-ever three-point game, Sven Baertschi promptly missed the next two due to an injury suffered while blocking a shot. Baertschi was part of a line that had eight points combined in Arizona and will try to once again spark Vancouver to a win over Minnesota tonight. Baertschi's linemates have come up big lately. Alex Burrows had a key third-period goal in Colorado and Bo Horvat enters on a four-game point streak, collecting six points in that time.
5. Minnesota is trying to stay above Dallas in the Central Division. The Wild enter tonight's game among the top 3 in their division. The Wild are led up front by free agent signing Eric Staal, who is turning the clock back with 16 points. Goaltender Devan Dubnyk has also been their bread and butter, entering in the top 3 in the league in shutouts, save percentage and goals against average, but he will not play tonight. Darcy Kuemper draws a rare start and the Canucks will try to take advantage as the theme of back-up goaltenders continues to appear against Vancouver.
Game info: 7pmPT with @HockeyAbbs/@DTSN1040
TSN1040 + Canucks Radio Network
TSN1040.ca + TSN GO + iHeart Radio App