A coaching search unlike any other begins in Ottawa
The Senators' head coaching job is unquestionably the 32nd in demand in what is still a 31-team league, Frank Seravalli writes.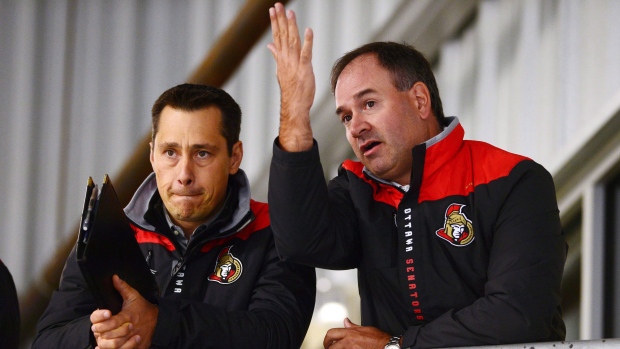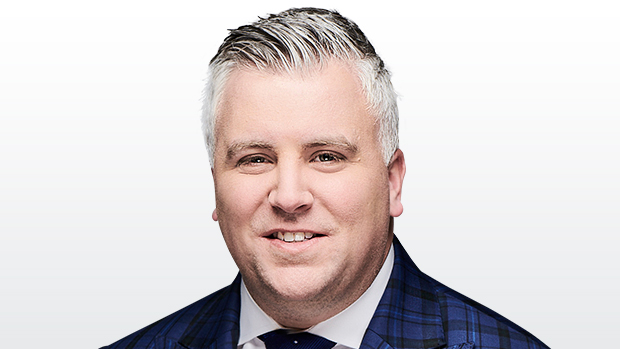 On Monday, Pierre Dorion gave Guy Boucher a vote of confidence as head coach of the Ottawa Senators.
"Guy is our coach," Dorion said. "I don't think anyone will disagree with me on this one that I've probably made his job pretty difficult the last few weeks, and we're going to support him."
That support crumbled in four days.
Boucher was fired on Friday, capping maybe the most tumultuous week for any one NHL franchise ever, as the Senators sent their coach packing a few days after becoming the first team in league history to trade each of their top three scorers at the deadline.
Yet, somehow, Dorion said he addressed his players on Friday morning to tell them that their play recently "wasn't acceptable."
"No more excuses. It's the NHL," Dorion said he told the team. "We're fielding a team from now until the end of the year that can win games."
They can – just not in the NHL.
Physics say you can't suck and blow at the same time, but there Dorion was, talking out of both sides of his mouth. The same manager who shipped out Erik Karlsson, Mark Stone, Matt Duchene and Ryan Dzingel this season said with a straight face that his team should play better.
Ah. Like the Centennial Flame, the Senators seem to be perpetually ablaze in the nation's capital.
Senators' assistant coach Marc Crawford will finish out the season as interim head coach. Longtime Senator Chris Kelly, who has been with the team in a development role since his career ended last season, will join Crawford on the staff in a yet unspecific role.
As for why the 31st place team would wait until March 1 to fire its coach, Dorion said he felt the decision had to be made "today" to "set a foundation for this organization, for this rebuild, to thrive as early as possible."
The Senators have lost 22 of their last 29 games and there didn't seem to be much love lost for Boucher among the players.
Goaltender Craig Anderson said Boucher "never tried to adapt" once his system was "exposed." Defenceman Mark Borowiecki said "the novelty wore off a bit" and the "message got stale."
That could make for a toxic environment with so many young players in the lineup.
"I want to see a compete level that is unmatched," Dorion told reporters. "I want to see a team culture that will transfer to next year. We're giving the chance to a lot of players in a role that they haven't been given [until] now.
"Their agents tell me if they got more ice time, they'd be better. Let's see what they can do."
Boucher's firing brings the body count to seven coaches fired this season, tying the NHL record from 2011-12 for in-season axes. John Stevens, Joel Quenneville, Mike Yeo, Todd McLellan, Dave Hakstol and Randy Carlyle all went before Boucher.
The decision resulted in essentially six weeks of paid vacation for Boucher, a clean cut ahead of the ultimate conversation looming on April 7. It was a way out of the dogpile. This was the final year of Boucher's contract and it was a fait accompli that it would not be renewed.
"Both parties felt it was time to move on," Dorion said.
How much was Boucher part of the problem? As he pointed out in his pre-game interview on TSN 5 on Tuesday night, Boucher was "very proud" of the fact that Ottawa's power play ranked eighth in the league before the trades and were in the top third in even-strength offence.
Dorion was only able to bring back what he got for Stone, Duchene and Dzingel in part because all three were having career years at the time of their trade. It's a borderline miracle that those occurred on a team with such obvious roster limitations. It's almost equally hard to believe that Boucher pushed the Senators to within one goal of the Stanley Cup Final less than two years ago.
Now begins a coaching search unlike any other in recent NHL memory.
The Senators' head coaching job is unquestionably the 32nd in demand in what is still a 31-team league. At least in Edmonton, there is the gleam of Connor McDavid and Leon Draisaitl, a shiny new downtown arena and an owner who has money to spend.
In Ottawa, there is a burgeoning star in Thomas Chabot and a pool of talented prospects led by Brady Tkachuk, Drake Batherson and Alex Formenton.
Then there is the double anvil of baggage and drama that comes with them.
Whoever is coaching the Senators next will be required to be more of a psychologist than a tactician, someone who can relate to the burden that Chabot and Co. will now be shouldering. The NHL isn't a development league, but the Sens have no reinforcements on the way.
Owner Eugene Melnyk said in a statement weeks ago that the Senators aren't even really trying to be competitive until 2021 - the next time he has "pledged" to spend to the salary cap again. There is no guarantee the next coach will even stay on-board long enough to see this grand plan through to fruition.
Add in the fact that Boucher was the lowest-paid coach in the league, on top of Dorion's apparently unrealistic expectations, and well, your current AHL head coaching gig suddenly feels a lot more secure.
When asked about his budget to pay a coach, Dorion said: "I don't know how to answer that. We will hire the best coach available."
In his statement announcing Boucher's firing, Dorion outlined specifically what he's looking for in his next head coach. He wants a "teacher, listener, communicator and tactician" – all laid out clearly and succinctly in the unusual press release.
Those qualities could have been Dorion's parting shot at Boucher, or a peek into what is the NHL's most unique job posting.
The Ottawa Senators are seemingly looking for an expansion coach to lead a 27-year-old franchise that's been picked to the bone.
Contact Frank Seravalli on Twitter: @frank_seravalli