A look back at Bolt's illustrious career
It might be the fastest retirement ever.
In about 10 seconds, Usain Bolt will go from being considered one of the greatest sprinters in the world to a memory, but one that won't be easy to erase.
Bolt is scheduled to race for the last time at the World Championships in London.
On Saturday Aug. 5, Bolt will compete for the final time individually in the men's 100-metre and then will conclude with the men's 4 x 100-metre the following Saturday if he qualifies for both events.
With the end near for one of the greatest athletes the world of sports has ever seen, TSN.ca takes a look back at the life and career of Jamaica's Usain Bolt.
---
Aug. 21, 1986 – He was born Usain St. Leo Bolt in Sherwood Content, Jamaica, a small town about 100 kilometres from Kingston. His parents ran a grocery store selling mostly meat and dry goods.
As Bolt grew older, he initially gravitated toward cricket and soccer, idolizing Pakistani cricket bowler Waqar Younis. "I was so in love with cricket I didn't want to do anything else. Track was just something I was doing because I was good at it," Bolt told The Telegraph last year.
Waldensia Primary School – After coaches got a glimpse of Bolt's blazing speed, he started to pick up sprinting more seriously. He began running on a grass field with black lines acting as dividers.
High school championships, 2001 – At the age of 14, Bolt took home his first high school championships medal, capturing silver in the men's 200-metre.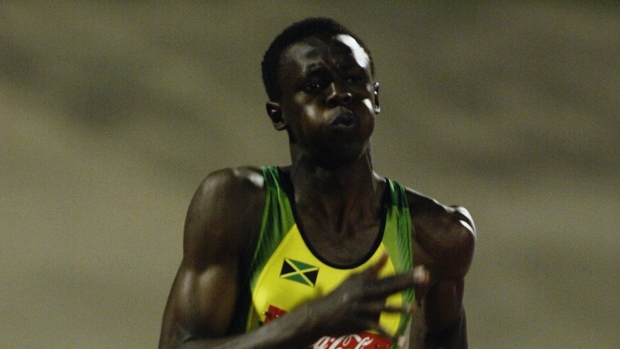 World Junior Championships, 2002 – Both reached his first international stage at 15 years old. He finished first in the men's 200-metre final and subsequently became the youngest World Junior gold medal winner ever. He turned professional in 2004 under the mentorship of coach Fitz Coleman.
Athens Olympics, 2004 – After suffering a hamstring injury that knocked him out of the World Junior Championships earlier that summer, Bolt was selected to represent Jamaica at the 2004 Olympics. Unable to recover fully from his injury, he was knocked out in the first round.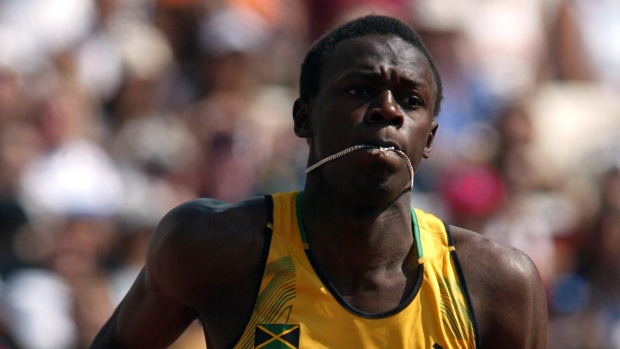 Jamaican Senior T&F Championships, 2007 – Bolt ran a 19.75 in the men's 200-metre at the Jamaican Senior T&F Championships to break Don Quarrie's 30-year record for fastest Jamaican ever in a 200-metre race. Bolt then took home two silver medals at the World Championships in Osaka later that year. Standing at 6-foot-4 feet tall, Bolt's speed for his size was practically unheard of.
Beijing Olympics, 2008 – Bolt had one of the most extraordinary performances in Olympic history, running a 9.69 to capture gold in the men's 100-metre final, breaking the world record of 9.72 he set from earlier that year.
Bolt didn't get off to a great start at the line, but edged out in front of the field at 50 metres. At 80, Bolt pulled way ahead and began to celebrate. If that already wasn't enough, the shoelace on his left foot was reportedly untied during the race.
"We've never seen anything like that before," American former track great Michael Johnson said.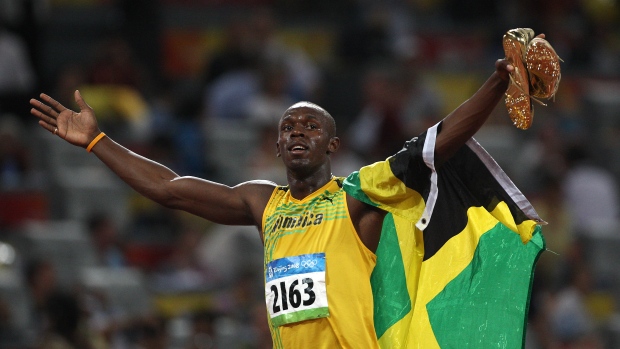 But he was just getting started. Days later, Bolt cracked Johnson's 200-metre time of 19.32 with a 19.30, easily winning gold.
Team Jamaica also took home gold in the men's 4 x 100-metre final, capping off one of the greatest Olympics by an individual ever.
But it had a sour ending. Nine years later, Bolt and the rest of the Jamaican team was stripped of the gold medal because teammate Nesta Carter tested positive for a banned substance. Bolt called the incident "heartbreaking," in an interview with the BBC.
Aug. 16, 2009 – Bolt shattered his own 100-metre record by running a mind-boggling 9.58 at the World Championships in Berlin. This record still stands today. He would later set the current 200-metre mark at 19.19 as well.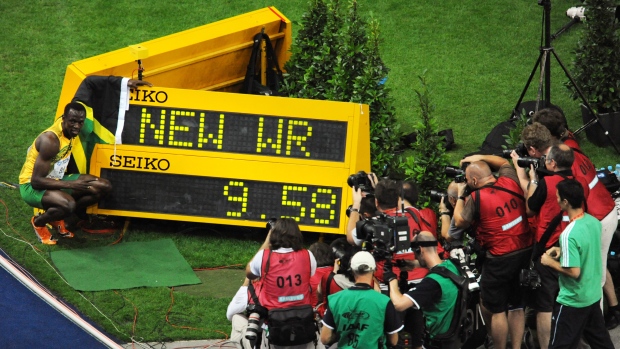 London Olympics, 2012 – Bolt returned to the Olympic stage and didn't disappoint, winning the gold in both the men's 100-metre and 200-metre. He became the first sprinter ever to do so in consecutive Olympics. He was named the IAAF Male Athlete of the Year for the fourth time (he would later win in 2013 and 2016, too).
June 6, 2013 – Bolt faced his first major defeat in a while, losing to American Justin Gatlin by 0.01 seconds at the World Championships in Rome. Bolt denied rumours that he was hampered by a hamstring injury.
March, 2014 – Bolt had surgery for an injury to his left foot, missing nine weeks of training camp. The impact of his injury was minimal as he and the Jamaican team took gold at the 2014 Commonwealth Games in the 4 x 100-metre, setting the event record with a time of 37.58 seconds.
Rio De Janeiro Olympics, 2016 – In what he claimed would be his final Olympics, many expected Bolt to finally show his age. Bolt silenced doubters, winning the 100-metre gold for the third consecutive time.
The 200-metre final was every bit as special as Bolt edged Canadian sprinter Andre De Grasse to capture gold once again. Bolt and De Grasse were seen congratulating one another warmly after the race.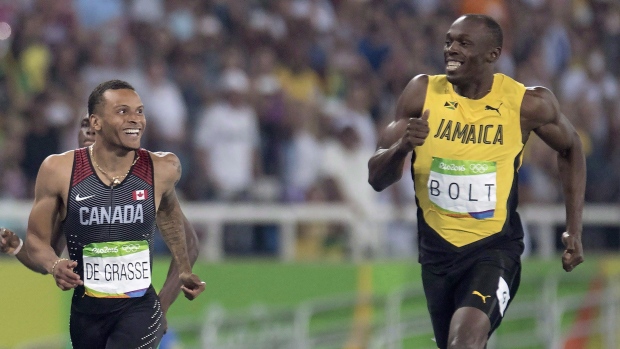 "I don't need to prove anything else. What else can I do to prove to the world I am the greatest?" Bolt said.
He finished his Olympic career with eight gold medals in his last three Olympics.
August 12, 2017 – Bolt is set to run his final race at the World Championships in London. Despite the dominance Bolt has shown over the course of his career, Steve Simmons admits that it's going to be hard for Bolt to replicate his form from years ago.
"He's already accomplished the impossible," Simmons told TSN. "How do you go beyond the impossible?"
His career will undoubtedly go down as one of the most decorated in sports history.
---
Check out Cabbie Presents featuring Usain Bolt.