Accountant by day, Hawks emergency goalie named No. 1 star
Scott Foster's fairytale ended with 21,389 fans feting the 36-year-old as the game's No. 1 star after he emerged from the bowels of the United Center as the Blackhawks' emergency third netminder to shut out the visiting Jets and preserve a 6-2 win in 14:01 of action.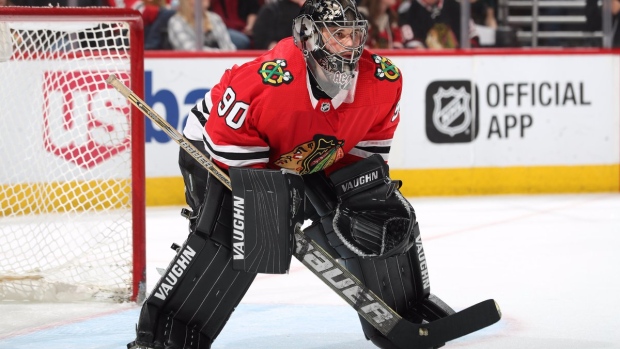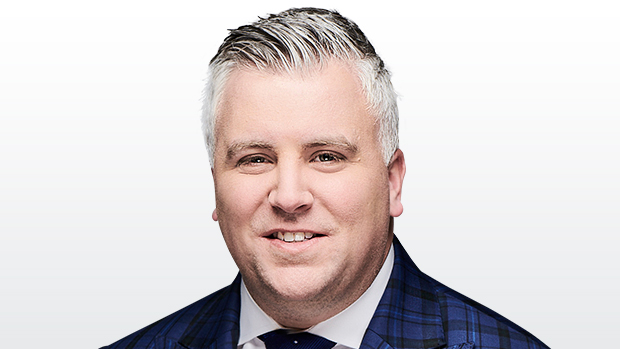 Before making his improbable NHL debut with the Blackhawks on Thursday night, Scott Foster last tended goal for the Sharks.
No, not those Sharks, but the Sharks of the beer league at Johnny's Ice House West in Chicago.
Foster's fairytale fit for Disney ended with 21,389 fans feting the 36-year-old as the game's No. 1 star after he emerged from the bowels of the United Center as the Blackhawks' emergency third netminder to shut out the visiting Winnipeg Jets and preserve a 6-2 win in 14:01 of action in the third period.
A few hours earlier, the Sarnia, Ont., native was wrapping up his 9-to-5 – proving once again that sports really are television's best reality show.
"I'm an accountant by day. So a few hours ago, I was sitting on my computer typing on the 10-key, and now I'm standing in front of you guys, just finished 14 and a half minutes of NHL hockey," Foster told reporters after the win.
"Who would've thought?" Foster said, laughing. "You just keep grinding away in men's league and eventually you'll get your shot."
Foster last played competitively 12 years ago in his senior season at Western Michigan University, when he allowed three goals in one period of action. It was his only appearance of the season. He had a 4.52 goals-against average for the Chicago Sharks last season.
But in the NHL, apparently, Foster is Australian for save.
Foster stopped all seven shots he faced – turning aside a rip from Dustin Byfuglien in the slot, a Patrik Laine to Paul Stastny cross-crease one-timer and gobbled up a Joel Armia shot through traffic.
The Madhouse on Madison, which hasn't had much to cheer for this season, roared with each of his stops. They were chanting "Fos-ter, Fos-ter!" during play.
Foster only ended up in uniform, signed to an amateur tryout agreement just before the game, when planned starter Anton Forsberg got hurt during his pre-game warmup ritual.
That paved the way for Collin Delia, who started the season in the ECHL, to make his NHL debut. But Delia went down after making a sprawling save early in the third period.
The Blackhawks have one of a half-dozen emergency netminders in the building for each contest. Foster estimated he'd done the gig 12 or 15 times before. He would get a bite to eat, enjoy the game in the press box, then head home. But with Forsberg hurt, Foster was in uniform the entire game, wearing No. 90 and sitting in the tunnel, just in case. The NHL stipulates an emergency third goaltender cannot sit on the bench.
"The initial shock happened when I had to dress," Foster said afterward. "Then I think you just kind of black out after that."
Foster reportedly told the Blackhawks' equipment staff as they took his bag out of his car when he arrived at the arena: "Holy crap, I hope I don't have to play tonight."
Blackhawks coach Joel Quenneville was probably thinking the same thing. When Foster was forced to enter in the third period, Quenneville could do little more than shake his head and laugh in disbelief.
"It's opening day for baseball, but we had to go to the bullpen a couple times today," Quenneville said postgame.
The Blackhawks were ahead 6-2. With Foster in net, that lead suddenly seemed like it might be in jeopardy.
Never before has a team played defence that ferociously with a four-goal lead. The Blackhawks blocked every shot possible to try and make sure Foster's dream didn't turn into a nightmare. He even survived a Winnipeg power play.
"The guys were saying when he was sitting in the locker room there, he was cool as a cucumber," Brent Seabrook told reporters. "And he went up there, and [bleep], took a few shots. I was like, oh, this guy looks pretty good."
Foster stole the show from Seabrook, who was appearing in his 1,000th career game, and top prospect Dylan Sikura, who was also making his debut and had two assists.
Delia will be officially credited in the annals with the 'W,' but Foster was so close to becoming the oldest goaltender to win his NHL debut. He is three years older than Rob Zepp, who broke an 88-year-old record for Philadelphia in Winnipeg in Dec. 2014.
Every team keeps a rolodex of local emergency third goalies now, but Foster will reign as the one who got to play longest in today's modern-day NHL. Trainers and coaches used to enter games frequently in the early Original Six era before backups were commonplace.
Foster's run with the Blackhawks won't extend beyond his 14:01 of fame. Chicago called up netminder Jean-Francois Berube after the game from AHL Rockford.
But Foster left United Center with $500, his day's wage as per the NHL's Collective Bargaining Agreement, his game jersey, and a lifetime worth of memories.
"You know, it's funny. You think there'd be a lot of pressure," Foster told reporters. "But really, tomorrow, I'm going to wake up, I'm going to button up my shirt and I'm going to go back to my day job … I'm going to remember this one for a long, long time."
Contact Frank Seravalli on Twitter: @frank_seravalli​