Adam Gaudette passes first test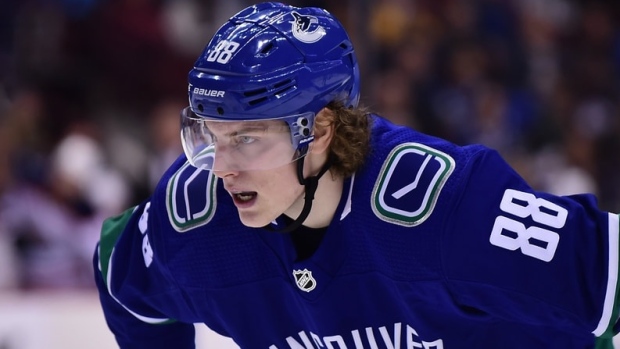 Adam Gaudette has passed his first test.
The Hobey Baker winner has a difficult route to a roster spot with the Vancouver Canucks coming out of camp, and so every time he touches the ice, he'll need to impress head coach Travis Green and the staff.
He did just that at the Young Stars tournament this weekend in Penticton. TSN 1040 Canucks reporter Jeff Paterson listed him as the most impressive Canucks in the second game against the Winnipeg Jets' prospects, and said he had his moments in the first game, too.
Green has been with the organization long enough to know that these rookie tournaments are often sloppy, disjointed hockey where individual agendas trump cohesive team play. And so he said this weekend that he wasn't prone to hold a bad tournament against any of the participants, and that goes for the stars as well.
But in Gaudette's case, the journey to a full-time job on opening night is so tenuous that every audition counts. The Canucks have a glut of forwards, most of them bottom-six types, including bubble guys like Nikolay Goldobin, Brendan Leipsic and Brendan Gaunce, who would have to clear waivers – and possibly lost on claims -- to be assigned to the farm team. Gaudette's minor-league options work against him, so does a theory in the organization that he can be a top-6 NHL forward, not just a versatile checker, and thus should spend time on scoring lines with the Utica Comets.
But the Canucks are also thin at centre and that gives the 21-year-old pivot (he turns 22 on Oct. 3) a fighting chance during camp, behind veterans Bo Horvat, Brandon Sutter, Jay Beagle and, presumably, super rookie Elias Pettersson.
The Canucks view Pettersson as a centreman, and will give him every opportunity to play that position over the next month. But for his first experience on North American ice, and checking in at a lithe 160 lbs. or so, the sizzling Swede may need some time on the wing as he adapts to the more-physical NHL, with all the defensive demands on centres.
That opens a door for Gaudette, and so does an injury to one of the aforementioned pivots. Still, Green stresses young players earning opportunity, and turning jobs over to them when they can be "winning players."
Gaudette did his fair share of that last year at Northeastern University, compiling a 23-10-5 record and being named the best player in college hockey with 60 points (30-30) in 38 games. But after five pedestrian games in the NHL – he didn't register a point, and looked a little underdeveloped next to NHL bodies – Gaudette did not achieve the Brock Boeser-level cameo of the year before, when it became a foregone conclusion that the latter would go straight from college to the NHL, no stops in the American Hockey League.
In Gaudette's case, some AHL seasoning could well do him some good, even if he is one of Vancouver's 12 best forwards in camp. But, of course, young players don't think that way, and Gaudette's mission to make the team needs to check every box.
In Penticton, he did just that.