Adeleke hit illustrates challenge facing football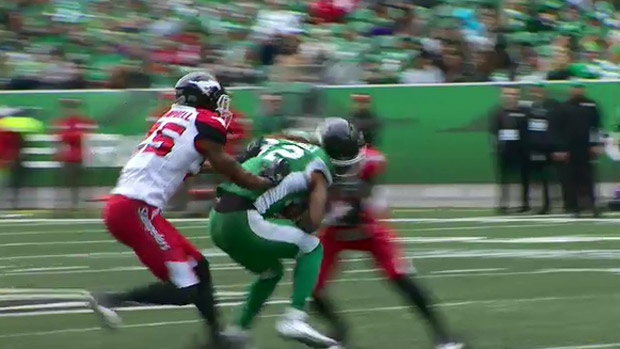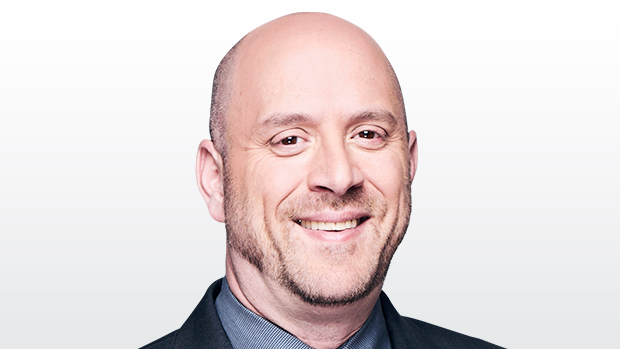 In a sport grappling with where to draw the line when it comes to the violent collisions, there is no better illustration of the challenge football faces than the Tunde Adeleke hit Sunday afternoon in Regina that knocked Saskatchewan Roughriders receiver Naaman Roosevelt out of the game.
Adeleke's hit came immediately after Roosevelt caught a Kevin Glenn pass over the middle in the second quarter, knocking him off his feet and appearing to render him unconscious before his head hit the ground.
​On first glance, it looked like a vicious head-to-head hit, which is why the game's officials – who've been guilty of missing some blatant head-to-head hits in recent weeks – erred on the side of throwing a flag for unnecessary roughness.
There were members of the Roughriders who were incredulous that Adeleke wasn't thrown out of the game. Conversely, Calgary head coach Dave Dickenson pleaded his case that Adeleke had led with his shoulder, with the helmet-to-helmet collision following the initial contact being the inevitable outcome of two players crashing into each other.
Montreal receiver Nik Lewis took to Twitter, claiming the hit was legal and that Roosevelt had lowered his head into the force of Adeleke. The CFL on TSN panel unanimously agreed, saying the hit was simply a part of football and should not have been penalized.
"It's an example of the conundrum we are in," CFL senior vice-president of football operations Glen Johnson told TSN on Monday. "This is one of those seminal plays we will talk about in the off-season and ask how to we do right by everyone on this. But for me it was definitely deserving of a penalty for where we are with the game and where we are trying to take the game."
What that means, Johnson explained, is asking officials to throw a flag on a hit like the Roosevelt-Adeleke collision, unless they see a clear reason why they shouldn't do so. Given that violent helmet-to-helmet collisions usually occur at high speed and sometimes out of the direct view of an official, that's rarely going to be the case.
"Where there are player safety fouls, and we're not sure 100 per cent that it's not [a foul], you will see us flag it," Johnson said. "It's the opposite of an offside call where we have to be 100 per cent sure to call it. Same with pass interference – if we're not 100 per cent sure we're not calling it. But when it comes to player safety fouls, we need to protect the players and people learn on a weekly basis to adjust. But it is a very complex issue."
Johnson conceded that hits like the Adeleke-Roosevelt collision will leave room for debate, like the one sparked on Sunday afternoon.
"We are in an imperfect world and I have said that chasing perfection in sports is not a good thing," he said. "We're trying to get those kinds of hits out of the game. I'm not blaming the receiver or the defender. But when I rise above it all, we are trying to prevent those kinds of things from happening.
"We need to continue to evolve and assess what's best for the fans and the safety of the players. And the safety of the players is always going to win out."