After labour dispute, Canadian rugby sevens men happy to be playing again
Its boycott over, the Canadian men's sevens team leaves Saturday for the first event of the 2018-19 HSBC World Rugby Seven's Series in Dubai.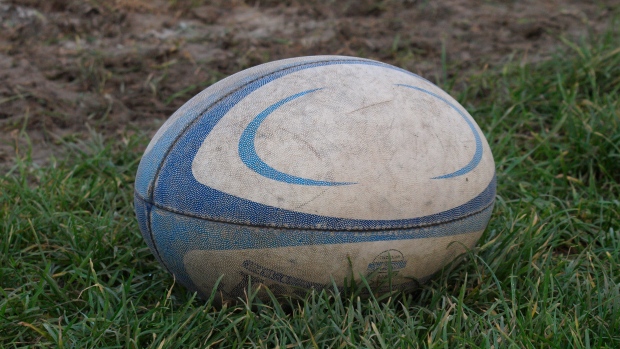 Its boycott over, the Canadian men's sevens team leaves Saturday for the first event of the 2018-19 HSBC World Rugby Seven's Series in Dubai.
While the Canadian men worked out on their own during a bitter two-month labour dispute with Rugby Canada, they only returned to the fold Nov. 1 and so have had limited training with coach Damian McGrath in advance of Dubai.
Canada opens Nov. 30 against England before facing Australia and Japan in what McGrath calls a "particularly challenging group."
"We've watched on social media over the last two or three months all these three teams preparing," said McGrath. "They've been at tournaments around the world. They've had full pre-seasons. So it's making it even more harder.
"We haven't played a game. We've only had two weeks of fitness work and we're playing two of the best sides plus a team in Japan that's hosting the next Olympics, so they're beginning their preparations now and getting a good squad together."
Upset at the contract they were offered and offended by what they saw as a Rugby Canada effort to marginalize sevens by having one centralized pool of players, the sevens squad refused to sign new deals.
Wounds from the labour dispute are still fresh and there is more work to be done behind the scenes to resolve differences. A bid to unionize is still before the B.C. Labour Relations Board despite the objections of Rugby Canada.
But captain Nate Hirayama says the players are as ready as they can be.
"We've made the best of the situation that we could," he said. "There's lots of positive feelings on the team."
One plus is the dispute has brought the players closer than ever.
"We're extremely a close group and I think with everything that has happened this year — and in previous years that people may not know about — it's amazing how unified this group is," said Hirayama, who led all scorers last season with 334 points. "We are just playing for each other because that's our biggest motivation. We're all great friends on and off the park. Our teammates are why we're playing the game.
"So it's definitely galvanized us. We just want to keep pursuing our dreams here and hopefully turn this whole thing into a positive."
McGrath has noticed the strong ties between players.
"They were always a close group. But to go through what they went through and stick together, I think, tells you how tight they are as a group of people and (as) close friends. As a coach, that's everything you could ask for. You want a group like that that's all fighting for the same cause.
"It's an extra bonus. I can see the commitment in everything they do."
Canada is in tough company in Dubai, however.
Australia finished fourth overall last season while England, runner-up at the 2018 Rugby World Cup Sevens, was fifth. Japan returns as a core team on the circuit after winning a qualifying tournament in Hong Kong earlier this year.
The Canadians finished ninth overall last season, thanks in large part to strong performances in the final two stops. Canada tied for seventh in London and finished fourth in Paris.
Olympic qualification is on the line this season with the top four teams securing automatic berths in the 2020 Tokyo Games. Canada, which has never finished higher than sixth overall, will likely have to make its qualifying bid through a regional tournament or last-chance qualifier — a route on which it fell short prior to the Rio Olympics.
That failure cost the team its Own The Podium funding, although it got some back upon appeal.
McGrath is missing Harry Jones, Mike Fuailefau and Phil Berna, who have long-term injuries and aren't expected to be ready until the new year. Jones (shoulder) and Fuailefau (ankle) are recovering from surgery while Berna is still dealing with a serious ankle fracture suffered in Cape Town in December 2017.
But Adam Zaruba, a six-foot-five 265-pounder who has speed to go with his size, is back after trying his hand at the NFL with the Philadelphia Eagles.
"He's back and fully committed," said McGrath. "We're glad to have him. It might take a couple of tournaments to get back into the group fully but he's happy to be here and I'm really happy to have him."
Of the 13 players chosen for the opening stops in Dubai and South Africa, all with the exception of Zaruba — who was examining his football options — were part of the boycotting group.
Because of the lack of training time, McGrath has opted for experience in choosing his roster. But he has high hopes for five other players — David Richard, Brock Webster, Cooper Coats, Cole Davis and former Toronto Wolfpack forward Quinn Ngawati.
"They've got a lot of potential and it gives us a depth to the squad we didn't have before."
McGrath also hasn't closed the door on Tevaughn Campbell, the speedy Montreal Alouettes defensive back who saw action with the sevens squad last season.
After Dubai, the Canadian men head to South Africa for a Dec. 8-9 tournament.
---
Canada Roster for Dubai and Cape Town
Connor Braid, James Bay AA, Victoria; Admir Cejvanovic, Burnaby Lake RFC, Burnaby, B.C.; Andrew Coe, Markham Irish, Toronto; Justin Douglas, Abbotsford RFC, Abbotsford, B.C.; Lucas Hammond, Toronto Nomads, Toronto; Nathan Hirayama (capt.), unattached, Richmond, B.C,; Isaac Kaay, UVIC Vikes, Kamloops, B.C.; Patrick Kay, Castaway Wanderers, Duncan, B.C.; Luke McCloskey, Castaway Wanderers, Victoria; Josiah Morra, Toronto Saracens, Toronto; Matt Mullins, Queen's University, Belleville, Ont.; Jake Thiel, Abbotsford RFC, Abbotsford, B.C.; Adam Zaruba, Capilano RFC, North Vancouver.
Non-Travelling Reserves:
Cooper Coats, Cole Davis.
Follow @NeilMDavidson on Twitter