Lafreniere scores winner as Canada defeats USA in thrilling World Juniors opener
Presented by:

Alexis Lafreniere scored the game-winning goal and added three assists as Canada battled back from a two-goal first-period deficit to defeat the United States 6-4 to open the 2020 IIHF World Juniors. Frank Seravalli has more.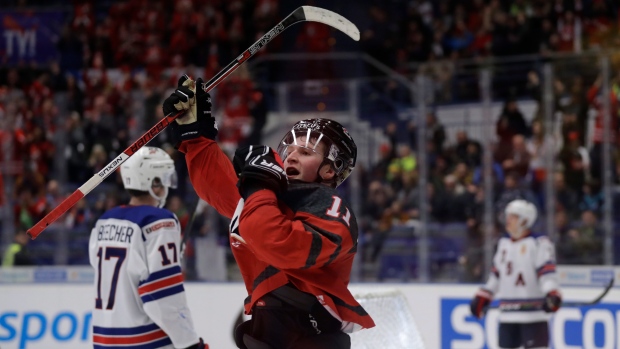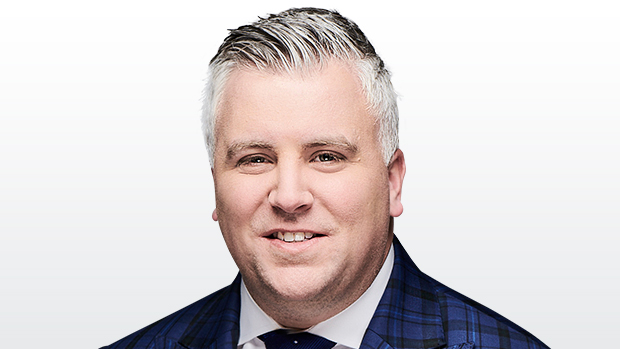 OSTRAVA, Czech Republic — K'Andre Miller flicked his wrists to put a little backhand sauce on the puck, like the New York Rangers' first-round pick had probably done a thousand times at every different level.
He just didn't recognize the player that had a jump on him.
Miller won't soon forget - the indelible image of Alexis Lafreniere knocking that pass down and quickly depositing into the Team USA cage.
"I was just trying to get to the net," Lafreniere said, "and it worked out."
Wipe away the drool over Lafreniere's high-skill maneuver, the marvel of his hands and feet in perfect harmony with his brain, and take a step back. The circumstance has to be considered to have a true appreciation for the moment.
Team Canada had just blown a two-goal, third period lead to their biggest rival Team USA after battling back from their own deficit. They were staring down a fifth straight loss to the Americans, the first time that would have ever happened - at the hands of any country - in Canada's 43-year history in the World Junior Championship.
---
Follow Team Canada's Journey At The 2020 World Juniors With TSN Direct!
Get access to stream TSN's exclusive coverage, including every game, news and highlights from SportsCentre and more.
Subscribe Now > TSN.ca/Subscribe
---
The natural reaction for a bunch of shell-shocked teenagers would have been to sag and sit back.
Lafreniere's thought at that ensuing face-off after Team USA's game-tying goal: Let's go.
"We had to have a big shift because they just scored," he explained. "I was lucky enough to cut the pass and take it to the net."
Within five seconds, the puck was on Lafreniere's stick. The consensus No. 1 overall pick said in the pre-tournament run-up that he wanted the puck more, he wanted to control the play.
"That's why he wants the puck, to get the job done," Team Canada coach Dale Hunter said. "That's where great hockey players come from."
Team USA coach Scott Sandelin didn't even see it live on the bench.
"It happened so quick that I was talking to some guys on the bench," Sandelin said. "It was an unfortunate play for us."
That seven second shift averted opening night heartache. Instead, Team Canada kicked off the 2020 World Junior Championship in style, hanging on for a wild, 6-4 win on Boxing Day against their cross-border foe on the back of Lafreniere's four-point night.
Thursday night marked Canada's first win over Team USA since 2015, back when Connor McDavid and Max Domi delivered gold on home soil in Toronto.
Their next test will be on Saturday against Russia (12 p.m. ET on TSN).
Canada's captain, Barrett Hayton, also chipped in with a pair of goals, while goaltender Nico Daws stopped 28 of 32 in his first-ever start for Team Canada on the international stage.
It was the best of the United States and Canada rivalry on display. Ten goals. Six lead changes. Three power play goals from Canada, matching last year's total in five games. Plenty of late game drama. And tons of red jerseys.
"There was a sea of red," Team USA's Nick Robertson said of the atmosphere.
But all anyone could talk about was the Lafreniere Show.
"It's crazy," Daws said, after Lafreniere helped bail him out. "I was like 'Thank you.' Whenever he has the puck, he's a threat. I'm really happy he's on my team."
"It's something else," teammate Joe Veleno said. "Just unbelievable hand-eye [coordination]."
Remember that time when then-Team Canada coach Tim Hunter called out the 17-year-old Lafreniere in last year's tournament?
"He was out there skating around like it was a free skate, lots of circles in his game and we weren't very happy with that," Tim Hunter said.
This year's coach, Dale Hunter (no relation), could not have been more effusive in praising Lafreniere.
"We got the big plays and stuff, but at the end of the game, he was out there battling to keep the lead and really playing good defensively. That's what you want from a complete player. That's what the NHL wants. That's what I want here."
The rest of Team Canada - the youngest team Canada has ever rostered in the tournament - fed off Lafreniere's energy, even in the first period while they trailed by two goals. Lafreniere engaged physically and made two big hits that helped turn the tide, beating the butterflies out of a stage-stuck group.
"Everyone was a little nervous there through the first few minutes," Daws said. "It's the World Juniors. Everybody watched [the game], you know everybody watched it."
After Lafreniere's game-changing goal, the overseas sea of red went berserk inside Ostravar Arena while Team Canada's self-selected goal song of the 1996 remix "Let Me Clear My Throat" played.
They cleared their throats and made a statement - that Team Canada is in the driver's seat for Group B. They were still tasting the bitterness of last year's quarterfinal loss in Vancouver to Finland, caused partially by not making an easier road for themselves in group play.
Now, Team Canada can virtually assure itself the top spot in Group B by beating the Russians on Saturday, since Russia lost to the host Czech Republic earlier on Thursday.
This was supposed to be Canada's toughest schedule to start a tournament since 1980, but they are halfway through it now - making that seven second shift one to savour in Ostrava.
"It was so fun," Lafreniere said. "The crowd was into it. Canada-U.S., it was the kind of game that you dream to play."
Contact Frank Seravalli on Twitter: @frank_seravalli​