Alfredsson tops TSN Hockey's Top 25 Senators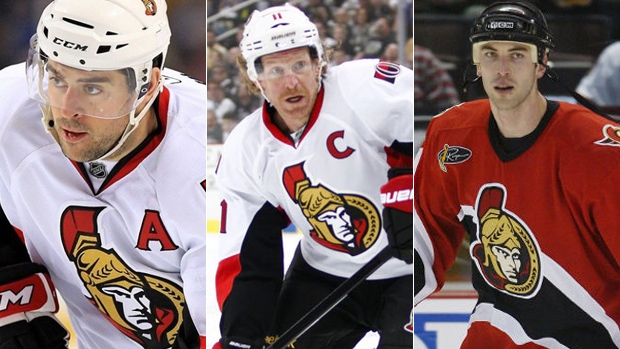 No. 11 is No. 1.
No player has made a bigger impact in the history of the Ottawa Senators than Daniel Alfredsson, who leads off TSN Hockey's list of the Top 25 players in their 25-year history.
Alfredsson, who played for 17 seasons in the nation's capital - 13 of them as captain - helped propel the Senators out of their lean expansion era and into Stanley Cup contenders.
He was the first Senators player to win a major NHL award, capturing the Calder Trophy as rookie of the year in 1996 and also won the 2012 King Clancy Memorial Trophy and 2013 Mark Messier NHL Leadership Award. Scoring 426 career goals and 1,108 points, he also led the Senators to their first Stanley Cup Final in 2007.
Alfredsson is one of nine players from that team to make the Top 25, along with Jason Spezza (3rd), Wade Redden (5th), Dany Heatley (8th), Chris Phillips (9th), Mike Fisher (10th), Anton Volchenkov (20th), Chris Kelly (22nd) and Antoine Vermette (24th).
The list also includes five other current Senators (with Kelly still an active player) - captain and two-time Norris Trophy winner Erik Karlsson (2nd), goaltender Craig Anderson (12th) and forwards Kyle Turris (16th), Chris Neil (17th) and Mark Stone (18th).
The Top 25 Ottawa Senators

Nos. 1 - 5
Player
Years
GP
G
PTS
1.

Daniel Alfredsson

, RW

1995-13

1,178

426

1,108

2.

Erik Karlsson

, D

2009-17

530

108

429

3.

Jason Spezza

, C

2002-14

686

251

687

4.

Marian Hossa

, RW

1997-04

467

188

390

5.

Wade Redden

, D

1996-08

838

101

410

Nos. 6 - 10
Player
Years
GP
G
PTS
6.

Zdeno Chara

, D

2001-06

299

51

146

7. Alexei Yashin, C

1993-01

504

218

491

8.

Dany Heatley

, LW

2005-09

317

180

362

9.

Chris Phillips

, D

1995-15

1,179

71

288

10.

Mike Fisher

, RW

1999-11

675

167

348

Nos. 11 - 15
Player
Years
GP
G
PTS

11. Patrick Lalime, G

1999-04

283

2.32

.908

12.

Craig Anderson

, G

2010-17

272

2.62

.920

13.

Martin Havlat

, RW

2000-06

298

105

235

14. Radek Bonk, C

1995-04

689

152

399

15. Shawn McEachern, C

1996-02

454

142

304

No. 16 - 20
Player
Years
GP
G
PTS
16.

Kyle Turris

, C

2011-17

369

105

246

17.

Chris Neil

, RW

2001-17

1,020

112

249

18.

Mark Stone

, RW

2012-17

228

71

172

19. Magnus Arvedson, LW

1997-03

393

92

210

20.

Anton Volchenkov

, D

2002-10

428

16

94

Nos. 21 - 25
Player
Years
GP
G
PTS
21.

Milan Michalek

, LW

2009-16

412

115

224

22.

Chris Kelly

, RW

2003-17

514

79

185

23. Ron Tugnutt, G

1996-00

166

2.32

.906

24.

Antoine Vermette

, C

2003-09

359

80

167

25. Steve Duchesne, D

1995-97

140

31

83