All eyes on the Avs as trade deadline approaches
Colorado forwards Matt Duchene and Gabriel Landeskog both land in the top five of TSN Hockey's first Trade Bait list of the 2016-17 season. Another team to watch - Arizona.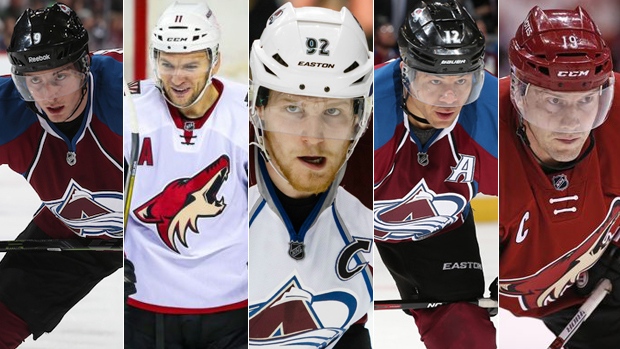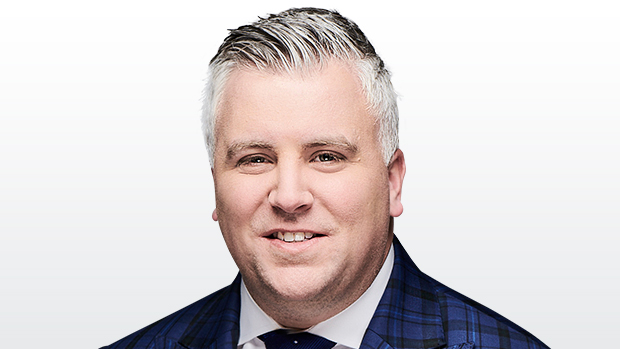 All eyes are on Joe Sakic, with his Colorado Avalanche on track to barely crack 50 points and trending toward the worst season in franchise history.
For that, forwards Matt Duchene and Gabriel Landeskog both land in the top five of TSN's first Trade Bait list of the 2016-17 season. Sakic's price for both players remains high. It may be more prudent for Colorado to wait until the off-season to reshape the franchise, when more teams will be willing to part with prized pieces, but the clock is ticking.
The NHL's 2017 trade deadline is March 1, six weeks from Wednesday.
Arizona forwards Martin Hanzal and Radim Vrbata, as well as Detroit winger Thomas Vanek, head the list of potential rental players on the move between now and then.
Many teams will inquire about the available of non-rental core players, namely St. Louis Blues defenceman Kevin Shattenkirk and Oilers winger Jordan Eberle, but they are trending toward staying put.
Shattenkirk, who turns 28 before the end of January, was featured on last season's Trade Bait list because the Blues acknowledged then they can't afford to keep him beyond this season. He is in the final year of his contract with a cap hit of $4.25 million.
Last summer, Shattenkirk's camp was given permission by the Blues to speak with two or three potential suitors - including Edmonton - about parameters of a long-term contract extension, but he was unable to find a fit. He will be in range for a payday nearing $50 million over seven years.
The door is now wide open. Shattenkirk is now believed to be interested in testing a short-term fit with a playoff contender. The Blues, who were once more comfortable keeping Shattenkirk even if it meant letting him walk for nothing on July 1, seem to realize their current team isn't quite as strong as those in recent years.
The Oilers, who crave a right-shot defenceman like Shattenkirk to step onto their power play and consistently put up 45 or 50 points, are in buy mode for the first time in a long time. The Oilers are on track to qualify for the Stanley Cup playoffs for the first time since 2006. They are one of the teams that could consider moving a conditional first-round pick to make a splash for a player like Shattenkirk.
Moving Eberle now would create a bigger hole at right wing. Eberle, 26, has underwhelmed this season. He has just eight goals in 46 games and one tally in his last 18 games. He has also shouldered a lot of Edmonton's toughest matchups and his stock seems bound to rebound.
TSN's Trade Bait list is goaltender heavy. But with only Dallas, St. Louis and maybe Calgary would be looking for an upgrade, it is surely a buyer's market, making Marc-Andre Fleury likely to stick in Pittsburgh for a run at a third Stanley Cup.
Philadelphia's Steve Mason might be the best value buy for Dallas. He is a pending unrestricted free agent who played his best hockey under current Stars goaltending coach Jeff Reese. With nearly the same number of shots faced (3,000) in both stints, Mason sported a .925 save percentage while Reese was in Philadelphia, but has just a .913 save percentage since Reese's abrupt departure from the team on March 7, 2015.
Ondrej Pavelec will be given the opportunity to run with the job in Winnipeg, but he would be owed just $1.6 million over the final third of the season if a contender is interested. Jaroslav Halak has an extra year remaining on his deal, making him the tougher sell. He recently passed through waivers without a claim.
The Jets may also choose to get ahead of Mathieu Perreault's potential availability in the expansion draft, though the fact he has yet to begin a new four-year deal complicates that scenario. Drew Stafford is also a potential rental.
As the Senators look for scoring help on the wing, first-round pick Curtis Lazar could use a fresh start elsewhere. Career-long Canuck Alex Burrows will determine his fate as a potential rental by holding his no-trade clause.
Toronto's James van Riemsdyk, who rounds out the list, will definitely receive interest from around the NHL, but he remains unlikely to be traded this season – especially while the Leafs look more like a playoff team each day.
Here are the Top 20 players potentially available before March 1:
NTC - No Trade Clause NMC - No Movement Clause
PLAYER
POS
AGE
CAP HIT
GP
G
PTS
Past 2016-17
Clause
1.

Matt Duchene

, COL

C

26

$6m

37

13

25

2 years

2.

Martin Hanzal

, ARI

C

29

$3.1m

37

9

15

UFA

NTC

3.

Thomas Vanek

, DET

RW

32

$2.6m

33

12

30

UFA

4.

Mathieu Perreault

, WPG

LW

29

$3m

33

4

13

4 @ 4.13m

5.

Gabriel Landeskog

, COL

LW

24

$5.57m

31

8

14

4 years

6.

Radim Vrbata

, ARI

RW

35

$1.5m

43

10

28

UFA

7.

Jordan Eberle

, EDM

RW

26

$6m

46

8

27

2 years

8.

Kevin Shattenkirk

, STL

RD

27

$4.25m

44

8

28

UFA

9.

Ondrej Pavelec

, WPG

G

29

$3.9m

-

-

-

UFA

10.

Jaroslav Halak

, NYI

G

31

$4.5m

21

3.24

.904

1 year

11.

Brian Gionta

, BUF

RW

37

$4.25m

43

9

19

UFA

NTC

12.

Curtis Lazar

, OTT

RW

21

$894k

21

0

0

RFA

13.

Ben Bishop

, TBL

G

30

$5.95m

24

2.67

.910

UFA

NMC

14.

Steve Mason

, PHI

G

28

$4.1m

37

2.95

.897

UFA

15.

Drew Stafford

, WPG

RW

31

$4.35m

32

4

11

UFA

16. Alex Burrows, VAN

LW

35

$4.5m

39
7
16

UFA

NTC

17.

Shane Doan

, ARI

RW

40

$3.8m

43

4

12

UFA

NMC

18.

Jarome Iginla

, COL

RW

39

$5.33m

41

5

11

UFA

NMC

19. M-A Fleury, PIT

G

32

$5.75m

27

3.23

.904

2 years

NTC

20. J. van Riemsdyk, TOR

LW

27

$4.25m

41

15

35

1 year

NTC
Contact Frank Seravalli on Twitter: @frank_seravalli