All signs still point to Simmonds exiting Philadelphia
Flyers winger appears to be headed towards an amicable breakup with the franchise he was seemingly born to play for, Frank Seravalli writes.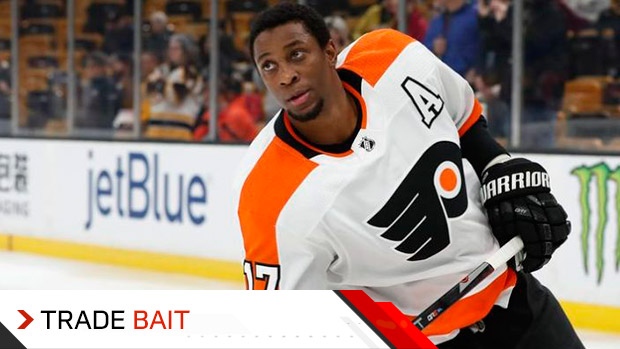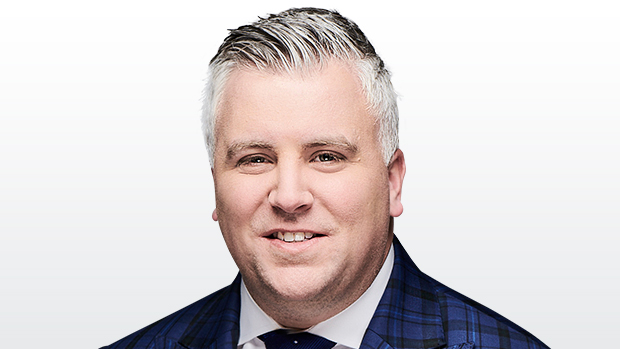 PHILADELPHIA - There is a conclusive conversation to be had in the next handful of days between the Philadelphia Flyers and the Wayne Simmonds camp to determine his destiny.
Up until now, the only way to glean insight into Simmonds' future has been to interpret what hasn't been said.
The belief is that under new GM Chuck Fletcher, the Flyers haven't made an offer to keep Simmonds and extend his contract.
Fletcher may circle back to the Simmonds camp next week and make a last-second pitch if the offers from teams aren't up to snuff. He will also need to juggle where the Flyers sit in the standings and whether Simmonds makes sense to keep as an "own rental." The Flyers currently sit eight points back of Pittsburgh for the final wild-card spot and do not own any of the tiebreakers.
Right now, all signs still point to an amicable breakup over the next 10 days. Simmonds is No. 4 on the latest TSN Trade Bait board.
The respect Fletcher and the Flyers have for Simmonds is clear. Simmonds is a beloved figure in the Flyers' organization and throughout Philadelphia. There hasn't been any pretense.
"I wouldn't say the lines of communication are completely closed, but I think at this point it kind of is what it is," Simmonds said Thursday after practice. "Me as an individual, it's not my job to take care of that sort of stuff. That's why we have agents."
Simmonds, 30, said the mood around the team has "loosened up" since they've reeled off points in 11 of their last 12 games to claw back into the playoff race.
"I've been focused on playing hockey," Simmonds said. "Guys are having fun again, finally."
Numerous teams have reached out to Fletcher with significant interest in Simmonds. He is the rugged winger who can provide both muscle and scoring touch for a playoff run.
The Tampa Bay Lightning, Winnipeg Jets, Nashville Predators and Boston Bruins are believed to be interested. The Scarborough, Ont., native would also be a prime fit with the hometown Toronto Maple Leafs, though GM Kyle Dubas is on record as not being wild about rental additions.
Last season cemented Simmonds' status as the ultimate warrior. He played through a fractured ankle, torn groin, a tear in his hip and a broken jaw. The only thing that kept him out of the lineup for seven games was a torn ligament in his thumb. He still managed to put up 24 goals and 22 assists for 46 points in 75 games.
This season, Simmonds has 16 goals and nine assists for 25 points in 57 games. He said he is finding his stride again after undergoing four significant surgeries last summer to correct those previous injury issues.
"It takes time," Simmonds said.
Until a resolution is reached one way or the other, Simmonds said he will block out the noise and concentrate on helping the Flyers try to pull off a run that no team in the history of the NHL has managed. No team has been 16 points out of a playoff spot, like the Flyers were in early January, and gone on to qualify for the postseason.
"I'm not too worried about it," Simmonds said of the deadline. "Whatever happens, happens. At this point, I'm a Philadelphia Flyer and that's what I'm focused on. Everything else is just hearsay."
If nothing else, Philadelphia's last game before the trade deadline – the 2019 Stadium Series against the Penguins outdoors at Lincoln Financial Field – may be the perfect send-off for Simmonds, a celebration of a player who was seemingly born to be a Flyer.
"As long as we take care of our business, that's going to be a massive game for us, too," Simmonds said. "I've loved it. I've been in Philly for eight years now; it's been a second home to me. I've played over 500 games as a Flyer. It's been special and hopefully it continues longer."
Here is TSN Hockey's latest Trade Bait board, which always seeks to blend a player's prominence with his likelihood of a trade:
The Top 50
| Trend | Player | Pos | Age | GP | G | PTS | Cap Hit | Years |
| --- | --- | --- | --- | --- | --- | --- | --- | --- |
| | 1. Artemi Panarin, CBJ | LW | 27 | 54 | 22 | 64 | $6M | UFA |
| | 2. Matt Duchene, OTT | C | 28 | 48 | 26 | 54 | $6M | UFA |
| | 3. Mark Stone, OTT | RW | 26 | 57 | 26 | 57 | $7.35M | UFA |
| | 4. Wayne Simmonds, PHI | RW | 30 | 57 | 16 | 25 | $3.98M | UFA |
| | 5. Jets' 1st-Round Pick | | | | | | | 2019 |
| | 6. Cam Talbot, EDM | G | 31 | 31 | 3.36 | .893 | $4.17M | UFA |
| | 7. Kevin Hayes, NYR | C | 26 | 47 | 13 | 38 | $5.18M | UFA |
| | 8. Mats Zuccarello, NYR | RW | 31 | 42 | 9 | 34 | $4.5M | UFA |
| | 9. Gustav Nyquist, DET | RW | 29 | 58 | 14 | 47 | $4.75M | UFA |
| | 10. Jimmy Howard, DET | G | 34 | 39 | 2.74 | .915 | $5.3M | UFA |
| | 11. Charlie Coyle, MIN | C | 26 | 57 | 10 | 28 | $3.2M | 1 |
| | 12. Sergei Bobrovsky, CBJ | G | 30 | 41 | 2.9 | .903 | $7.43M | UFA |
| | 13. Dougie Hamilton, CAR | RD | 25 | 57 | 10 | 23 | $5.75M | 2 |
| | 14. Micheal Ferland, CAR | LW | 26 | 48 | 15 | 31 | $1.75M | UFA |
| | 15. Brett Pesce, CAR | RD | 23 | 48 | 5 | 15 | $4.03M | 5 |
| | 16. Marcus Johansson, NJD | LW | 28 | 45 | 10 | 23 | $4.58M | UFA |
| | 17. Adam Henrique, ANA | C | 29 | 57 | 10 | 28 | $5.83M | 5 |
| | 18. Jack Roslovic, WPG | RW/C | 22 | 57 | 7 | 16 | $894K | 1 |
| | 19. Ryan Dzingel, OTT | LW | 26 | 55 | 21 | 41 | $1.8M | UFA |
| | 20. Jonathan Huberdeau, FLA | LW | 25 | 56 | 13 | 52 | $5.9M | 4 |
| | 21. Eeli Tolvanen, NSH | RW | 19 | 4 | 1 | 2 | $894K | 2 |
| | 22. Artem Anisimov, CHI | C | 30 | 52 | 8 | 24 | $4.55M | 2 |
| | 23. Derick Brassard, FLA | C | 31 | 47 | 10 | 18 | $5M | UFA |
| | 24. Cody Ceci, OTT | RD | 24 | 53 | 5 | 19 | $4.3M | RFA |
| | 25. Jakob Silfverberg, ANA | RW | 28 | 48 | 13 | 21 | $3.75M | UFA |
| | 26. Luke Glendening, DET | C | 29 | 56 | 9 | 20 | $1.8M | 2 |
| | 27. Alex Chiasson, EDM | RW | 28 | 47 | 17 | 27 | $650K | UFA |
| | 28. Andre Burakovsky, WSH | LW | 23 | 52 | 7 | 16 | $3M | RFA |
| | 29. Brayden Schenn, STL | C | 27 | 52 | 10 | 36 | $5.13M | 1 |
| | 30. Eric Staal, MIN | C | 34 | 56 | 17 | 37 | $3.5M | UFA |
| | 31. Justin Faulk, CAR | RD | 26 | 57 | 5 | 20 | $4.83M | 1 |
| | 32. Adam McQuaid, NYR | RD | 32 | 32 | 2 | 5 | $2.75M | UFA |
| | 33. Jeff Carter, LAK | C | 33 | 51 | 10 | 25 | $5.27M | 3 |
| | 34. Chris Kreider, NYR | LW | 27 | 56 | 24 | 43 | $4.63M | 1 |
| | 35. Colton Parayko, STL | RD | 25 | 56 | 9 | 18 | $5.5M | 3 |
| | 36. Alex Steen, STL | LW | 34 | 42 | 6 | 18 | $5.75M | 2 |
| | 37. Alec Martinez, LAK | RD | 31 | 43 | 4 | 15 | $4M | 2 |
| | 38. Jay Bouwmeester, STL | LD | 35 | 52 | 2 | 12 | $5.4M | UFA |
| | 39. Carl Hagelin, LAK | LW | 30 | 36 | 2 | 8 | $4M | UFA |
| | 40. Patrick Maroon, STL | LW | 30 | 48 | 4 | 15 | $1.75M | UFA |
| | 41. Alex Edler, VAN | LD | 32 | 38 | 5 | 20 | $5M | UFA |
| | 42. Ben Lovejoy, NJD | RD | 34 | 48 | 1 | 6 | $2.67M | UFA |
| | 43. Vlad Namestnikov, NYR | LW | 25 | 52 | 4 | 16 | $4M | 1 |
| | 44. Nikolay Goldobin, VAN | LW | 23 | 51 | 6 | 25 | $863K | RFA |
| | 45. Jesse Puljujarvi, EDM | RW | 20 | 45 | 4 | 9 | $925K | RFA |
| | 46. Mikkel Boedker, OTT | LW | 29 | 51 | 6 | 28 | $4M | 1 |
| | 47. Tobias Rieder, EDM | LW | 26 | 42 | 0 | 9 | $2M | RFA |
| | 48. Andreas Johnsson, TOR | LW | 24 | 51 | 15 | 31 | $788K | RFA |
| | 49. Kasperi Kapanen, TOR | RW | 22 | 57 | 18 | 36 | $863K | RFA |
| | 50. Jeff Skinner, BUF | LW | 26 | 56 | 34 | 51 | $5.73M | UFA |
TRADED:
No. 5: Maple Leafs' first-round pick - Toronto to Los Angeles on Jan. 28
No. 8: Derick Brassard - Pittsburgh to Florida on Feb. 1
No. 11: Brian Boyle - New Jersey to Nashville on Feb. 6
No. 13: Chris Wideman - Ottawa to Edmonton on Nov. 22
No. 14: Tanner Pearson - Los Angeles to Pittsburgh on Nov. 14
No. 17: Jake Muzzin - Los Angeles to Toronto on Jan. 28
No. 27: Alex Petrovic - Florida to Edmonton on Dec. 29
No. 27: Nino Niederreiter - Minnesota to Carolina on Jan. 17
No. 28: Nick Bjugstad - Florida to Pittsburgh on Feb. 1
No. 28: Brandon Manning - Chicago to Edmonton on Dec. 29
No. 35: Michael Del Zotto - Vancouver to Anaheim on Jan. 16
No. 35: Jamie Oleksiak - Pittsburgh to Dallas on Jan. 29
No. 36: Luke Schenn - Anaheim to Vancouver on Jan. 16
No. 48: Dale Weise - Philadelphia to Montreal on Feb. 9