All-Star allure not wearing off on DeRozan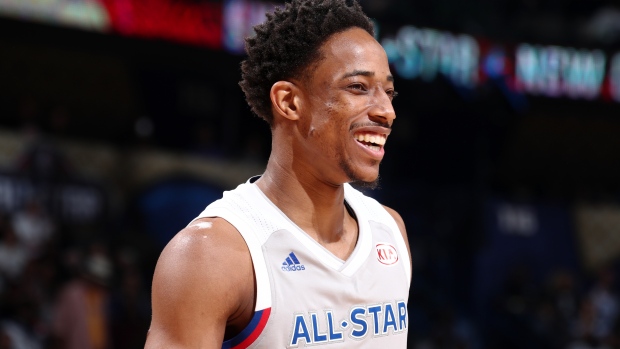 TORONTO — DeMar DeRozan heads to Los Angeles this weekend appreciative of how far he's come in life and basketball.
The Raptors guard was 14 the first time the NBA's all-star game rolled through the Staples Center. Living in Compton, Calif., DeRozan had no access to the game, but recalls feeling part of the festivities.
"I just remember being in Compton, honestly, and being able to see the lights from downtown thinking I had something to do with all-star weekend because it was in your city," said DeRozan. "You see the advertising, you see all the stars going there - it was one of them things, as a kid, that you see and you wish to be just anybody important to be able to go to things like that, see all the stars."
In 2011, the last time the Staples Center hosted, DeRozan participated in the slam dunk contest.
This weekend DeRozan is headed to his fourth all-star game along with teammate Kyle Lowry - the pair will be a part of Team Stephen. The Raptors coaching staff led by Dwane Casey will coach Team LeBron.
"Not saying that I believed I would be a part of it, but it was just one of them moments where you're seeing things like that being in Compton, you just wanted anything, you wanted to be just a rapper out there, you want to be him, or a basketball player - anybody. That's all you cared about," DeRozan said.
The 28-year-old heads to the break averaging 23.7 points per game (13th in the NBA), a career-high 5.2 assists per game and shooting 32.7 per cent from three-point range through 57 games.
The Raptors (41-16) own the best home record (24-4) in the NBA and head into the all-star break on a seven-game winning streak while sitting atop the Eastern Conference standings.
"I'm pretty sure after Sunday I'm going to have a lot more to say about (the experience), but now I still don't believe it," said DeRozan, who is a starter for a second straight year. "Even for this being my fourth all-star game, every single one is kind of heightened for me because I never thought I would be where I'm at in life today."
Casey, the first coach in Raptors history to coach in an NBA all-star game, is headed to the event for the third time in his career. He was a member of Seattle Super Sonics head coach George Karl's staff at the game in 1996 and 1998.
"It should mean a lot, it should be very special to him," Casey said of DeRozan. "It's a tribute to him and I'm happy that he gets to go back to L.A. where he went to high school, where he went to college, played AAU there and perform on the highest stage that a basketball player can play on."
Lowry, who will also participate in Saturday's three-point contest, is heading to his fourth straight all-star game. The 31-year-old is averaging 16.5 points per game this season to go along with 6.4 assists while averaging 39 per cent from three-point range.
In addition to family time, Lowry will spend part of his time in Los Angeles inside the ropes following Tiger Woods at the Genesis Open.
"Just enjoy the weather, enjoy being around, having my family and friends, and take time after to play some golf after the game," Lowry said. "Hang out with family and friends. Just be out the way. That's the most important thing, having some time with your family and friends, enjoying the moment."
Heading into this weekend's game, one thing is certain: both DeRozan and Lowry are looking forward to going head-to-head with the coaching staff they work with everyday.
"Every time I score, I'm going to stare at the coaches, for sure," joked DeRozan. "I'm saying all types of stuff.
"I'm letting 'em have it. I know (Casey's) entire game plan. I'm telling him, 'ain't nothing working tonight.'"