Alouettes leave practice field due to gas leak
The Montreal Alouettes were forced to leave their practice field because of a gas leak at State Hebert on Monday. The team returned to Olympic Stadium to resume practice indoors.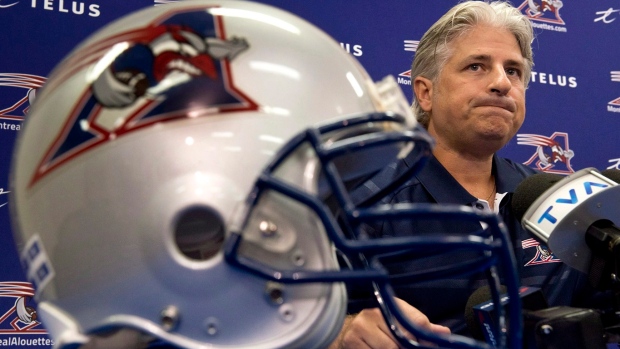 MONTREAL — If things weren't going badly enough for the Montreal Alouettes, their latest setback saw the entire team rush off the practice field because of a gas leak.
Halfway through a workout Monday, a thick odour of natural gas wafted onto the field and the team was told to leave the area. Fire trucks were on hand as a crew worked nearby on what appeared to be a gas main. The players loaded onto busses and headed to Olympic Stadium.
"It was pretty bad," said receiver Duron Carter. "It felt like I was in the propane tank myself.
"Once you start smelling gas everywhere, someone might light a match and we'd have a terrible Hindenberg incident. But hey, playing for the Montreal Alouettes, I've seen it all."
While the Alouettes play at Percival Molson Stadium at McGill University downtown, their locker room is at the Big O in the east end. And in recent years, since the soccer Montreal Impact took over what used to be their practice field, they've had to get in busses for a 10-to-15 minute ride to Hebert Stadium in the St. Leonard borough in the north end.
"It's a disadvantage that over time can hurt us," added Carter. "If you took all the minutes it takes for us to get to practice, that calculates into missing almost a whole month of practice time. It hurts."
It didn't seem to matter when the Alouettes (2-4) were winning Grey Cups in 2009 and 2010, but these days they are struggling. They were coming off a 38-18 loss at home to the B.C. Lions and preparing for a meeting Thursday night with the Eskimos in Edmonton.
The main question to be sorted out this week concerned kicker Boris Bede, one of the best in the CFL as a rookie last year (90 per cent of field goals) who has been good on only seven of 16 placements, including a missed 46-yard attempt against B.C. He also shanked a punt that went for 12 yards.
Coach and general manager Jim Popp has had a raft of kickers trying out this week, but says it remains 50-50 whether he will use Bede again in Edmonton. He is to decide on Tuesday before the team flies out, but said that whether Bede plays or not, he will remain with the team.
"We're not getting rid of Boris," said Popp. "If we choose not to kick him this week it's part of a plan to try to straighten him out.
"He's a tremendously talented guy and he's a guy that can play in this league for a lot of years. He's just going through some struggles right now."
Bede, who says the problem is mostly mental, showed some class by going over to shake the hands of the try-out kickers during practice.
However, some teammates appear to be frustrated at seeing drives end with no points, or perhaps a single, that could have been field goals. Carter wondered if he would stay in the lineup if he dropped passes game after game.
But veteran receiver Nik Lewis wasn't blaming Bede.
"We need to put up sevens," said Lewis. "If you're leaving it in the hands of the referees or the kicker or the defence and it doesn't go your way, you can't be mad because you didn't do your job either.
"Certain individuals have played better than others but, as a whole, we haven't scored enough touchdowns to win games. So I can't condemn another man for making a couple of mistakes or missing a couple of field goals."
The gas interrupted work on straightening out the offence, although they at least went through some plays on a concrete surface indoors when they got back to the Big O.
"Being in Montreal, we're used to adapting and adjusting so it will be no excuses," said linebacker Bear Woods. "From lightning to a power outage and now a gas leak, we'll be OK.
"There's always something going on here that's out of our control or management's control. Were used to it."