Alouettes' president says franchise not for sale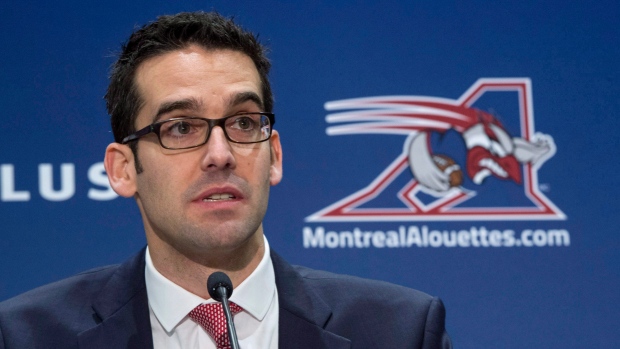 It's been a tough season for the Montreal Alouettes, losers of nine consecutive games and guaranteed to miss the playoffs for the third consecutive season.
And with the oldest roster in the CFL, a head coach to hire and no obvious solution at quarterback, there's going to be some heavy lifting necessary this coming off-season.
But any sense that owner Bob Wetenhall may have had enough and is willing to consider selling the team he has owned for 21 seasons is wrong, according to team president Patrick Boivin.
"Everyone is very steadfast to bring this franchise to where we think it should be," said Boivin. "For [Bob Wetenhall and his son, Andrew] to see where the franchise has evolved the past four to five years is not very appealing … They're not [selling] and even if they wanted to, why would you do it at this point?"
The Alouettes, once the model franchise of stability in the CFL, have had five head coaches over the past five seasons since Marc Trestman left Montreal for the NFL's Chicago Bears after the 2012 season.
Boivin was introduced last December at the same news conference that the team presented new general manager Kavis Reed, whom the president confirmed will be back next season.
"Him and I and to some relevant degree Andrew [Wetenhall], we all started this in December," Boivin said. "Andrew has been involved on an operational basis the last 12 to 18 months, but this was the new unified front and that's our beginning. But that's not to say we can disconnect the baggage that comes [from before] us."
Boivin said much of his focus this season has been on ways to make the Alouettes more relevant to the younger generation of fans. He is currently working on an in-depth franchise DNA and brand analysis.
But he recognizes all of that requires more success on the field.
"[Next year] has to be a redefining season," Boivin said. "In 2018 we will redefine this team and to some degree we have to redefine Alouette culture because Alouette culture the last four or five years was a carryover from the past 10 or 11 years. But there are only a few guys who were part of that winning culture – that goes back seven, eight, nine years."
That inevitably means getting younger and living through the potential growing pains next season.
"It will take a bit of pain but some of that will be in the off-season and the early part of next year," Boivin said. "We know the roster needs to be reshaped and we know we need to get younger.
"Our expectation is we are going to make the playoffs but we have to manage expectations. Our goal is to be in the Grey Cup but we will be giving them a new product on the field and getting younger and stronger. I think people will accept that as long as we're delivering that hope of winning."​