Altidore to the rescue as TFC edges Revolution in home opener
Star striker Jozy Altidore came off the bench to score the winner in the 80th minute as Toronto defeated the New England Revolution 3-2 in its home opener Sunday.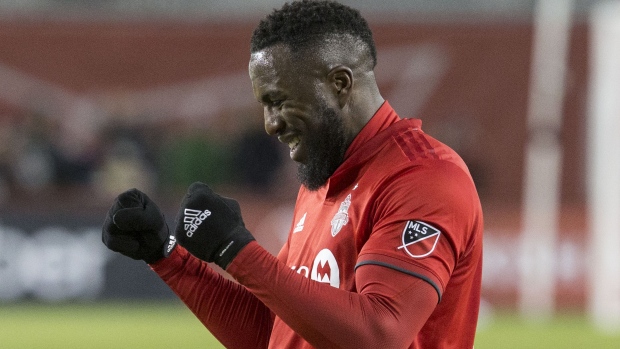 TORONTO — Star striker Jozy Altidore scored the winner in the 80th minute off the bench but shared the glory with a pair of young guns Sunday night as Toronto FC won its home opener 3-2 over the New England Revolution.
With the 29-year-old Altidore still lacking match fitness following ankle surgery at the end of last season, Toronto started 19-year-old Ayo Akinola and Jordan Hamilton, who was celebrating his 23th birthday, up front.
Akinola celebrated his first MLS start with his first MLS goal while Hamilton, a Canadian international whose future with the club was in doubt at end of last season, collected MLS goal No. 8 before 23,271 at BMO Field.
"Fantastic," said captain Michael Bradley. "I couldn't be happier and I couldn't be more proud of both of them.
"They've both made big progress and it's not always been easy. They're two amazing guys. They have great personalities, they both have different qualities but they have qualities that make them real handfuls for opposing defenders."
Altidore came on in the 68th minute for his season debut. And he quickly made a mark, adding to his tradition of scoring at key moments when he tapped in a perfectly weighted Justin Morrow cross for the winner. Bradley did his part with a fine ball to find Morrow.
Akinola, a U.S. under-20 international, also played a crucial part, making a run that drew defender Michael Mancienne away from Altidore.
"The goal happens because of Ayo," said Altidore, who said he has seen growth in both young strikers on the training field.
"Yes, I mean I kick their ass every day and they'll be the first to tell you," he said. "Because I see a potential there. I see a generational talent for a Canadian in Jordan Hamilton, who for me is already one of the best Canadian strikers, if not the best. But he needs to show that and he knows that.
"And Ayo, even from last year you saw glimpses. And I think he's made a huge leap this year already."
Toronto (2-0-0) raised its record in home openers to 7-5-1.
In 2018, it took Toronto seven games — essentially one fifth of the season — to record two league wins.
"I think it's a game we don't win last year ... It was big," said TFC coach Greg Vanney, who valued his team's ability to grind out the win.
Spanish playmaker Carles Gil (pronounced Heel) had scored twice to lift the Revolution (0-2-1) into a 2-2 tie.
"We had some chances but I am proud of the players for the effort they put in and competed really well and if we put in efforts like that we won't lose too many games," said New England coach Brad Friedel.
It was one degree Celsius at kickoff, feeling like minus-4. But the pitch, which played like it was a Velcro surface during the Feb. 26 CONCACAF Champions League game against Panama's Club Independiente because of the quantity of sand on top, actually looked like grass.
Vanney made two changes to the starting lineup that beat Philadelphia 3-1 two weeks ago with Jay Chapman and Akinola coming in. Defender Laurent Ciman moved to the bench and midfielder Marky Delgado — after feeling something in his hamstring in training — didn't dress.
A bright start for Toronto disappeared when Chris Mavinga scythed down Teal Bunbury after the Hamilton-born U.S. international used a deft touch to get round him in the box. Gil, a designated player signed from Deportivo La Coruna, stepped up and hammered the penalty past Alex Bono in the ninth minute.
Akinola, making his first MLS start. tied it five minutes later with a beauty. He cut through three defenders, evaded a sliding would-be tackler and bent a right-footed shot into the corner while goalkeeper Brad Knighton stood rooted to the spot.
"A dream come true," said the soft-spoken Akinola.
Born in Detroit but raised in nearby Brampton from an early age, Akinola is a TFC homegrown player whom Canada Soccer hopes to woo to its side at some point. His younger brother Tom has attended a Canadian under-14 camp.
Toronto went ahead controversially in the 45th minute. Akinola fed Chapman, who was in an offside position but the ball deflected off New England defender Antonio Mlinar Delamea before it got to the TFC midfielder. On the other side of the field, the assistant referee's flag went up and then quickly down.
Chapman sent a perfect low cross across the goal and Hamilton tapped it in. Referee Ted Unkel listened to his VAR colleague and allowed the goal.
"Safe to say that it was probably up there with one of my best birthdays," said a smiling Hamilton.
On the sideline, Friedel was apoplectic.
"The guy's standing offside ... It's one of the most ridiculous things that you can see. There's no way that that should be allowed a goal," Friedel said in a halftime interview.
Vanney disagreed, saying Chapman was OK because the defender played the ball. Vanney and Bradley both said the officials got the call right, although they also said they don't like the way the rule is interpreted in such cases these days.
New England got its break in the 52nd minute when Gil's somewhat innocent-looking shot deflected off Brazilian defender Auro's leg past Bono to tie it up at 2-2.
New England, which finished five points ahead of TFC in last season's final standings, opened with a 0-0 draw at FC Dallas before losing 2-0 to visiting Columbus.
Toronto had a bye last week.
Follow @NeilMDavidson on Twitter