Alumni game rosters, jerseys unveiled for Heritage Classic
Wayne Gretzky and Teemu Selanne will headline the alumni game between former Edmonton Oilers and Winnipeg Jets players at the Heritage Classic in October. The NHL announced the rosters Friday, along with the jerseys the current teams will wear in their regular season game in the outdoor event at Investors Group Field.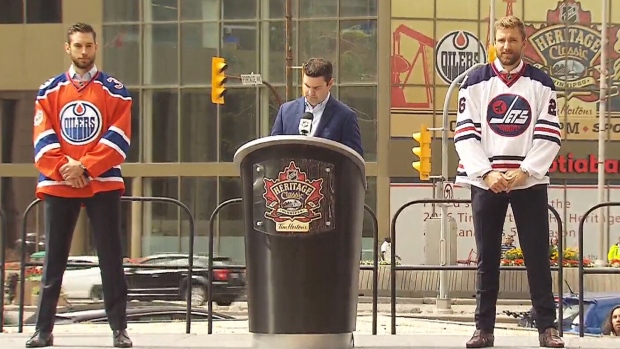 WINNIPEG — Dale Hawerchuk took a trip down memory lane on Friday.
The former Winnipeg Jets captain stood on a stage at the corner of Portage and Main at noon, the site where he signed his contract with the National Hockey League team on Aug. 13, 1981.
This time, he was part of the league's unveiling of the jerseys and alumni rosters for the 2016 Heritage Classic in Winnipeg.
The Oct. 23 regular-season outdoor NHL game between the Jets and Edmonton Oilers will take place at 33,000-seat Investors Group Field, home of the CFL's Winnipeg Blue Bombers. The alumni game runs the day before.
A Jets' official estimated 2,500 hockey fans and curious onlookers packed the plaza at the corner, with Hawerchuk getting one of the loudest cheers.
"Bobby Hull signed here, I signed here and now we're announcing the Heritage game (details) here," said Hawerchuk, who played nine seasons with the Jets and is the head coach of the Ontario Hockey League's Barrie Colts.
"It's great. You see the support. It's exactly what I remember back when I signed here."
Hawerchuk will captain the Jets team and was on a committee to choose the players. A 21-man Winnipeg roster so far includes Teemu Selanne, Dave Babych, Kris King, Bob Essensa, Teppo Numminen, Morris Lukowich and Thomas Steen. The last few spots will be decided later. Tom McVie and Serge Savard will be the coaches.
The Oilers' star-studded cast so far features 20 names, including Wayne Gretzky, Kevin Lowe, Dave Semenko, Mark Messier, Paul Coffey, Jari Kurri, Grant Fuhr and current Jets assistant coach Charlie Huddy. Honorary coaches are Glen Sather and Ron Low.
Players will wear jerseys harkening back to the teams' World Hockey Association days in the 1970s. The clubs came into the NHL as part of a four-team expansion in 1979.
Hawerchuk said it was tough putting the roster together because some candidates will be busy working or coaching and some weren't healthy enough to hit the ice. There was a "pecking order" of players asked, those who spent the bulk of their career with the team or had a significant impact with the club, he explained.
He hasn't given the players any training suggestions, even though he expects competitive juices may flow between the old rivals.
"My own training was, I was going to start July 1 but I moved it to Aug. 1 and I'm thinking about Sept. 1," the 53-year-old said with a chuckle. "Anyways, it's going to be a lot of fun."
Jets season-ticket holder Jamie Barbour attended the event with his 18-year-old son, Ryan. They have a pair of tickets to the Heritage Classic, a two-game package costing $582 each.
He thinks the cost will be worth it.
"It's probably going to be a one-time event in Winnipeg," said Jamie, who was sporting a Jets ball cap and Heritage Classic T-shirt. "From the alumni, seeing Gretzky and Hawerchuk play against each other again, that'll be pretty cool."
Semenko, who was born in Winnipeg, played 10 seasons with the Oilers and was basically Gretzky's bodyguard.
He played in the NHL's first regular-season outdoor game between the Oilers and Montreal Canadiens in Edmonton in 2003 and expects more fun and some flashes of skill - from others.
"Stretching maybe, no training," Semenko, 59, said when asked about his preparations. "It's not going to help, it's too late for that. Just get out there and try not to embarrass yourself. Try not to fall down because it's very difficult to get up."
Current Edmonton goalie Cam Talbot and Winnipeg forward Blake Wheeler were excited for what will be the Jets franchise's first outdoor game.
Wheeler played in the 2010 Winter Classic in Boston's Fenway Park.
"It's a cool experience," he recalled. "It's a little bit different than what you're used to, just all the things that go along with it."
Talbot was a backup for two New York Rangers' games in Yankee Stadium, one that was freezing cold. Henrik Lundqvist got all the ice time and Talbot wasn't comfortable watching for one very good reason.
"They didn't make the benches long enough for the backup goalies so I didn't even get the heat that was radiating off the heated benches, so I was absolutely frozen," Talbot said. "Hopefully, it's a little bit warmer this time around."