American Roth downs Winnipeg's Jones for spot in Tour Challenge semifinal
American Nina Roth advanced to the semifinals of the Grand Slam of Curling's Tour Challenge on Saturday by edging Winnipeg's Jennifer Jones 6-5.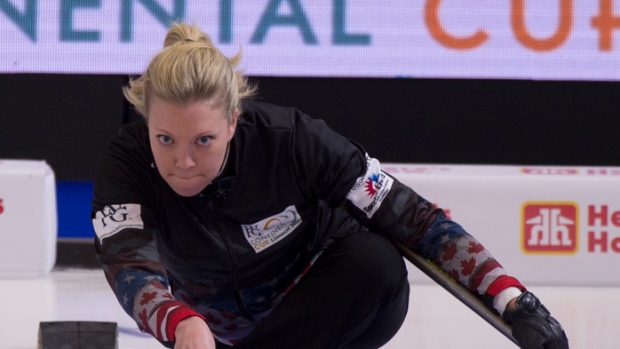 THUNDER BAY, Ont. — The Grand Slam of Curling's Tour Challenge women's final will feature an all-undefeated matchup.
Rachel Homan's Ottawa rink will face Tracy Fleury's team from East St. Paul, Man., after advancing in Saturday night's semifinals. Both teams finished round-robin action with 4-0 records.
Homan advanced to the final after taking down Nina Roth of the United States 6-5 in an extra end. Fleury's rink doubled up Kerri Einarson's team, also of East St. Paul, 6-3.
Earlier Homan, ousted Edmonton's Laura Walker 5-3 in quarterfinal action. The 2018 Olympic representative scored three in the third end and added singles in the fourth and fifth. The two skips shook hands after seven.
Fleury topped Darcy Robertson 6-3 to move on to the semis.
Homan's rink will make a second straight appearance at a Grand Slam of Curling final, after losing to Sweden's Anna Hasselborg two weeks ago at the Canadian Beef Masters.
The 29-year-old has won seven series titles, but has never captured the Tour Challenge.
Fleury will appear in her second GSOC championship game, which includes a 2015 loss to Homan in the National final.
On the men's side, Northern Ontario's Brad Jacobs will face off against Edmonton's Brendan Bottcher in the championship game.
Jacobs' Sault Ste. Marie, Ont., squad downed Switzerland's Peter de Cruz 6-3 to advance to the final, while Bottcher dropped Glenn Howard's team from Penetanguishene, Ont., 5-2 to move on.
Jacobs' rink came out on top of a close pool-play matchup with Bottcher 5-4. Both teams went 3-1 in the round robin.
In quarterfinal action earlier Saturday, Bottcher bounced Rich Ruohonen's American rink 5-1 and Jacobs denied John Shuster of the United States 7-6.
Both finals will take place Sunday afternoon.