An analytical preview of the Conference Finals
Travis Yost takes a closer look at the key performance indicators with the NHL playoffs down to the final four.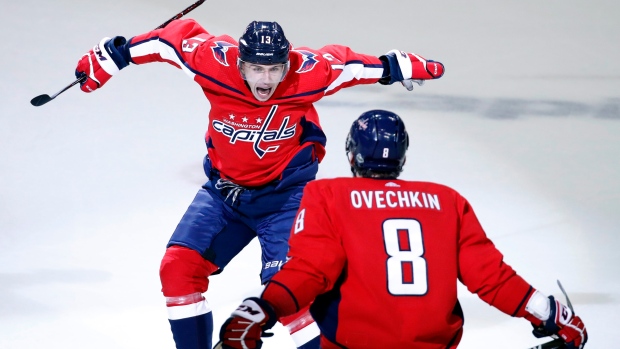 And then there were four.
The predictions in this space went 3-1 in the second round. On the right side of the ledger, I had Tampa Bay having the easiest of the eight draws and Winnipeg advancing in seven games. On the wrong side? Well, let's just say I was impressed with how well Washington bottled up Pittsburgh's otherworldly offence.
Now we move to the Conference Finals, which have significant work to do to live up to the quality of hockey we saw in the second round. Thankfully, we have two fantastic matchups.
Starting in the Eastern Conference, let's take a look at Washington and Tampa Bay.
Tale of the Tape: Washington vs. Tampa Bay
| Measurement | Capitals | Lightning |
| --- | --- | --- |
| Corsi% | 48.4 | 52.1 |
| Corsi, Last 25 GP | 50.1 | 52.9 |
| Corsi, Rounds 1-2 | 49.7 | 54.3 |
| Scoring Chance% | 48.2 | 53.1 |
| Goal% | 52.7 | 57.4 |
| Shooting% | 9.7 | 9.9 |
| Save% | 92.0 | 92.5 |
| Power Play GF/60 | 8.2 | 8.9 |
| Penalty Kill GA/60 | 7.0 | 8.6 |
I don't think it's unfair to say that Tampa Bay has had the easier road of the two teams here. The Lightning made quick work of a scrappy but undermanned New Jersey team in the first round, and then did the same thing to a Bruins team that looked a combination of tired, injured, and top-heavy in round two.
We shouldn't discount how much of an impact the Bolts had here – Tampa Bay was the best team in the East all season long and has remained reasonably healthy. They're deep and talented, and now have goaltending firepower in the form of Andrei Vasilevskiy to win a Stanley Cup.
Maybe the most important development for Tampa Bay this postseason is that their offensive firepower has shown no sign of slowing down. Nikita Kucherov, Steven Stamkos and Brayden Point all are playing at or above a point-per-game pace in the playoffs.
The scoring is being buoyed by endless amounts of offensive zone time and shooting opportunity. Their 54.3 per cent Corsi% at 5-on-5 this postseason is comfortably the best number of the four teams left. And when you put them on the power play? Good luck. The Lightning already have 10 markers on the man advantage, converting at a 27 per cent rate.
This raises an interesting couple of points on their opponent. I wrote in my second-round preview of the Capitals and Penguins series that Washington effectively had two ways to pull the upset. One, they needed Braden Holtby to outplay Matt Murray by a fairly considerable margin. That happened. Two, they needed to be competitive on special teams to offset Pittsburgh's even strength advantage. That also happened. Despite Pittsburgh's ridiculous goal-scoring rates up a man this year, Washington matched Pittsburgh's number of power-play goals in the series at four apiece.
Washington's path to an upset here probably follows the same pattern. By every measure we can be sure the Lightning are the deeper, more talented 5-on-5 team. (Even in the handful of games where they played one another in the regular season, Tampa Bay was the better side – they had 54 per cent of the scoring chances and 60 per cent of the goals in those games.) And Tampa Bay's power play, much like Pittsburgh's, has been prolific for some time.
The Capitals are clearly a great team. But very few teams have made the Lightning feel uncomfortable this season, and those moments were fleeting. That makes it difficult to pick against Jon Cooper's club.
Prediction: Lightning in six
Now to the Western Conference:
Tale of the Tape: Golden Knights vs. Jets
| MeasurementG | Golden Knights | Jets |
| --- | --- | --- |
| Corsi% | 51.1 | 52.4 |
| Corsi, Last 25 GP | 50.8 | 54.4 |
| Corsi, Rounds 1-2 | 52.1 | 53.2 |
| Scoring Chance% | 51.6 | 52.5 |
| Goal% | 52.8 | 55.6 |
| Shooting% | 8.9 | 9.1 |
| Save% | 91.7 | 92.1 |
| Power Play GF/60 | 7.4 | 8.9 |
| Penalty Kill GA/60 | 6.7 | 6.3 |
This would appear to be a doomsday matchup for the expansion Golden Knights.
I've been on the 'Vegas is definitively underrated by the stats people' train since mid-October. I picked them to advance against an offensively anemic Los Angeles team and again against a Sharks team that I didn't think could skate at the pace Vegas plays for an entire series.
Five years ago, a road through the Pacific Division would have been a gauntlet of epic proportions. In 2018 it probably ended up being the easiest possible road for a team to reach a Conference Final.
That's not to say that Vegas is here because of the marginally weaker competition. They have a goaltender who is playing absolutely out of his mind – Marc-Andre Fleury and his 95.1 save percentage in all situations is comfortably the leading candidate for the coveted Conn Smythe trophy.
Plus the evidence continues to build that the Jonathan Marchessault, Reilly Smith, and William Karlsson line may be the best in hockey. Their puck movement, skating mobility, forecheck, and sheer ability to flip the ice through straight-line skating and sequential passing is remarkable – to say nothing of how frequently they turn their territorial advantages into goals. They ran roughshod against a San Jose team that threw a bunch of different looks at them. Each one failed.
I'm not sure the Jets will have an answer for that group either. But what Winnipeg has, like Tampa Bay in the East, is considerable talent all of the way down the lineup. The team has five double-digit scorers already this postseason, led by Mark Scheifele and his ridiculous 11-goals-in-12-games stretch.
This sort of firepower throughout the lineup is the biggest reason why they were able to eliminate the Predators in a wild seven-game series. Remember, Nashville came into the series as arguably the league's best even-strength team. Winnipeg matched them every step of the way.
Still, no development has been bigger for the Jets than goaltender Connor Hellebuyck sustaining his exceptional regular-season play. Hellebuyck, a Vezina finalist, stopped 92.4 per cent of the shots he faced in 67 games this regular season. Against two quality playoff opponents in St. Louis and Nashville, Hellebuyck bested that number. Stick a quality goaltender in front of the NHL's second-best offence and you have a truly terrifying roster.
Ultimately, I think Winnipeg advances for the same reason I think Tampa Bay advances. At the top of the lineups, these teams are extremely competitive – line-matching best against best is probably going to end up in a wash regardless of how long the series goes. But Winnipeg can throw Patrik Laine and Nikolaj Ehlers out on their second line, and Mathieu Perreault and Bryan Little on their third line to create a bunch of matchup issues for Vegas.
Prediction: Winnipeg in seven