An analytical preview of the second round of the NHL playoffs
Travis Yost takes a closer look at the key performance indicators for each second-round series of the Stanley Cup playoffs.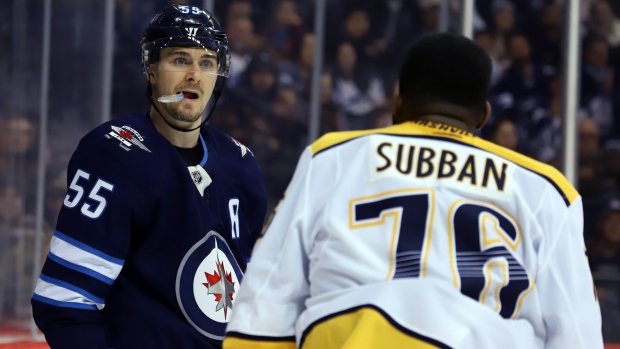 After Wednesday's Game 7 finale between the Toronto Maple Leafs and Boston Bruins, we've arrived at our elite eight in the NHL playoffs.
On paper this looks like one of the best second rounds we've seen in quite some time. Every team left in the postseason accumulated 100 or more points during the regular season, which should produce some fantastic matchups.
Like we did with the first round, we'll walk through the key performance and statistical measures, with some context around what each series could look like.
We will start in the Eastern Conference, where the Boston Bruins will take on the Tampa Bay Lightning.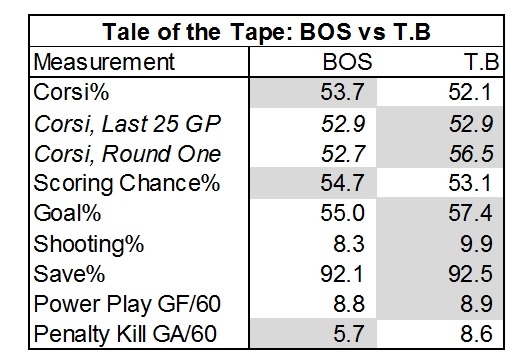 No team was more tested in the first round than the Bruins. That's not surprising – Toronto finished seventh in the NHL in points and had the type of offensive firepower to make any team feel uncomfortable.
One of the key takeaways from Boston's opening-round series is that for all of their improved depth year-over-year, they still struggle from time to time when the Patrice Bergeron line (winged by David Pastrnak and Brad Marchand) is taking a breather. Bergeron's line absolutely crushed Toronto and probably grades as the most deadly trio in the NHL today, but even with such a ridiculous weapon the Bruins were still 20 minutes away from being eliminated.
For some context, the Bruins had a 50 per cent Corsi% and Scoring Chance%, and 46 per cent of the Goal% share in the head-to-head series with Toronto. That might be fine against some of the lesser teams around the league, but when you play deep groups like Toronto or Tampa Bay you can get into trouble quickly.
It doesn't help that Tuukka Rask isn't playing well right now – it's impressively rare in the modern era for a team to advance with a goaltender stopping less than 90 per cent of the shots he faced in a series. Or that Boston will have zero additional days rest – Tampa Bay, on the other hand, has been done since Saturday. Don't forget that Tampa Bay will also have home-ice advantage in the series. If Game 7 is needed, it will be played at Amalie Arena. Home teams in Game 7s often win. (Just ask Boston!)
Meanwhile, no team in the NHL has figured out how to slow Tampa Bay's offence. Their 3.5 goals per game during the regular season was comfortably tops in the league, and that number only increased during their gentleman's sweep of New Jersey in Round 1. Nikita Kucherov (five goals, five assists in five games) also appears to be out of his mini-slump.
This, kind of like the Nashville/Winnipeg series out West, has the feel of a Stanley Cup-calibre series. But Boston didn't do themselves any favours with how Round 1 played out, and outside of their elite top-line, I'm not sure what advantages they hold in this series.
Prediction: Tampa Bay in six.
Our other Eastern Conference series features the Pittsburgh Penguins and Washington Capitals.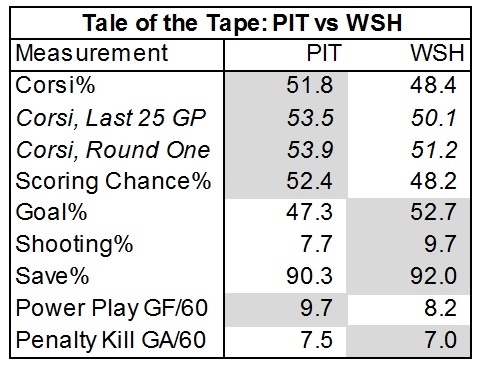 Of the teams I was most impressed with in the first round, Washington is certainly up there. Yes, their series against Columbus was very close – so close that four of their six games had to be resolved by way of overtime. But Columbus was a brutal first-round draw. For all of Columbus' flaws, they still entered that series as an elite 5-on-5 team with the type of weaponry and goaltending needed to throw a wrench in Washington's plans.
One thing that shouldn't go unnoticed from that series is that goaltender Braden Holtby really bailed the Capitals out of trouble. Holtby, curiously benched in favour of Philipp Grubauer, ended up stopping 93.2 per cent of shots and winning four of the five games he started. Add that to the more predictable mathematical developments – like Alexander Ovechkin scoring five goals in six games – and you have a real recipe for success.
The issue here though is that Washington is running into another buzz saw. Pittsburgh's offence looked completely unstoppable against Philadelphia. The Flyers averaged about 2.9 goals against per game on a 90.4 save percentage during the regular season. In the five games against the Penguins, the Flyers gave up 4.7 goals against per game on an 84.8 save percentage. And that was across three different goaltenders between Michal Neuvirth, Petr Mrazek, and Brian Elliott.
I'm not sure there's any sort of recipe for slowing Pittsburgh down offensively right now. You know guys like Sidney Crosby and Evgeni Malkin are going to get theirs, but when their secondary guys – like Jake Guentzel, who picked up 13 points in six games – get going, it's like trying to defend a runaway train. And it's not even like Pittsburgh is just shooting the puck well right now. As you can note in the table above, they'll likely have a decisive territorial advantage in the head-to-head series with Washington – they were smoking teams down the stretch of the regular season and earned 54 per cent of the shots in the opener against Philadelphia.
The way I see it, Washington has two ways through this series. The first is obvious: Holtby needs to outplay Matt Murray, and probably by a considerable margin. Second, Washington needs to have a decisive special teams advantage. The Capitals did own the best opening round power play (33 per cent; 13.0 goals per-60 minutes), which is a strong carryover from the regular season. But Pittsburgh also owned the league's best power play during the regular season (26.2 per cent; 9.8 goals per-60 minutes.)
Can Washington at least trade chances at 5-on-5 with Pittsburgh and win the special teams battle? It seems like a tall ask but the Capitals at least have the weaponry in place to give it a run, which is more than you can say for most teams around the league. Still, I think Pittsburgh's firepower is going to be too much to handle. They generate scoring chances like it's going out of style and seem to be able to get themselves out of any hole with their offensive firepower.
Pick: Pittsburgh in six.
In the Central, we will see the Winnipeg Jets take on the Presidents' Trophy winning Nashville Predators: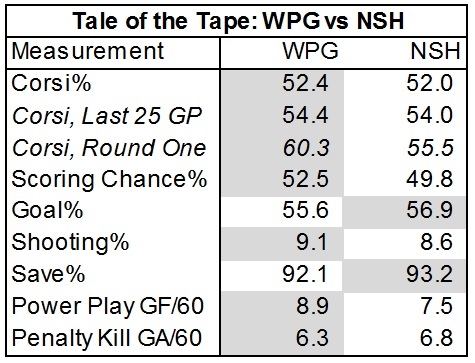 There's a reasonable argument to be made that this series is Stanley Cup-calibre. As TSN colleague Ian Mendes pointed out, it's only the sixth time in the last 30 years that the top two regular-season teams will meet in the playoffs.
The regular-season series between these two teams was incredibly competitive. Winnipeg actually outchanced Nashville (53.5 per cent of scoring chances in their favor) over the five-game series, but Nashville did end up winning three of five games. If you rate these two teams as highly as I do, the fact that the regular season couldn't separate them to any degree isn't particularly surprising. That's why I think the playoff series is going to go the distance.
There weren't many takeaways from Winnipeg's first-round series. The Jets overwhelmed an older, slower Wild team with pace and speed. At no point during that five-game stretch did the series feel competitive, even in the few minutes where the Wild were ahead. Winnipeg spent so much time in the offensive third – they owned a whopping 60.3 per cent possession against Minnesota – that Connor Hellebuyck and the defensive side looked sensational, wrapping up the series on back-to-back shutouts.
Nashville is a different animal. I think most Predators fans would concede that the Avalanche offered some interesting challenges with their team speed – something that may end up better preparing Nashville for a series against the fleet-of-foot Jets. Nathan MacKinnon had plenty of time and opportunity to work against a Predators team often regarded as the best skating group in the NHL. And it shouldn't go unnoticed that they were just +2 in goal differential heading into the eventual Game 6 clincher.
All year I have been tremendously high on both of these teams, and for good reason. They are elite even-strength teams. Winnipeg also has tremendous special teams (third ranked power play and 10th ranked penalty kill by goals per-60 minutes), which makes them dangerous across any game state.
The emphasis is on that last sentence. Nashville, for all of their strengths, were pretty average in any game state outside of 5-on-5. And the Predators actually were dead-last in the number of times they were shorthanded – their 299 penalty kills against was tops in the league. This was something that improved as the season progressed, but it's still a dangerous spot to be in ¬– especially against the weaponry the Jets have.
I see this as maybe the biggest coin-flip series we could have. If you played this 100 times, the series would probably end 50-50. Nevertheless, I have to make a pick.
Prediction: Winnipeg in seven.
Let's wrap up in the Pacific, where the San Jose Sharks will take on the Vegas Golden Knights: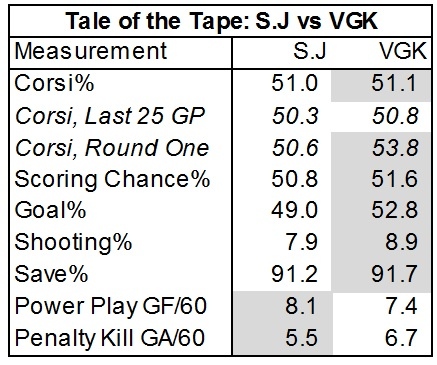 I'm not sure which team had an easier first-round opponent. I thought Anaheim would be more than game against a San Jose team that was still dealing with core player injuries, but they were absolutely blown off of the ice in emphatic fashion. (The only fight they put up was usually late in the game and involved objectionable/dirty plays.)
And yet somehow Vegas may have had it easier. It's hard to know how much credit to give Vegas versus how much to excoriate Los Angeles, but the Kings posted the most dreadful offensive performance in the playoffs we've seen in the modern era. It's not just that they couldn't score a goal. It's that they couldn't generate any scoring chances, sustain any type of offensive pressure, or more make Marc-Andre Fleury even feel uncomfortable.
San Jose does look like a different team post-trade deadline and Vegas continues to legitimize what they did during the regular season. Beyond that, I'm not sure we learned anything from Round 1.
Vegas does have a pair of small edges in this series. The most notable is they appear to be the better 5-on-5 team. Their Corsi%, Scoring Chance%, and Goal% numbers were all better during the regular season, and that's also true if you subset the regular season down to the last 25 games. In the regular-season games between these two sides, Vegas was better there too. In the four games played, Vegas had over 53 per cent of the shots.
The other edge is that I'm not sure San Jose has any sort of matchup answer for the William Karlsson, Jonathan Marchessault, and Rielly Smith line for Vegas. That line has beat up everyone this year and that was certainly true in the four games against San Jose.
There, the Vegas top line had 52 per cent of the shots and 80 per cent of the goals. L.A., who tried to match that line with elite checking centre Anze Kopitar and company, were skated off of the ice. In round one, the Vegas top line had 60 per cent of the shots and 67 per cent of the goals – this against an L.A. team that at least had credibility as a strong defensive group. There's no doubt San Jose has plenty of wrinkles they can throw at Vegas' depth to level the playing field, but it still seems to me a critical advantage in favour of the Knights.
It will be interesting to see how San Jose matches that line here. In the two home games this season, they tried Marc-Edouard Vlasic and Justin Braun as their shutdown pairing, with the Logan Couture line getting the most action up front. I would expect that to continue here, with San Jose hoping to break-even and win the matchups further down the lineup.
That's going to be easier said than done, though. At some point Vegas will probably be a legitimate underdog in a series – I'd expect that to happen regardless of who advances between Nashville and Winnipeg. But here they have more than a puncher's chance. I think they are marginally the better team and with four home games, they're my pick to win the Pacific.
Prediction: Vegas in seven.