An improbable, but not impossible Shea Weber trade
If things continue to go south in Montreal, it might make sense for the Canadiens to reach out to the rival Maple Leafs to talk about a deal for the stud defenceman, Travis Yost writes.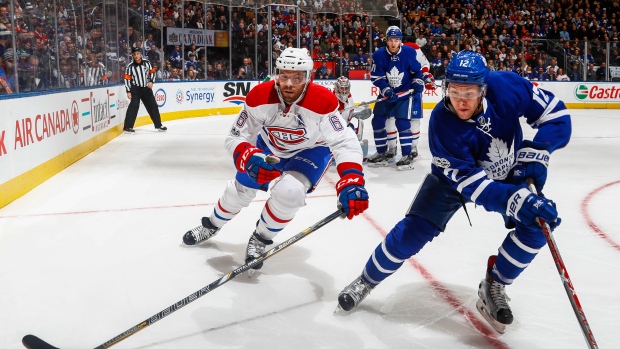 The Montreal Canadiens' big gamble backfired.
That's the reality of the now infamous P.K. Subban-for-Shea Weber trade, the hallmark of GM Marc Bergevin's tenure in Montreal.
The trade has been discussed ad nauseam by this point, but it's worth mentioning that the biggest driver behind Montreal's side of the deal was that Weber would help the Canadiens win now. Montreal knew full well that Weber had a poisonous contract – a mega contract that isn't set to expire until the 2025-26 season.
So the bet was simple: try to put the team over the top now, and deal with the financial ramifications later.
It hasn't played out as planned.
Montreal has been reeling for some time now. They've played to an 87-point pace over the last 50 games, and are currently on pace for a 70-point season in 2017-18. And while the team's underlying numbers suggest they are better (perhaps considerably better) than the results observed in the win/loss column, the reality is the pressure has been turned way up in Montreal. A few more losses, and there will be calls for organizational change. Heck, those calls are already coming.
It's hard to put the team's results on Weber. I've long argued that Weber's been a bit overrated in the modern era of hockey – an era that really requires guys to skate well and move the puck with speed and precision. But, from his shot and defensive capabilities alone, he's still a top-pairing talent and Montreal has played very well with him on the ice. The Canadiens' failures really have more to do with what they have built (or haven't built) in support of Weber.
Considering the organizational pressure, the fact that Montreal's probably further away from a title today than they were a couple of years ago, and the fact that Weber can definitely still play, you have to wonder if there's any way his name could be kicked up in the trade market. The contract remains as treacherous as ever, but you would have to envision that there are a number of teams who – at least in a vacuum – would significantly improve by adding him to their roster.
Let me first emphasize that Weber's skills haven't eroded – not yet anyway. He's still one of the league's preeminent defensive defenders, and obviously his versatility allows him to be played in all situations. If you compare his results against his peers since the time of the trade, you can see that he still grades out incredibly well (raw data via Corsica; where 100 per cent would indicate a player is better by that measure than all of his peers):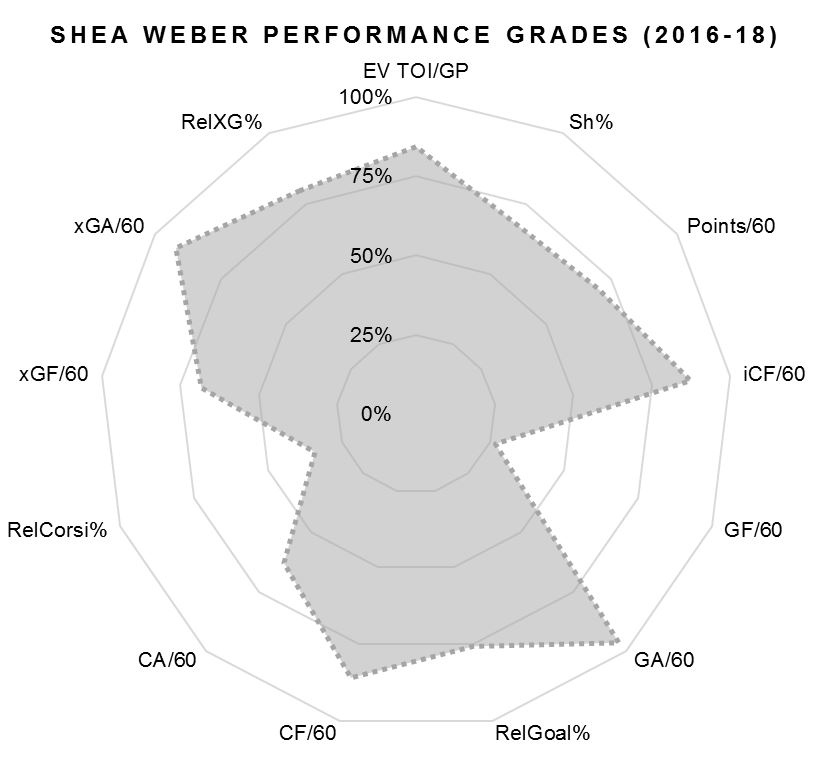 Weber's numbers are really impressive. His individual offence generated is at the level of a first-pairing talent (he generates shots and points better than about 75 per cent of league defenders, for one example.) And his defensive measures – both goals against and expected goals against, which considers both shot quantity and quality – are at elite first-pairing levels, beating out more than 90 per cent of other defenders around the league.
His areas of weakness remain the same: He still gives up shots against at a decent rate, and team offence ("GF/60") tends to die when he's on the ice. In summary: Weber's resume remains eerily consistent. His teams don't generate a ton of goals offensively, but they give up even less. Thus, he continues to win on the margins.
Considering the above and his reputation around the league, I submit that he's still valued – perhaps highly valued –by other franchises across the NHL. And yet it's going to be tough to find trade partners, even in a hypothetical deal. The contract just runs for so long, and, at 32, he's no longer in the prime of his career. Add a pride factor to this on the Montreal side, and you have a series of complications.
But you have to wonder if a team like the Toronto Maple Leafs would take a shot here. We know they have been sniffing around top-four defenders for basically a year – in the last few months alone it's believed they have shown interest in both Boston's Zdeno Chara, who's now 40, and 27-year-old Flame Travis Hamonic.
The Leafs have recognized two key elements: (1) the team is very close to being a Stanley Cup contender; and (2) the team's fatal flaw is a young and inexperienced blueline that doesn't have that elite, No.1 defender. But there are so many other reasons for why the Leafs' interest in Weber could make sense:
They have a number of enticing young and talented pieces (especially forwards) in need of their next contracts who could be offered as both a trade piece and a salary offset;
They have over $5 million in cap space today;
They are in win-now mode thanks to a number of their players developing on an accelerated curve, and are already good enough to be considered a top-tier team in the Eastern Conference;
Their head coach, Mike Babcock, has fawned over

Shea Weber

's talents for years;
It's Nashville, not Montreal (or Toronto) that could be burned by cap recapture in the event Weber retires early; and
As noted earlier, they have recognized that their blueline is an area of weakness, and have been searching for personnel upgrades for some time
So, what type of trade could make sense here? For starters, Montreal would need to retain salary. The only way to offset the sheer length of this deal would be to allow a team to escape some of his annual cost – Weber's cap hit, for what it's worth, is $7.8 million. A deal simply cannot happen without the Habs retaining a cost here.
Beyond that, it becomes a game of finding the right pieces that would encourage Montreal to get off of their current position of "win now" and start thinking about a plausible retool or rebuild. If Montreal agrees to swallow a large portion of salary in order to get a better piece, then the Leafs could seriously consider including someone like William Nylander or Mitch Marner. Nylander is due for his next contract at the end of the year, and Marner a year after.
To me, those would be the core pieces of any plausible deal – a deal I concede is, at best, improbable right now. But if the Habs do seriously go through another losing stretch and incur some organizational change, a new regime might be much more inclined to get out of that Weber contract and reset their clock for contention.
And if that occurs, it'll be their divisional rival who could have the most intriguing package to offer. So intriguing that it could be a win-win for both sides, depending on how it's structured.