Andersen sparks Leafs past Golden Knights with stellar performance
The Toronto Maple Leafs were outplayed by the Vegas Golden Knights on home ice Tuesday night but Frederik Andersen made 35 saves for his eighth win of the season – tops in the NHL – to steal the show, Kristen Shilton writes.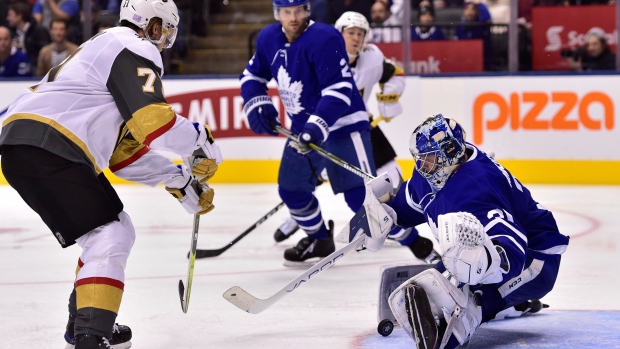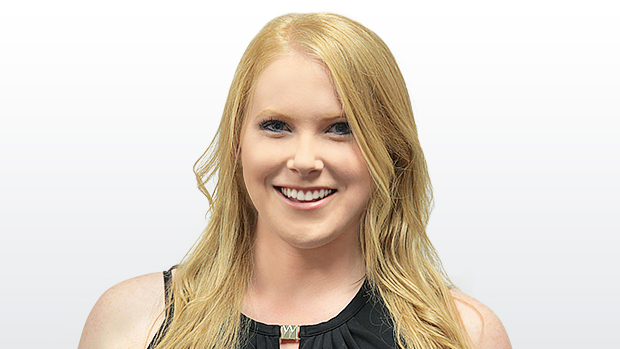 TORONTO – Lately, the Toronto Maple Leafs have lamented not earning better results at home when their play dictated they probably could have. But in Tuesday's 3-1 victory over the Vegas Golden Knights, the Leafs were on the other side of the equation - being outplayed by their opponent but ultimately saved by a terrific 35-stop performance from Frederik Andersen.
It's the circle of life in hockey, when ebbs and flows sometimes have a funny way of evening out.
"[Andersen] played real well. We expect him every once in a while to win us a game," said Mike Babcock. "When we play real well and don't give up anything he gets the win and sometimes he gets the shutout. That's a bonus for him. So it goes both ways. We're all in it together and I thought Freddie was really strong for us tonight."
Tuesday's performance was the most recent in a string of successful outings for Andersen. He's started eight consecutive games now for Toronto, posting two or fewer goals against in seven of those contests. Including his .973 save percentage versus Vegas, the 29-year-old now boasts a .929 save percentage on the season, third-best in the NHL among goalies with at least 10 starts, and his eight wins is tops in the league.
"It seems like he's got no pressure on him, it just seems like he goes out there and has fun with it," said Mitch Marner, who scored Tuesday's game-winning goal for Toronto (10-5-0). "When he gets to the rink, he's a very serious guy, he focuses, he gets ready for the games. He's a pro; he knows how to get it done right."
Against the Golden Knights (6-8-1), Andersen saw some goal support early when Connor Brown buried his second of the season early in the opening frame to put Toronto up 1-0. It was the first time the Leafs had scored a goal in the first or second period at home since Oct. 15, and reflected how well not only Brown's line with Par Lindholm and Andreas Johnsson played out of the gate, but the team as a whole.
Marner kept the momentum in Toronto's hands with a goal nine seconds into the second period, but once the 2-0 lead was in hand, the Leafs completely fell apart in front of Andersen. Toronto was pummeled in puck possession in the middle frame at only 28 per cent, and it was only Andersen keeping them ahead. While Toronto frantically chased play around him, the goalie stayed cool and collected himself in the crease as Vegas hit the 30-shot mark with more than two minutes still remaining in the second period. Through three periods, Toronto was outshot 37-21 by Vegas.
"I think we stopped playing," Marner said in his assessment of the second. "We didn't forecheck, we didn't get on the forecheck at all and help out our D. We weren't slowing people down at all. I think everyone sees every night that Freddie Andersen has been unbelievable for us here every single game, and he's the reason we stole one tonight."
A season ago around this time, it wasn't a given Andersen could be counted upon to do that. He's spoken frequently about his slow starts the previous two years (his save percentage through 13 games last season, for example, was .895), and credits a more focused off-season training regime with helping him get off to a hotter start this time around.
"I personally feel good," Andersen said. "I think we're keeping it a little bit more to the outside, which is helping me out seeing the puck better and clearing the shooting lanes so I don't have to fight through traffic and that makes my job easier."
It was bodies in front of the net that led to the Golden Knights' lone goal on Tuesday, a second period score tipped in by Cody Eakin in front of Andersen's crease. Vegas beat Andersen on a couple other opportunities as well, but hit the post and crossbar to preserve Toronto's advantage.
But the Leafs would never balk at a few lucky bounces, especially after their last home game ended in outperforming, but still losing to, the Dallas Stars. When Toronto needed a difference-maker this time around, it came not in the form of an offensive weapon, but between the pipes.
"I thought we started real good the first 10 minutes and then we got fooling around with the puck. We were lucky to get out of the second," said Babcock. "In the end we will look at this game like with Dallas…you felt like you did enough to win and you didn't. Sometimes the shoe is on the other foot. We'll take it, but maybe now we can loosen up at home."
TAKEAWAYS
Happy to be home
Tuesday's win on home ice was just the second for Toronto since Oct. 15, and put them at 4-5-0 on the season in their building. The Leafs had pledged before facing the Golden Knights to finally put together a strong performance at home, and while it wasn't the same free-wheeling, confidence-laced outing they're partial to on the road (where Toronto is a perfect 6-0-0), it was a step in the right direction to getting their home record more in line with what it is away from Scotiabank Arena.
Secondary scoring about to rise?
When Brown got on the board early in the first, it marked the first even-strength goal by any skater on the Leafs' bottom two lines since Oct. 24. In total, those players (Brown, Lindholm, Johnsson, and Toronto's fourth line of Tyler Ennis, Frederik Gauthier and Josh Leivo) have combined for only five goals (at 5-on-5 and on the power play). It's not enough to sustain the Leafs, especially with Auston Matthews out, and they know it. That's what made Brown's goal so important. It not only helped the Leafs get off to good start, but propelled his line to their best game since becoming a unit after Matthews' injury on Oct. 27.
Johnsson in particular has struggled out of the gate this year, but with a bigger opportunity on the third line he's started to resemble that dangerous offensive threat Toronto hopes he can eventually be more consistently at the NHL level. Through two periods, Johnsson was tied for most shots on goal (three) with Brown, one of which came after he battled for a breakaway chance late in the second period that was thwarted by a sprawled-out Marc-Andre Fleury. Brown had also generated a near breakaway in that period, but couldn't get enough on his shot to fool Vegas' goaltender. Going forward, the more pressure the Leafs' bottom-six can take off the top performers with contributions, the better. Lindholm's line finished with a team-best 50 per cent possession against Vegas.
Marner taking his shot
Before his second period score on Tuesday, it had been eight games since Marner last lit the lamp for Toronto, a stretch where he recorded seven assists. For the last two years, the 21-year-old has spoken frequently about improving his shot so he isn't underestimated as a one-dimensional threat on the ice, but there have been several instances already this season where Marner has passed up scoring opportunities to make a pass instead. His goal on Fleury was an example of how Marner's scoring acumen continues to grow when he's patient enough to let the play evolve and be the guy with the puck on his stick. It's not that he doesn't put shots on net – Marner has the Leafs' second-most shots on net this season with 48 – but he doesn't also fight to the middle of the ice like he's doing more and more frequently, and taking the opportunities available for himself instead of deferring to his linemate John Tavares or, less often, Zach Hyman. Marner finished Tuesday's game with a team-leading four shots on net in 20:27 time on ice.
Penalty kill picking up steam
After going through a dip in late October where the penalty kill gave up four goals in five games, the Leafs have started to turn the corner shorthanded. Toronto is now 10-for-10 on shorthanded chances over its last three games, thanks to an aggressive kill like the one that challenged the Golden Knights and prevented them from getting set up in the offensive zone. The Leafs now sit sixth in the league on the penalty kill (83.7 per cent).
Blue and White Trending
Tracking Leafs' trends all season long
On Tuesday, the Leafs scored the first goal in consecutive games for the first time all season (they're 5-0-0 this year when getting on the board first).
Next up
The Leafs welcome the New Jersey Devils on Friday.
Last word
"It seemed like a normal hit. I was rubbing him out after he dumped the puck in and I turned to go to the bench and I heard the whistle go after that, turned around and he was on the ice. I just hope he's okay."
– Patrick Marleau, reacting to his hit on Erik Haula in the third period that forced the Golden Knights winger to be stretchered off the ice with what appeared to be a leg injury.