Andersen thankful for Leafs' vote of confidence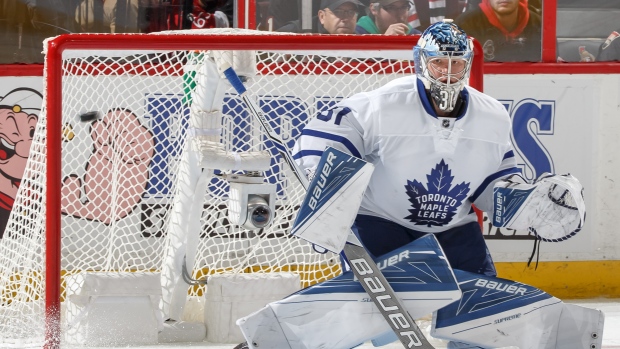 Frederik Andersen appreciates the vote of confidence he has received from Toronto Maple Leafs general manager Lou Lamoriello and head coach Mike Babcock despite his slow start.
"It's nice," the 27-year-old said. "Obviously, you want to keep proving them right and I expect a lot better from myself. [I want to avoid] the complacency of knowing your the guy, I don't want to have any of that, you want you prove yourself every day."
Andersen admits it has been a challenge adjusting to new teammates and a new system.
"I feel better and better. The last few days were good in practice, working on some stuff I wanted to improve on since the game. It's not going to come over night, but it's definitely improving."
Babcock was asked what he saw in Andersen before he signed with the Leafs that made him believe he could be the No. 1 guy in Toronto.
"Just looked at his sheet, saw the numbers, saw that he was 6-foot-4, saw him play good every time we watched him on tape, talked to players on his team, did lots of things and that's why we're as comfortable as we are with the decision that we made."
Morgan Rielly calls Andersen one of best puck-handling goalies in the league and yet that's an area of Andersen's game that remains a work in progress.
"They just got to get used to getting in the spots that's good for me to give it to them and vice versa," Andersen explained. "I need to know where they're going to be and that's something that takes time, but that's something that's definitely going to be good once we get it dialed in."
So, how long will it take? It was suggested to Rielly that somewhere in the 15- to 20-game range may make sense.
"Less than that, I would think," the defenceman said. "Once we get rolling here I think it would happen quicker than that. He's extremely talented with the puck, it's up to the d-men to have faith he's going make the right choice."
Babcock, meanwhile, isn't concerned about the puck handling. He just wants Andersen to focus on fundamentals right now.
"The first thing you got to do is get your conditioning and all that stuff back, get your rhythm back and we'll worry about the puck handling after that."
Andersen is still getting used to life in Toronto. One thing that stands out so far? The traffic.
"Driving in the city is a little bit slower. You got to be a little more aggressive if you want to get anywhere. That's something you got to get used to. Also, a lot more people walking around so you got to be careful."
This from a guy who spent years in the Los Angeles area.
--
Rielly didn't have a role on the power play in Wednesday's opener and has not practised on the man advantage the last two days. Jake Gardiner and Nikita Zaitsev have been the quarterbacks on Babcock's four-forward units. The coach was coy when asked whether, like last year, Rielly may get more power-play time later in the season.
"Yeah, (smiles) sure," Babcock said. Is he worried about overworking Rielly, who played a team-high 25:45 against the Senators? "I guess, how would I say this, Riels and I have talked," Babcock said with a grin. "How's that."
In the past, the left-handed Rielly has been asked to play on the right side, but it appears that will not happen as much this season.
"I like Rielly on the left way better and so that's why we're trying to play him there as much as we can," Babcock said. That means that lefty Martin Marincin will have to play primarily on the right unless Babcock makes a change in pairings or personnel.
Matt Hunwick (upper body) practised for the second straight day and appears ready to play on Saturday.
--
Lines at Leafs practice:
Hyman-Matthews-Nylander
van Riemsdyk-Bozak-Marner
Michalek-Kadri-Komarov
Martin-Holland-Brown
Griffith
Rielly-Marincin
Gardiner-Carrick
Hunwick-Zaitsev
Polak (r), Corrado (r)
Andersen
Enroth
Leafs power play units at practice:
Gardiner
Marner-Kadri-Bozak
JVR
Zaitsev
Nylander-Komarov-Matthews
Michalek