Anderson set to shoulder heavy load for Senators
The decision to waive backup Mike Condon means veteran netminder will get the lion's share of work moving forward – and could potentially eclipse the 60-game plateau, Ian Mendes writes.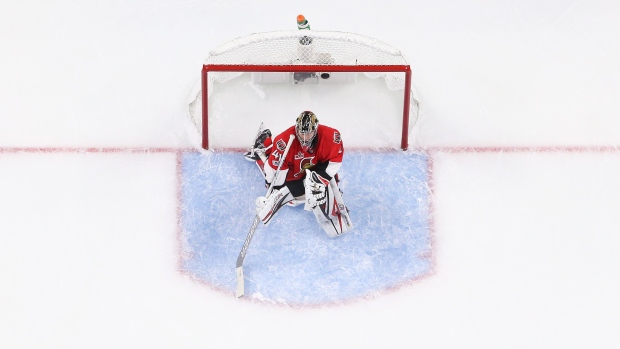 Matt Duchene has seen this act from Craig Anderson before and believes a sequel is possible – even if it is nine years later.
In the 2009-10 campaign, Anderson played in a Colorado Avalanche franchise-record 71 games, helping propel the club to an unlikely playoff berth.
Anderson could be pressed into a similar workload with the Senators this season, as the club's goaltending situation has taken a surprise turn with decision to waive backup netminder Mike Condon.
"Without him that year, we don't make the playoffs. He was outstanding. I know there are a few more years on his body now, but he's a very similar goaltender," Duchene said on Thursday morning. "He is still the guy that can carry the load for us. We have faith that he can do that and we're going to need him to – that's the bottom line."
The Senators have recalled 35-year-old Mike McKenna, who has 24 career NHL games on his resume, to serve as Anderson's backup. The feeling in Ottawa is that Anderson will get the lion's share of work moving forward – and could potentially eclipse the 60-game plateau.
"Once you're in the groove you just kind of get going and that's your routine," Anderson said Thursday about a potentially heavy workload. "I'm just a guy who comes to work, puts on the hard hat and is ready to go when called upon."
Head coach Guy Boucher did hint that McKenna will play one of the club's two games on the weekend, as they face the Buffalo Sabres on Saturday, followed by a date with the Tampa Bay Lightning on Sunday.
McKenna knows that chances like this don't often present themselves to 35-year-old netminders.
"Every minute you're up here in an opportunity. It doesn't matter what the scenario is because things can change so quickly. So yeah, it's not lost on me at all," McKenna said.
The 37-year-old Anderson could probably use a breather this weekend after his taxing start to the season. Anderson has appeared in 10 of the club's 11 games and has already faced an astounding 372 shots against this season – second most in the entire league behind Anaheim's John Gibson (384).
Gibson is 12 years younger than Anderson and if the Sens netminder continues to face this volume of shots against, he could be headed into rarified company amongst veteran goalies in league history.
If Anderson plays 60 games and keeps facing an average of 37.5 shots per game, he would face a total of 2,250 shots over the course of an entire season.
To put that into perspective, consider that only two other goalies his age – 37 or older – have ever played 60 games in a season and faced 2,000 shots.
Tony Esposito faced 2,239 shots against in 66 games at the age of 37 for the 1980-81 Chicago Blackhawks.
The other was ageless wonder Martin Brodeur, who faced 2,004 shots over the course of 77 appearances in 2009-10 as a 37-year-old netminder. Brodeur actually won the William M. Jennings Trophy that season, but it should be noted that he was only facing around 26 shots a game – significantly fewer than Anderson is seeing on a nightly basis.
Anderson was asked on Thursday if he could handle a 60-game workload if it also came attached with 37 shots against per night.
"Sure – you just don't think about it," he replied. "I can't worry about the last eight games or what might happen five games from now. We don't know if we're going to give up 40 or we're going to give up 20."
Boucher says that, as long as Anderson is providing this type of consistent and stable goaltending, he's not going to pay any attention to how old his netminder is.
"If we have to deal with his age, it will be much further down the road," Boucher said.
Anderson has twice eclipsed the 60-game plateau with Ottawa, but hasn't done so since the 2015-16 campaign. He believes he can handle the heavy minutes in the crease this season, based on his past experiences.
"There are going to be days when you're a little bit sluggish, but that's the nature of the game," Anderson said. "I've been around long enough to know what I need to do to get myself ready and focused and prepared to play."
Anderson said he was sympathetic to the plight of Condon, who cleared waivers on Thursday and could be headed for an extended stint with the club's AHL affiliate in Belleville. Anderson recalled a time earlier in his career when he was placed on waivers three times in the span of 15 days.
"It's not something that I thoroughly enjoyed and I'm sure he's not enjoying it either," Anderson said of Condon clearing waivers. "But at the same time, it's a good opportunity for him to go and play some games and get his confidence back."