Another showdown between Cameron and Hoffman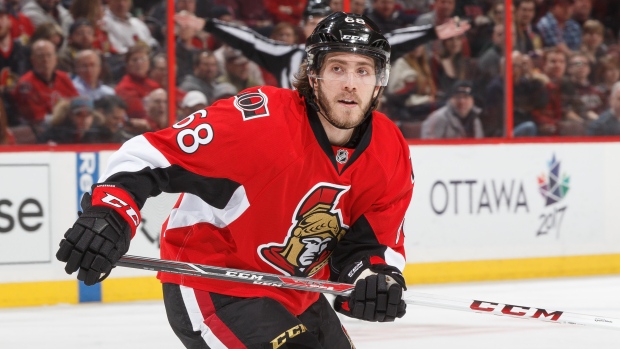 When speaking to reporters on Sunday afternoon, Dave Cameron wasn't the least bit defensive or aggressive when explaining his controversial coaching move from the previous night.
With his team trailing in the third period of Saturday's game in Toronto, Cameron stapled his leading goal scorer Mike Hoffman to the bench. While the decision ultimately proved to be successful -- as the Senators squeaked out a 3-2 victory -- it certainly created a frenzy amongst the Ottawa fan base.
"It's performance based now, right? And you always make your decisions based on that game," Cameron calmly explained. "When Mike plays fast, he's effective. And a lot of times when you bench a guy, it's not so much what they are doing; other guys are on their game. That's the competition of the National Hockey League and there's nothing guaranteed. You've got to earn it."
Cameron stated that other players such as Scott Gomez and Ryan Dzingel had outperformed Hoffman through the first 40 minutes at the Air Canada Centre. When he was asked about sending a message to Hoffman by reducing his ice time he simply responded by saying, "They determine it -- I don't. Their play determines their ice time."
If this was the first time that Hoffman was in Cameron's doghouse, it probably wouldn't generate this much attention. But Hoffman has found himself falling out of Cameron's favour on numerous occasions during the coach's tenure in Ottawa.
Last season, he consistently found himself buried on the fourth line in the final few weeks of the season, despite leading the team in goals. This season, during a game in December, Hoffman was used sparingly by Cameron in a game in Florida -- but managed to score the game-winning goal with just over five minutes left in regulation.
Hoffman's subsequent reaction to the goal -- which had some interpreting his expression as a glare of defiance rather than a celebration -- seemed to shed light on a winger who could be seething under the surface about his deployment under Cameron.
What makes this latest twist even more intriguing is that it unfolds with the spectre of another contract showdown with Hoffman looming this summer. Last off-season, the Senators took Hoffman to arbitration and walked away extremely happy with the rendered decision of a one-year contract worth $2 million.
But the two sides could be headed for another tense and awkward summer of negotiating, as Hoffman's camp will undoubtedly bring his impressive statistics to the bargaining table. Over the past two seasons, Hoffman has led the Senators with 52 goals -- and an astonishing 43 of them have come in even strength situations. For a frame of reference, that's the same number of even strength goals scored by Patrick Kane in the same span and only six other players in the entire league have tallied more. That list of even-strength goal scoring leaders includes the likes of Alexander Ovechkin (53), Tyler Seguin (49) and Steven Stamkos (47), so Hoffman is certainly going to head to negotiations with some leverage this summer.
The Senators, however, will counter that Hoffman's production seems to dip as the season progresses. After a torrid start to the season, Hoffman has produced only three goals in 16 games since the All-Star break. This mirrors his production down the stretch last season, which saw him score just three goals in 16 games in the month of March, while the Senators rode a torrid hot streak into the playoffs. In that playoff series against Montreal, Hoffman collected only a single goal in the club's six-game loss.
Earlier this week, Bryan Murray made it fairly clear the organization remains on the fence about committing to Hoffman and a long-term contract. Speaking to TSN 1200, the Senators general manager said, "We want to see Mike Hoffman play down the stretch. We want him to do what he did in the first half of the year. Before we make a real commitment we want to see performance at this time of year when the game is harder and tougher."
And so the fact the head coach benched him in the third period of a must-win game on Saturday, means that at least Dave Cameron isn't always sold on Hoffman's ability to get it done in the clutch.
It might be all part of the negotiating process, but when the head coach benches the leading scorer in the third period of a critical game in March, that has nothing to do with an impending contract situation. There are a number of people within the organization who clearly don't have enough faith in Hoffman's ability -- no matter what the statistics and underlying numbers seem to indicate.
This feels eerily similar to a crossroads the Senators reached with Martin Havlat a number of years ago. Blessed with tremendous skill and talent, there were many inside the organization at the time who questioned whether Havlat could ever raise his game and be an elite player in crunch time.
With a year left on his contract and unrestricted free agency staring both parties in the face in approximately 12 months, the Senators opted to trade Havlat to Chicago as part of a three-way trade. The lack of a tangible return for Havlat was one of John Muckler's great failures as Senators general manager, as he was only able to garner Tom Preissing, a second round pick that turned into Patrick Wiercioch and two minor league players.
Now with Hoffman, the Senators will have to make a similar decision as they did with Havlat. Do they commit to him long-term this summer -- or explore the idea of trading him while he's still got a year left on his deal to try and maximize a return? And if the return is weak like what they received for Havlat, does that mean they ride this out for another season with Hoffman?
Based on some of the comments we've heard in the past week from the Senators organization, it seems more and more like getting a long-term contract hammered out with Hoffman's camp isn't going to happen any time soon.
Instead, it feels more like the two sides are careening towards yet another interesting off-season, with neither side fully comfortable with the other.