Anthony, Landry lead Canada as NBAers depart
Kyle Landry and Joel Anthony didn't think twice about bending their six-foot-nine, 30-something bodies into airplane seats for nearly 19 hours of travel.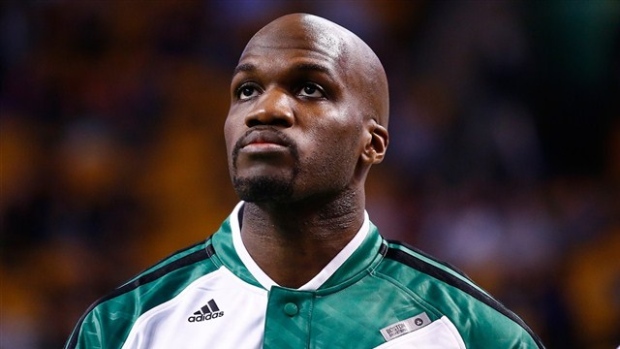 LAVAL, Que. — Kyle Landry and Joel Anthony didn't think twice about bending their six-foot-nine, 30-something bodies into airplane seats for nearly 19 hours of travel.
Two days after Canada's men's basketball team beat Brazil to improve to 6-1 in FIBA World Cup qualifying, the Canadians departed for a gruelling trip to Valdivia, Chile for a game Monday.
Canada's NBA and EuroLeague players left directly from Laval for their pro clubs, leaving a different squad led by Landry and Anthony to take the baton and run with it.
The new complicated World Cup qualifying system has been a challenge for Canada, which has used a revolving door of players thus far. But it's also provided an opportunity for players such as Landry and Anthony.
"It's just always special for me to be able to represent Canada," Landry said. "You look at how basketball is growing in Canada and the amount of players we've got in the NBA, the chances to play are getting a little tough for guys like myself.
"These windows give us the opportunity to keep working and keep playing with the national program, and being able to work with these guys and hang out with them. It's a really special group of guys, it's a lot of fun, everyone's really easy, there's no big egos, so it's always a great experience."
The Canadians are tied with Venezuela atop Group F at 6-1, while Chile is last at 1-6.
Canada has had the services of its NBA players in just three games of qualifying. The team won't have them the rest of the way.
"It's a different challenge, we'll have a different group, but those guys are hungry, they're ready to play, they'll have the leaf on their chest and I'm excited about that opportunity for them as well," said Canadian coach Roy Rana.
Kelly Olynyk, who had 20 points and 19 rebounds to lead Canada over Brazil, will be cheering on Canada against Chile from afar.
"There's a lot of these games that guys like me or Kevin (Pangos), NBA guys or EuroLeague guys can't play in," the Miami Heat forward said.
"That's why you have a pool of guys and everybody that's there to support and build that system and that structure to be able to do it. It's not easy. I commend them very much and we're very appreciative for what they're doing for us. We're very thankful they're there to step in."
If the Canadians qualify for next summer's World Cup in China, they'll have close to a full complement of NBA players available. That means, however, players like Anthony, a 36-year-old who won an NBA title with Miami, and 32-year-old Landry may not make the final roster.
"We recently had the conversation about sacrifice and humility, those are things that are characteristics that we need from everyone," said Anthony. "We all have a role to play in this group."
Landry played last season in the Montenegrin Adriatic League, and also played six seasons in Russia where he met his wife Anya. The couple, who have two kids aged one and three, are living back in Landry's hometown of Calgary while he explores his playing options. He said regardless of whether he cracked the World Cup roster, he'll feel he's been a big part of the qualifying process.
"Oh, absolutely," Landry said. "They put the stats up for all the world championship qualifiers, and my name's going to be there. I played a couple of games, and I helped us however much to get there, even if it's not in the games but the practices, you're getting the guys ready and making sure they're all in shape and know what the other team's doing and it's just really cool to be part of that."
The team in Chile will depend heavily on Canada Basketball's sports science staff to ensure players are ready to go just a day after landing in Chile.
"How we recover, how we hydrate, all those things will be factors," Rana said. "Can we step on the floor and be ready to play? We'll find out."
Anthony, who played last season in Argentina, predicts a rowdy Chilean crowd at the soldout game in Valdivia.
"I'm guessing it's going to be extremely passionate fans, which is usually what you get from those South American teams," he said. "Extremely passionate, loud, good atmosphere to play basketball in."
The final two windows see the Canadians play at Venezuela on Nov. 30 and Brazil on Dec. 3. Canada will host Chile on Feb. 21 and Venezuela on Feb. 24.
The World Cup is Aug. 31 to Sept. 15.
———
Roster:
Joel Anthony, Montreal, San Lorenzo Basket (Argentina); Trae Bell-Haynes, Toronto, Fraport Skyliners (Germany); Aaron Best, Toronto, Raptors 905 (G-League); Manny Diressa, Toronto, KK FMP (Serbia); Melvin Ejim, Toronto, BC UNICS (Russia); Joel Friesen, Abbotsford, B.C., London Lightning (NBL Canada); Brady Heslip, Burlington, Ont., Fraport Skyliners (Germany); Justin Jackson, Toronto, Orlando Magic; Kaza Kajami-Keane, Ajax, Ont., Landstede Zwolle (Netherlands); Kyle Landry, Calgary, Buducnost (Montenegro); Duane Notice, Woodbridge, Ont., BM Slam Stal (Poland); Dyshawn Pierre, Whitby, Ont., Banco di Srd (Italy).