Anthopoulos' current and former clubs heading in opposite directions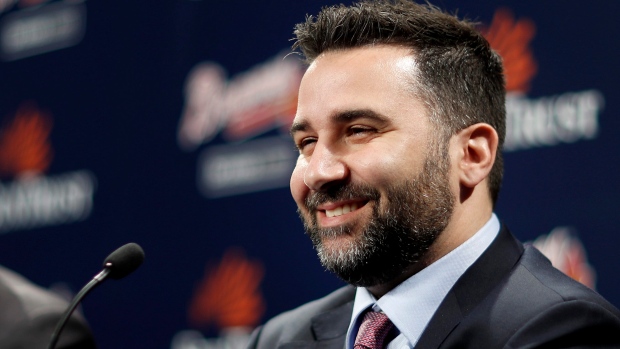 TORONTO — Put yourself in the shoes of Alex Anthopoulos.
In the home dugout is a team with your fingerprints all over it, but one that's not going in the right direction.
In your dugout is a team with a blindingly bright future, but it's a roster without any sort of AA stamp.
It must be an odd feeling.
From a personal point of view, there's no doubt Anthopoulos made the right decision when his tenure in Toronto came to a contentious end following the 2015 season.
He stayed patient, landed in Hollywood with a chance to learn, and then pounced when the timing and situation were right across the country in Georgia.
Situations don't get much better than the one he's in with the Atlanta Braves.
When he took the job last November, despite the turmoil at the time, the Braves' cupboards were overflowing with young talent, a new stadium had opened, and the fan base had already endured the worst.
The expectation was that they were on the verge of an upswing, but even that timeline sold the readiness of the young Braves short.
First place in the National League East.
Three players in first baseman Freddie Freeman, second baseman Ozzie Albies and outfielder Ronald Acuna Jr. that are franchise types.
And a window that's only now just starting to open.
Maybe they can ride it to a playoff berth or maybe they stumble and fall short, but either way, Atlanta is about to become a force.
The 41-year-old Anthopoulos knows he's about to reap the rewards of his predecessors' work.
"We didn't know what to expect," Anthopoulos said of his Braves as he sat in the visitors dugout Tuesday night, looking up at the 2015 AL East champs banner he helped hang at Rogers Centre. "We knew there was a lot of talent here and I've said this many times: All the GMs here before me, from John Schuerholz to Frank Wren to John Hart, those guys did an amazing job, the scouting department and development department, there's a ton of talent here. Those guys deserve all the credit.
"The plan was just to sit back and let these guys play. Maybe add some things, bring some information."
The smile on Anthopoulos' face said it all.
The Braves are in a good spot, and so is he.
His former club, however, is in the exact opposite spot.
If we talk about the Braves as a club whose window is just opening, without a doubt the Blue Jays have watched their window slam shut over the first three months of this season.
The 2018 season was about giving the can one last kick with a core that Anthopoulos built.
That kick hasn't gone as expected for Ross Atkins and Mark Shapiro.
Depending how you feel about it all, you can look at Anthopoulos' final couple of years at the helm of the Jays in two ways.
You can stare at the banner hanging above the jumbotron in centre field while recalling the memories of the 2015 playoff run and say it was all worth it.
Or you can look at the team on the field currently and say the patience Anthopoulos exercised when it came to his own post-Toronto landing spot was something he should have practiced and preached while here.
Other than Noah Syndergaard, the prospects he dealt away haven't exactly turned into regrets.
The Troy Tulowitzki contract on the other hand, one that will see the 33-year-old shortstop paid $38 million over the 2019 and 2020 seasons — $4 million of that is a buyout so you don't have to employ him in 2021 — is an albatross that Atkins has to deal with.
But that 2015 run might not happen without that trade.
Then there's Vladimir Guerrero Jr., an important line on Anthopoulos' resume, one that the current regime is going to reap the rewards of.
Anthopoulos, for one, certainly would change things.
"I think the big thing was being in this division and the grind that this division is and how good the GMs are in this division, winning it (was special)," he said. "Don't get me wrong, I would have been very happy with a wild card and getting into the playoffs, but winning the division felt like a great accomplishment."
But there has been growth.
In the nearly three years since his exit, Anthopoulos says he thinks he's become a better GM.
Better doesn't necessarily mean he would do anything differently, but there's a different perspective and he's currently riding a team built much differently than the drought-breaker he was able to put together in 2015.
It will be interesting to watch as he supplements what was handed to him when he puts his stamp on this Braves roster in the coming years.
"I think things have changed a little bit," Anthopoulos said. "You learn from everything. I look back all the time, not on the successes, on the mistakes made and things like that.
"I think going to L.A. (to work as vice-president of baseball operations with the Dodgers) helped me a lot. Not to say I had all the answers at any time. I thought I got better at the end in Toronto, and I think I said it at the time. I learned a lot being here and making some mistakes here. I felt really good at the end of 2014 making some changes. I felt good at the end of the year before I left (in 2015), and then I think going to L.A. and I was deciding between the Astros and L.A. and I think it worked out. I mean, I didn't get the ring, but both places were going to achieve what I wanted to achieve, getting exposed to some new things and grow and get better."
Now, he's overseeing a roster that's only going to grow and get better.
Other than a few pieces, one of which Anthopoulos left behind, the same can't be said about the Blue Jays.