Argos' Lemon looking to return to the Grey Cup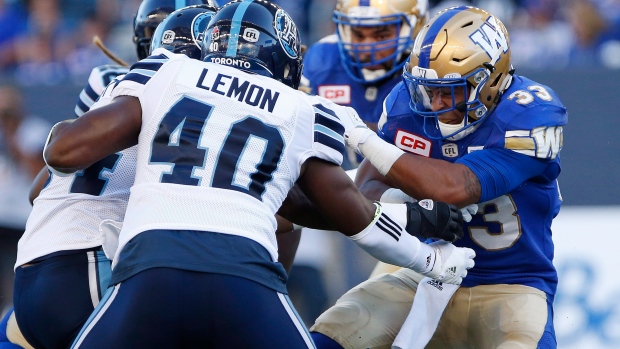 Toronto Argonauts defensive lineman Shawn Lemon knows the Saskatchewan Roughriders, the team that traded him after just one game last season, all too well.
The Charleston, S.C., native signed with the Riders in the 2016 off-season, but asked for a trade after slipping down the depth chart.
Now, as the two teams set to meet in this weekend's Eastern Final at BMO Field in Toronto, Lemon is focused on what's ahead of him, not what has transpired in the past.
"I'm excited about the guys in the locker room here and us coming together to achieve our goal," he said on Monday. "I'm not really thinking too much about what's happened with me and Saskatchewan.
"There's no bad blood or anything between us."
The 27-year-old defensive lineman went on to have one of the best seasons of his career after the trade, recording a career-high 14 sacks en route to his first career all-star selection.
"They traded me to a city I've grown to love, so if anything I'm thankful," he said. "I live right by the CN Tower, so when I look outside I see a beautiful city.
"You go downtown in other [CFL] cities you probably won't see that view."
The winner of Sunday's game will advance to the 105th Grey Cup in Ottawa. Despite having home-field advantage the Argos are considered the underdogs.
Lemon believes his team will embrace the role.
"Respect is earned, not given," he said. "So we've got to go out there and take it, the [same] way we been approaching it all season long.
Toronto was tied with the Roughriders for the worst record in the CFL last year, and their 5-13 record was the team's worst since 2009.
"Going into [this] season no one expected us to be where we are right now," Lemon said. "So we just have to go out and prove everyone wrong."
The Argonauts got on a roll down the closing stretch of the regular season, compiling a 5-2 record and outscoring their opponents by a combined 51 points.
One of the keys to the turnaround has been Toronto's improved defence, which led the league in sacks. But Lemon acknowledges that the club would not be where it is if quarterback Ricky Ray wasn't healthy.
"We've seen how our team played when Ricky Ray wasn't there," he said referring to an Aug. 11 loss to Montreal. "So I think he's our Most Outstanding Player. I mean, look at the numbers.
"I'm definitely campaigning for Ricky Ray."
Toronto's veteran quarterback was nominated for the League's Most Outstanding Player. The winner will be announced on Nov. 23, at the Shaw CFL Awards.
"Just understanding the work he puts in. He's one of the first one's there and one of the last guys to leave," Lemon said. "It's a privilege to play with a Hall of Fame quarterback like Ricky Ray."
On the other side of the field the Roughriders will counter with veteran Kevin Glenn, who is second to Ray on the active all-time passing yards list.
Lemon and Glenn were teammates in 2013 for the Calgary Stampeders, and the Argos defensive linemen thinks this familiarity will help in Sunday's game.
"Understanding what type of quarterback [Glenn] is, understanding that he's not looking to run. He wants to be a pocket quarterback," he said. "So it's important to understand different ways to get to him, to know where he's going."
The 29-year-old is no stranger to playing deep into the playoffs, as a victory on Sunday would see Lemon reach the Grey Cup for the third time in four years.
"I've been able to win a Grey Cup [with Calgary] in 2014," he said. "[It's] just understanding that this is the time of year that nothing else matters but the guys in the locker room and everyone wearing that double-blue jersey."
Lemon understands how important preparation is in these big games, but this year he's also channeling his ambition into his footwear, with a pair of cheetah cleats.
"I wanted to play like an animal," he said. "So I thought I got to get some animal cleats this week.'"
The seven-year CFL vet hopes that the cheetah will serve as his spirit animal for Sunday's game.
"The cheetah's going to go out there and attack – that's the plan," he said.
When asked if he would sport a different set for the Grey Cup he said, "There'll definitely be a different style. But we've got to take care of this week and then we can see what next week's style is."