Argos send OL Woods to Esks for Franklin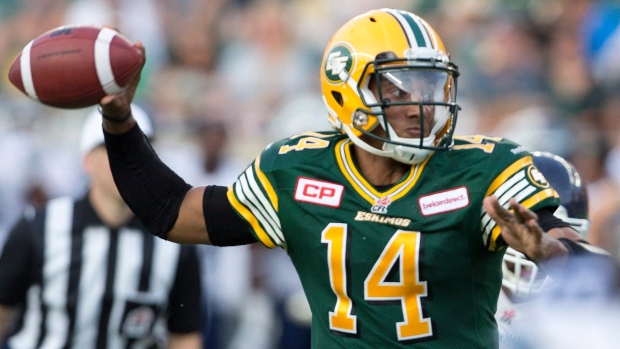 The Toronto Argonauts have traded offensive lineman Mason Woods to the Edmonton Eskimos in exchange for quarterback James Franklin and a third-round pick.
Woods, 23, was selected by the Argos in the second round of the 2017 CFL Draft. The six-foot-nine tackle is from Maple Ridge, B.C.
Franklin is scheduled to become a free agent in February and TSN Football Insider Dave Naylor reports the Argonauts did not negotiate an extension prior to the trade.
Argos general manager Jim Popp told Naylor the trade has nothing to do with the status of quarterback Ricky Ray, who is considering retirement this off-season.
Franklin has dressed for 52 games for the Eskimos over the past three seasons. He has completed 116 of 176 passes for 1,449 yards with 12 touchdowns and one interception over his CFL career. He has also rushed for 145 yards and a touchdown on 18 career carries.