Astros claim top spot in MLB Power Rankings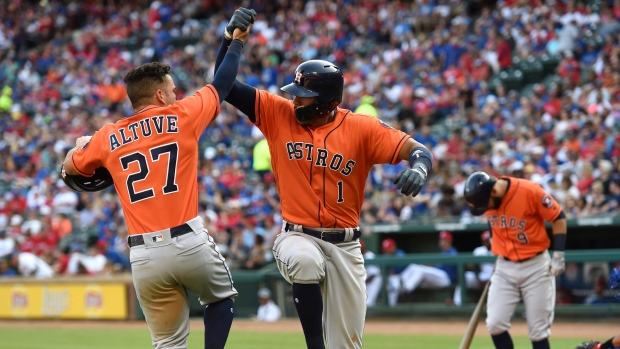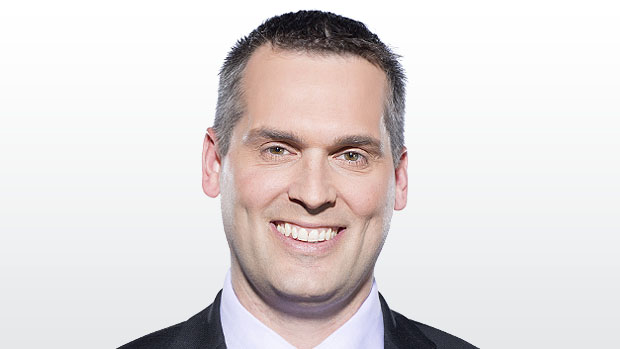 The Houston Astros have taken top spot in the TSN.ca MLB Power Rankings, ahead of the Boston Red Sox and Arizona Diamondbacks.
The New York Yankees, Milwaukee Brewers, Oakland Athletics, and Chicago Cubs are among the teams moving up the rankings this week.
Moving the other way, the Pittsburgh Pirates, Colorado Rockies, Washington Nationals, and Minnesota Twins are sliding down the rankings.
HOUSTON ASTROS
RECORD: 16-9 THIS WEEK: 1 LAST WEEK: 2
Had reeled off six straight wins, outscoring the opposition by a total of 47-6, before losing the past two games. That lopsided stretch lifts the defending World Series champs back to top spot.
Key Injuries: None.
BOSTON RED SOX
RECORD: 15-2 THIS WEEK: 2 LAST WEEK: 1
After losing two of their first 19 games, the Red Sox have suddenly lost three straight, and were no-hit in Saturday's loss at Oakland.
Key Injuries: 2B Dustin Pedroia (knee), SS Xander Bogaerts (ankle).
ARIZONA DIAMONDBACKS
RECORD: 16-6 THIS WEEK: 3 LAST WEEK: 4
The Diamondbacks bullpen has been dominant, posting a 1.89 ERA and striking out 75 while allowing just three home runs in 76 1/3 innings.
Key Injuries: RF Steven Souza (pectoral), 3B Jake Lamb (shoulder), RHP Taijuan Walker (elbow).
L.A. ANGELS OF ANAHEIM
RECORD: 16-8 THIS WEEK: 4 LAST WEEK: 3
CF Mike Trout has slugged 10 home runs and has what would be a career-high 1.110 OPS, while recording a career-low 5.1% swinging strikes. So, that guy who has unequivocally been the best player in the sport over the past six years is now producing even better than before.
Key Injuries: RHP Alex Meyer (shoulder), RHP Matt Shoemaker (forearm), LHP J.C. Ramirez (elbow).
NEW YORK METS
RECORD: 15-6 THIS WEEK: 5 LAST WEEK: 5
The Mets have one nine-inning win in the past seven games, so they're sliding after a fast start, and one-time ace Matt Harvey has landed in the bullpen.
Key Injuries: None.
NEW YORK YANKEES
RECORD: 13-9 THIS WEEK: 6 LAST WEEK: 14
The Yankees are starting to emerge from their mediocre start. 3B Miguel Andujar has ripped a dozen extra-base hits in 15 games and top prospect Gleyber Torres has been called up to the big club.
Key Injuries: 1B Greg Bird (ankle), 3B Brandon Drury (migraines).
PHILADELPHIA PHILLIES
RECORD: 14-8 THIS WEEK: 7 LAST WEEK: 8
11 wins in the past 14 games has lifted the Phillies into contention and they have impressive starting pitching to thank. Jake Arrieta, Aaron Nola and Nick Pivetta have combined for a 2.34 ERA through 13 starts.
Key Injuries: None.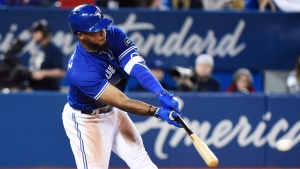 TORONTO BLUE JAYS
RECORD: 14-8 THIS WEEK: 8 LAST WEEK: 7
Lost three of four in the Bronx before returning home and earning an extra-innings victory against the Red Sox. There are still some glaring holes in the lineup – regulars Russell Martin, Randal Grichuk and Devon Travis are all hitting under .150 thus far.
Key Injuries: SS Troy Tulowitzki (heel), 3B Josh Donaldson (shoulder).
ST. LOUIS CARDINALS
RECORD: 13-9 THIS WEEK: 9 LAST WEEK: 10
Eight wins in the past 10 games has the Cardinals headed in the right direction, and with Adam Wainwright hurt, there is an opening in the rotation for Jack Flaherty, a 22-year-old who has a 2.65 ERA and 1.06 WHIP with 107 strikeouts in 105 1/3 innings at Triple-A, going back to last season, and he struck out nine in five innings earlier this year in a start with the Cardinals.
Key Injuries: RHP Adam Wainwright (elbow).
MILWAUKEE BREWERS
RECORD: 15-9 THIS WEEK: 10 LAST WEEK: 19
Seven straight wins vaults the Brewers to the top of the NL Central, and they've only allowed a dozen runs in those seven games.
Key Injuries: RHP Jimmy Nelson (shoulder), RHP Corey Knebel (hamstring).
OAKLAND ATHLETICS
RECORD: 13-11 THIS WEEK: 11 LAST WEEK: 16
Eight wins in nine games has lifted the A's to the right side of the won-loss ledger and 26-year-old lefty Sean Manaea tossed his first career no-hitter, striking out 10, in Saturday's 3-0 win against the Red Sox.
Key Injuries: RHP Paul Blackburn (forearm), CF Boog Powell (knee).
CLEVELAND INDIANS
RECORD: 12-9 THIS WEEK: 12 LAST WEEK: 13
While the bats are slow to come around, the Indians remain competitive thanks to their great starting pitching. Corey Kluber, Carlos Carrasco, Mike Clevinger and Trevor Bauer have combined for a 2.46 ERA in 18 starts.
Key Injuries: RHP Cody Anderson (elbow), RHP Danny Salazar (shoulder), RF Lonnie Chisenhall (calf).
CHICAGO CUBS
RECORD: 11-9 THIS WEEK: 13 LAST WEEK: 20
Four wins in the past five games is a brief sign of positivity for the Cubs.
Key Injuries: LHP Drew Smyly (elbow), INF Ben Zobrist (back).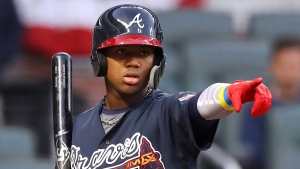 ATLANTA BRAVES
RECORD: 12-10 THIS WEEK: 14 LAST WEEK: 11
The Braves have called up Ronald Acuna, the top-ranked prospect in baseball, though the 20-year-old right-fielder was hitting a modest .232 with a .625 OPS in 17 games at Triple-A this season.
Key Injuries: C Tyler Flowers (oblique).
PITTSBURGH PIRATES
RECORD: 12-10 THIS WEEK: 15 LAST WEEK: 6
An early-season surprise, the Pirates have dropped six of seven, sliding back towards their modest expectations.
Key Injuries: 2B Josh Harrison (hand).
SEATTLE MARINERS
RECORD: 12-10 THIS WEEK: 16 LAST WEEK: 18
Give RF Mitch Haniger some help, maybe? He's mashed eight home runs and has a 1.081 OPS, driving in 24 runs in 23 games.
Key Injuries: 1B Ryon Healy (ankle).
SAN FRANCISCO GIANTS
RECORD: 11-12 THIS WEEK: 17 LAST WEEK: 21
The rotation gets a boost with a healthy Jeff Samardzija, who threw five shutout innings in his first start of the year.
Key Injuries: LHP Madison Bumgarner (finger), RHP Mark Melancon (elbow).
LOS ANGELES DODGERS
RECORD: 11-11 THIS WEEK: 18 LAST WEEK: 17
The Dodgers have won seven of nine, and called up 23-year-old fireballer Walker Buehler, whose average fastball in his first major league start was a sizzling 97.6 MPH.
Key Injuries: 3B Justin Turner (wrist), LHP Rich Hill (hand), 2B Logan Forsythe (shoulder).
COLORADO ROCKIES
RECORD: 13-12 THIS WEEK: 19 LAST WEEK: 9
The Rockies have lost four of six, getting outscored by 18 runs in that six-game span, giving them the worst run differential (by far) for a team on the right side of .500.
Key Injuries: RF Carlos Gonzalez (hamstring).
WASHINGTON NATIONALS
RECORD: 10-14 THIS WEEK: 20 LAST WEEK: 12
After opening the season with a 6-5 record, the Nationals have managed four wins in the past 13 games, leaving them in unexpected territory.
Key Injuries: 2B Daniel Murphy (knee), LF Adam Eaton (ankle), LF Brian Goodwin (wrist), 3B Anthony Rendon (toe).
MINNESOTA TWINS
RECORD: 8-10 THIS WEEK: 21 LAST WEEK: 15
Six losses in the past seven games (and the win was a 16-inning extravaganza) has the Twins reeling after a solid start to the year.
Key Injuries: RHP Michael Pineda (elbow), SS Jorge Polanco (suspension), RHP Ervin Santana (finger), CF Byron Buxton (migraines).
DETROIT TIGERS
RECORD: 9-11 THIS WEEK: 22 LAST WEEK: 22
It might look like there's been some progress in Detroit, as they have won five of seven, but a couple of home series against Baltimore and Kansas City tends to make a team look good.
Key Injuries: None.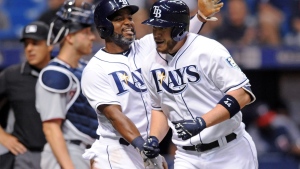 TAMPA BAY RAYS
RECORD: 8-13 THIS WEEK: 23 LAST WEEK: 27
Winners of four straight, the Rays have received a power surge from 1B/DH C.J. Cron, who has four home runs in his past six games.
Key Injuries: CF Kevin Kiermaier (thumb), 3B Matt Duffy (hamstring).
SAN DIEGO PADRES
RECORD: 9-16 THIS WEEK: 24 LAST WEEK: 25
24-year-old lefty Joey Lucchesi has been terrific, posting a 2.70 ERA and 1.13 WHIP in his first five major-league starts.
Key Injuries: RHP Dinelson Lamet (elbow), RF Wil Myers (arm), CF Manuel Margot (ribs).
TEXAS RANGERS
RECORD: 8-17 THIS WEEK: 25 LAST WEEK: 28
It's great that Bartolo Colon has a 2.59 ERA but, on the other hand, it's a bit problematic if he's the best starter on the staff.
Key Injuries: SP Doug Fister (hip), 2B Rougned Odor (hamstring), SS Elvis Andrus (elbow).
KANSAS CITY ROYALS
RECORD: 5-16 THIS WEEK: 26 LAST WEEK: 26
3B Mike Moustakas, who couldn't get a free agent contract, has six home runs and a .928 OPS, a rare bright spot in the Royals lineup.
Key Injuries: RHP Nate Karns (elbow), C Salvador Perez (knee), LF Alex Gordon (hip).
CHICAGO WHITE SOX
RECORD: 5-15 THIS WEEK: 27 LAST WEEK: 24
After winning the first two games of the season, the White Sox have won three of the next 18.
Key Injuries: LHP Carlos Rodon (shoulder).
MIAMI MARLINS
RECORD: 6-17 THIS WEEK: 28 LAST WEEK: 23
Snapped a five-game losing streak with Tuesday's win at Los Angeles, but the Marlins haven't earned back-to-back wins yet this season.
Key Injuries: SS JT Riddle (shoulder), 3B Martin Prado (knee), RHP Dan Straily (forearm), LHP Wei-Yin Chen (elbow).
CINCINNATI REDS
RECORD: 5-18 THIS WEEK: 29 LAST WEEK: 30
The Reds got RF Scott Schebler back from injury and have won back-to-back games. That's not much, but it's enough to get out of the basement!
Key Injuries: RHP Anthony DeSclafani (oblique), 3B Eugenio Suarez (thumb).
BALTIMORE ORIOLES
RECORD: 5-13 THIS WEEK: 30 LAST WEEK: 29
Losing nine of the past 10 games lands the Orioles at the bottom of the rankings. How will this lineup look if they pull the trigger on a Manny Machado deal?
Key Injuries: RP Zach Britton (Achilles), DH Mark Trumbo (quad), RF Colby Rasmus (hip), 2B Jonathan Schoop (oblique).
Scott Cullen can be reached at scott.cullen@bellmedia.ca