Athanasiou set to re-join Red Wings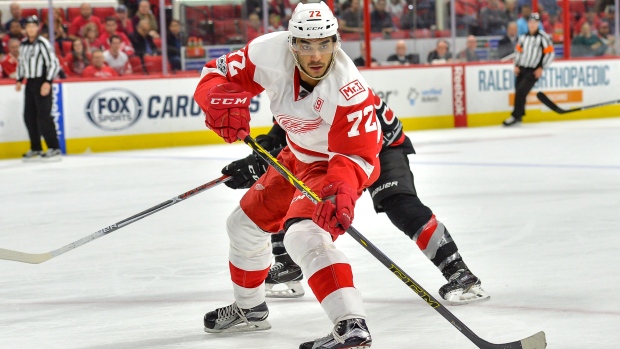 The Detroit Red Wings have lost five straight games since their 4-0-1 start to the season and have been left searching for a spark. Head coach Jeff Blashill is hoping the addition of Andreas Athanasiou will provide just that.
Athanasiou, who was a restricted free agent, signed a one-year, $1.39-million contract on Friday after a lengthy stalemate with the club. He will skate with the team for the first time this season at Wednesday's practice.
"I've got to watch him practise and when we watch him practise, we'll know where his fitness level is at. In talking to him, it sounds like it is really good," Blashill told the Detroit Free Press after Tuesday's 1-0 loss to the Buffalo Sabres.
"Obviously he can give us a big boost ­– he's a guy that can create something out of nothing and in a game like tonight, you need somebody to step up and make a play, and he's done that in the past. So hopefully we can get him in here soon."
Athanasiou skated in Switzerland as he attempted to stay in shape while negotiating his contract, a move Blashill believes will benefit him.
"I think he's put himself in position to be able to play as soon as possible," Blashill added. "The nice thing with him is, when you are a really good skater, it is easier to transition in. I anticipate him getting an opportunity here soon and I anticipate him having a good impact."
Athanasiou scored 18 goals and 11 assists in 64 games with the Red Wings last season.