Attention Roy: Barrie needs your help
Travis Yost takes a closer look at Colorado Avalanche defenceman Tyson Barrie and his desperate need for a solid partner on the blueline.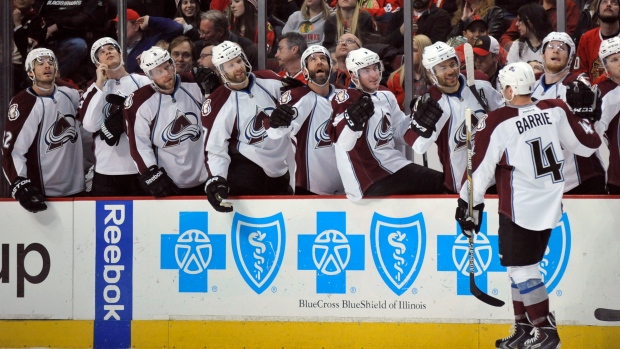 A big reason why I've been so cool on the Avalanche under Patrick Roy: their blueline really doesn't hold up well in comparison to the rest of the league, or even the rest of the division. It very much makes you wonder what some of these brilliant attacking forwards – Nathan MacKinnon, Matt Duchene, Gabriel Landeskog to name but a few – would do with a real touch of defensive competency on the backend. It would certainly help their transition game. It would certainly take some of the defensive burden off of them in their own zone. And it would certainly mean spending less time in the defensive zone, and more time forcing the opposition to spend meaningful minutes defending the run of play.
The good news for Avs fans: I don't see the defensive situation as unsalvageable for two reasons. One, there are a bunch of interesting trade options around the market. These thoughts may percolate as the season progresses (hey, Dustin Byfuglien!) and are probably worth addressing at a later point in time, but if any team should take a gamble on fixing the backend, it's the Avs. Again, I really don't think this is a team that's a ways off, but rather a club that's simply being crippled by the absence of a couple of core pieces.
The second thought regards Tyson Barrie. To me, he's one of the league's more underappreciated players – a star in the making that's been held back in part by Colorado's mediocrity, and in part by maybe not being put in the best position to succeed.
I have exhausted this point to no end, but it bears repeating: it's really, really difficult to do what Zdeno Chara did for years in Boston, and that's maintain excellence regardless of whom his partner was. Maybe Andrei Markov and Marc Methot aren't the best players in the world, but it's hard to argue that even all-world talents like P.K. Subban and Erik Karlsson haven't benefited from having them around. Having a reliable, competent partner can really mean the world for a younger defenceman.
That's where it gets frustrating with Barrie and the Avs. They may not have a bunch of great options for him right now, but there still should be a real drive to putting him into the best position to succeed.
Already this season, we have seen him with Nikita Zadorov and Nate Guenin. Neither of those players are Erik Johnson or Francois Beauchemin, the two most reliable defenders on the club. We don't know a whole lot about Zadorov in Colorado just yet, but early returns in Buffalo weren't great. Guenin is an entirely different problem – a fixable one.
A Corsi% WOWY (With Or Without You) analysis will be useful here for a variety of reasons. One, I suspect his most common partner – Guenin – has been a drag on Barrie's performance. Two, I suspect Barrie's really been paired with a bunch of average talents in his career, which could be suppressing his actual talent.
Verdict?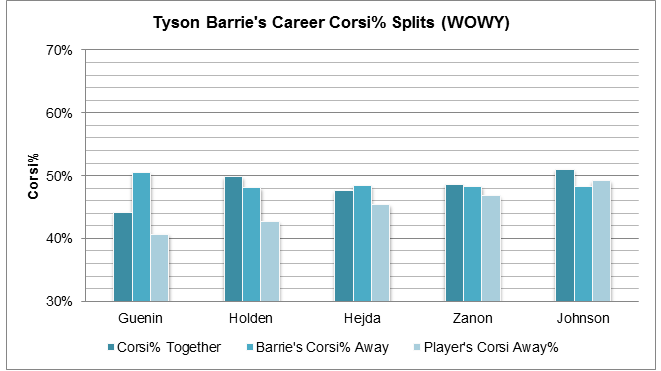 This isn't exactly a murderer's row of talent here. Jan Hejda carved out a really nice career but he was on the downswing in the minutes he was playing with Barrie. Erik Johnson's obviously a worthwhile NHLer, but he's also been kept away from Barrie for most of his career – the two have played something in the realm of 10 games together, which is way under the minutes observed with guys like Guenin and Holden. This speaks to my point about internal player development or external player acquisition: the Avalanche have done a relatively poor job finding appropriate talent to play Barrie with, and that should be a very real priority for the club going forward.
Now, to the Corsi% splits. This graph can alternatively be titled "Why on Earth would you play Nate Guenin with Tyson Barrie?" The two have posted a 44 per cent Corsi% together in more than 1,000 minutes of ice time, which is near Atlanta Thrashers territory. But when Barrie moves away from Guenin, he immediately becomes competent (51 per cent). Conversely, when Guenin moves away from Barrie, he immediately becomes (more) incompetent (41 per cent).
This isn't to pile on Guenin in any capacity, but I do think it's fair to question the kind of minutes he's getting, and whether he's ready in any way for the role of playing on Barrie's side against tougher levels of competition. It seems really unlikely that Barrie's the problem driver here – his performance is very stable with all other teammates.
I implore Patrick Roy: kill this pairing forever going forward. If not for the sake of your organization and if not for the sake of my well-being, then for the sake of all of the fantasy owners of Tyson Barrie who want that breakout year.
The Takeaway
The Avalanche should be looking at every possible solution to address the defensive inefficiencies that knee-capped this team last season. Here's a perfect example of how new age hockey data can assist with that troubleshooting scenario. The Guenin/Barrie pairing has been a disaster since inception, and if the club is serious about chasing down a playoff berth this year, this should be a very easy fix.