Matthews scores in OT as Leafs come back to beat Blackhawks
Auston Matthews scored in overtime as the Toronto Maple Leafs came from behind to beat the Chicago Blackhawks 4-3 on Monday. Nikita Zaitsev, Connor Brown and James van Riemsdyk also scored for the Maple Leafs (3-0-0). Jan Rutta, Jonathan Toews and Richard Panik had goals for the Blackhawks (2-0-1).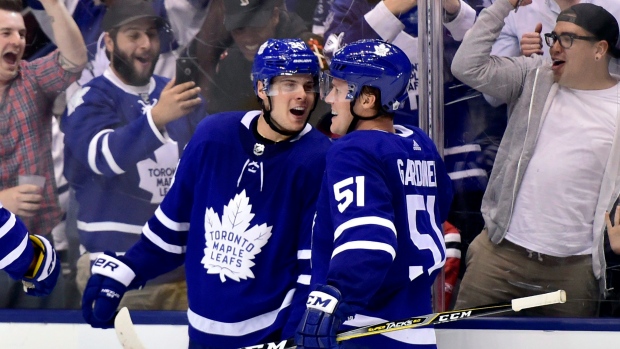 Toronto Maple Leafs goaltender Frederik Andersen had some compassion for his opponent 200 feet down the ice after watching Auston Matthews score in overtime.
Matthews beat Anton Forsberg 3:43 into the extra period to lift the Leafs to a 4-3 comeback win against the Chicago Blackhawks on Monday.
The 20-year-old Matthews had very little space to work with but ripped a wrist shot over Forsberg's glove short side for his second goal of the season.
"I think that puck's still sitting back up there," said Andersen. "Not a lot of guys can stop that puck in this league. Hell of a goal."
Matthews's goal came on a 2-on-1 and capped three in a row to erase Chicago's 3-1 lead.
"I just walked in and tried to fake a pass, get (Forsberg) leaning a bit and snuck it by him," said Matthews.
"I thought we showed a lot of poise being able to crawl back into it. As the game went on we got better and better and that's the way you want to play."
Matthews played much of the night matched up against Chicago's top line with Patrick Kane. Matthews finished with six shots on net and the winning goal while Kane, who entered with 22 points in 13 career games against Toronto, finished minus-three with one shot on net and no points.
"Auston was determined, he was playing head to head against Kane all night, did a real nice job," said Leafs coach Mike Babcock.
Nikita Zaitsev, Connor Brown and James van Riemsdyk also scored for the Maple Leafs (3-0-0).
Jan Rutta, Jonathan Toews and Richard Panik had goals for the Blackhawks (2-0-1).
Andersen made 18 saves for the win while Anton Forsberg stopped 39 shots.
Outside of the opening three minutes, the first period belonged to the Blackhawks and they went into the intermission with a 2-0 lead.
Rutta scored 3:46 into the game when he wheeled around the back of the net and tossed the puck out front where it hit Mitch Marner's stick and squeaked through Andersen and the post.
Toews made it 2-0 when he banged in a rebound over the left pad of Andersen with 12:53 to play in the first.
"Chicago has been so good for so long, we wanted to play a good game and we did that other than the first period," said Brown.
It wasn't until the midway point of the second that Toronto picked up its pace and was awarded its first power-play opportunity after some sustained pressure by Matthews in the offensive zone.
The Leafs failed to capitalize on the man advantage, but Zaitsev put them on the board soon after, streaking in from the Blackhawks blue line and taking a pass from Brown before snapping the puck five-hole on Forsberg at 10:20.
Matthews nearly tied the game on a 2-on-1 rush five minutes later with a toe-drag into a wrist shot, but Forsberg stayed with him and got his right arm on the puck.
The final eight minutes of the second were filled with minor penalties and lots of 4-on-4 hockey, but no one was able to take advantage of the open ice.
Matthews had another good scoring chance before the period was through, however, Forsberg was there again to stop him.
Toronto was behind 2-1 after 40 minutes despite outshooting Chicago 26-15.
"We lost a lot of momentum there, fortunate to come out of (the second) with the lead," said Blackhawks coach Joel Quenneville.
"Second period they had 10 scoring chances so (Forsberg) did a good job keeping the lead for us."
Forsberg's play allowed the Blackhawks to restore their two-goal lead 7:52 into the third.
Panik took the puck off the end boards after it ricocheted in front from a point shot and slotted it into an empty net on the power play.
Babcock starting shuffling his lines late in the third and it paid off with two goals in less than three minutes.
First, Brown beat Forsberg with Leo Komarov setting the screen in front with seven minutes to go in regulation.
Then, van Riemsdyk tied the game on the power play, deflecting a Tyler Bozak shot with 4:18 remaining.
"They were better than us early, obviously, but I thought we really got engaged," said Babcock.
"I just thought we pushed hard, that's important, stayed with it pretty good, didn't panic."