Avalanche to retire Hejduk's No. 23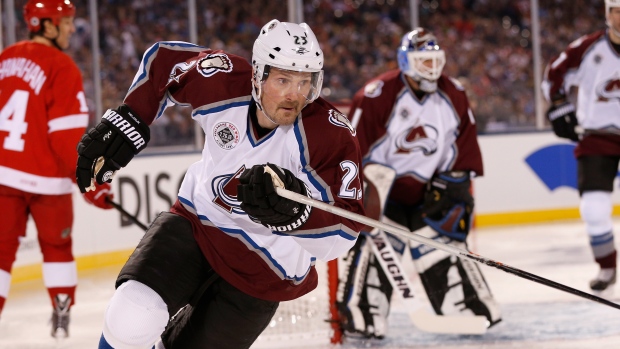 Milan Hejduk will become the sixth player in Colorado Avalanche history to have his number retired in January.
The Avalanche announced Wednesday that Hejduk's No. 23 would be placed in the rafters during a pregame ceremony on Jan. 6.
Hejduk, who sits second in franchise history in games played (1,020) and fourth in goals scored (375).
"Milan was a tremendous player, a great teammate, a winner and a true professional in every sense," Avalanche general manager Joe Sakic said in a release. "He had some of the quickest and smoothest hands of anyone I ever played with, was an elusive skater, had a great release, terrific hockey sense and vision. Milan was not only one of the great goal scorers in the history of the franchise, but also one of the best in the NHL for over a decade.
"Milan was one of the most humble players I ever had the privilege of competing with," continued Sakic. "He was a quiet leader who led by example and always represented this organization and himself with class. His number 23 certainly belongs in the Pepsi Center rafters."
Hejduk spent his entire 14-year NHL career with the Avalanche after being drafted in the fourth round of the 1994 NHL entry draft by the Quebec Nordiques. He retired in 2013.
"I am truly honored to have my jersey raised to the rafters alongside those great Avalanche players," Hejduk said in a release. "From my rookie season here in Colorado, I always felt a tremendous sense of pride wearing this sweater and being a part of this organization. I was fortunate to play so many years here and I have so many wonderful memories. I would like to thank the Kroenke family and everyone at the Avalanche for this honor, it means so much to me and my family. I realized my lifelong dream of not only playing in the NHL but also winning a Stanley Cup and to spend my entire career in Colorado was very special. Thanks to all the Avalanche fans for your support, I can't wait to see everyone on January 6th."
Hejduk's best season came in 2002-03 when he led the NHL with 50 goals while adding 48 assists.
The Avalanche have retired the numbers of Joe Sakic, Peter Forsberg, Patrick Roy, Adam Foote and Ray Bourque.